Blog
REGISTER NOW
LOGIN
SIGN UP FOR OUR NEWSLETTER
How to Pack Like a TDA Pro (Camping Tours)
HOW TO PREPARE: An 8 part series to get you ready for your first TDA tour. Click here to read more.
"Don't take 3 bars of soap…toiletries are heavy. You can buy toothpaste…anywhere in the world." – Christopher, rider from Canada
"You really do not need to overpack… we already have people sending things back within the first 2 weeks of our tour." – Colleen, Tour d'Afrique Tour Leader
How do you tell the difference between a seasoned TDA veteran and a newbie? Sometimes it's by watching them struggle to zip up their duffel bag in the morning with contents spilling out!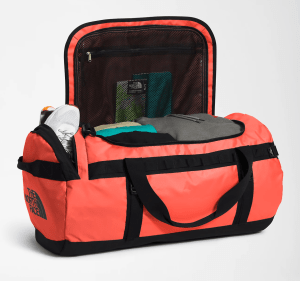 To fit all your personal possessions into one or two duffel bags is no easy task. The contents have to sustain you for the duration of one of our multi-month expeditions. They will contain all the supplies, clothes and spare parts that you will need for an expedition that tests both your body and equipment.
We have recorded videos and written blogs on what our baggage limits are and how best to save space with compact equipment but what we haven't done is hear directly from the participants and staff on our longest running cycling expedition – the annual traverse of the African continent, the Tour d'Afrique. In this informative and fun video, Colleen Gordon – Tour Leader extraordinaire – explains the ins and outs of packing a bag. You will also hear tips from the participants on what works for them. You will see what the duffel bags look like and what equipment will keep you under our strict weight and size limits.
Watch the video and then read on for a few important notes to remember.
Important Notes
LIMITS – You are allowed 2 x 110 L duffel bags for our camping expeditions and just one on our hotel-based tours – nothing more, no exceptions. Maximum weight is 23 kg so pack smart and ask us if you have questions.
WE RECOMMEND – An ideal bag is the rugged 95 L Northface Base Camp duffel bag. Highly water-resistant and durable, it also has lots of grab handles and backpack straps to make it easy to lug around camp.
PRO TIP – There are 3 items in your bag that take up the vast majority of the space. Choose compact and lightweight tents, sleeping mattress and sleeping bags and you are on your way to a well packed expedition duffel.
ORGANIZE – We recommend that you compartmentalize your personal belongings inside your duffel bags. Stuff sacks, compression sacs, plastic bags or other small lightweight bags are a great way to separate your belongings inside your duffel bags.
NO HARD SIDED BAGS – The bag should not be hard sided, or have an internal frame, meaning they should be moldable, and shapeable to the space we have in our support vehicles.
NO BIKE CASES – We cannot allow anyone to have hard or soft bike cases on the tour. There is no space for these on the support vehicles.
How to Prepare
An 8 part series to get you ready for your first TDA tour. Click here to read more.