Blog
REGISTER NOW
LOGIN
SIGN UP FOR OUR NEWSLETTER
The Dinder Experiment: A Shitshow Goes Sideways
While we like to keep the route of the Tour d'Afrique challenging, we also want the riders to be safe, especially from the danger posed by traffic. Over the years, the Sudanese road from Khartoum to Al-Qadarif (on then onwards to Ethiopia) had gotten busier and busier, especially with large, fast moving trucks. By 2009, we decided to make a change. Looking at the large world map on the wall of our office, our eyes were drawn to a National Park south of Khartoum, Al-Dinder National Park. Could we cycle through it to the Ethiopian border instead? It would be 340 unknown unpaved kilometres, as opposed to the current paved route, but, at least, it looked like there would be little to no traffic.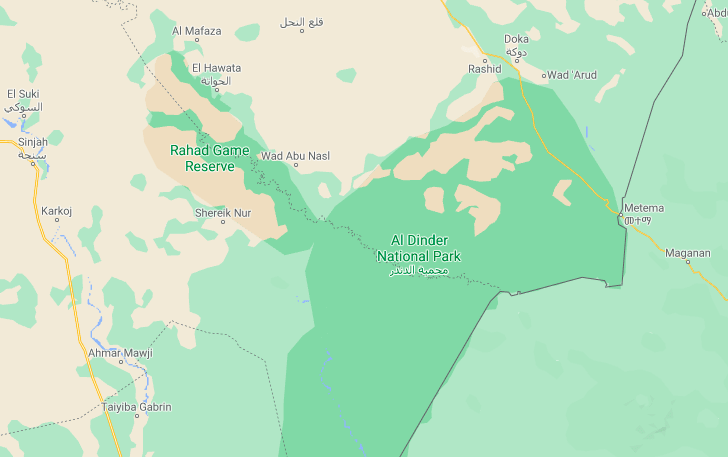 Google Maps suggested (and still does today) that it was a 'National park & biosphere reserve comprised of various ecosystems, popular for scenery & wildlife.' and was 'Good for kids' and even had a 'Wheelchair-accessible entrance.' Not to mention a healthy population of lions! Wow, that sounds great. So we got in touch with our Sudanese contacts and the local tourism authorities, who confirmed it was a beautiful area, and voila, a new route was born.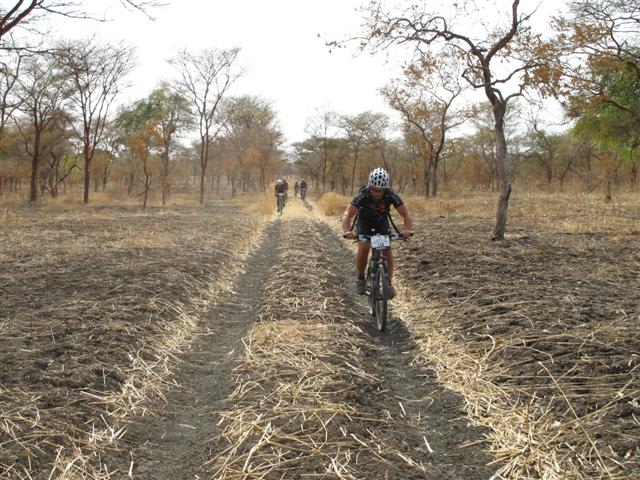 "The riders were treated to a rare ride through Dinder National Park located in the Sennar state. Director of Tourism for the Sunnar State Muhammad Abdulla arranged for the cyclists to have a convoy through the park. The riders enjoyed the opportunity to bike on roads that are rarely driven on, let alone cycled on." – TDA Press Release, February 9, 2010
"Today the hell broke loose…It is impossible to describe how bad that dirt road was. Every inch of the 128km was a torture. It was washboard, with sand patches and loose gravel." – Gerald Coniel, 2010 cyclist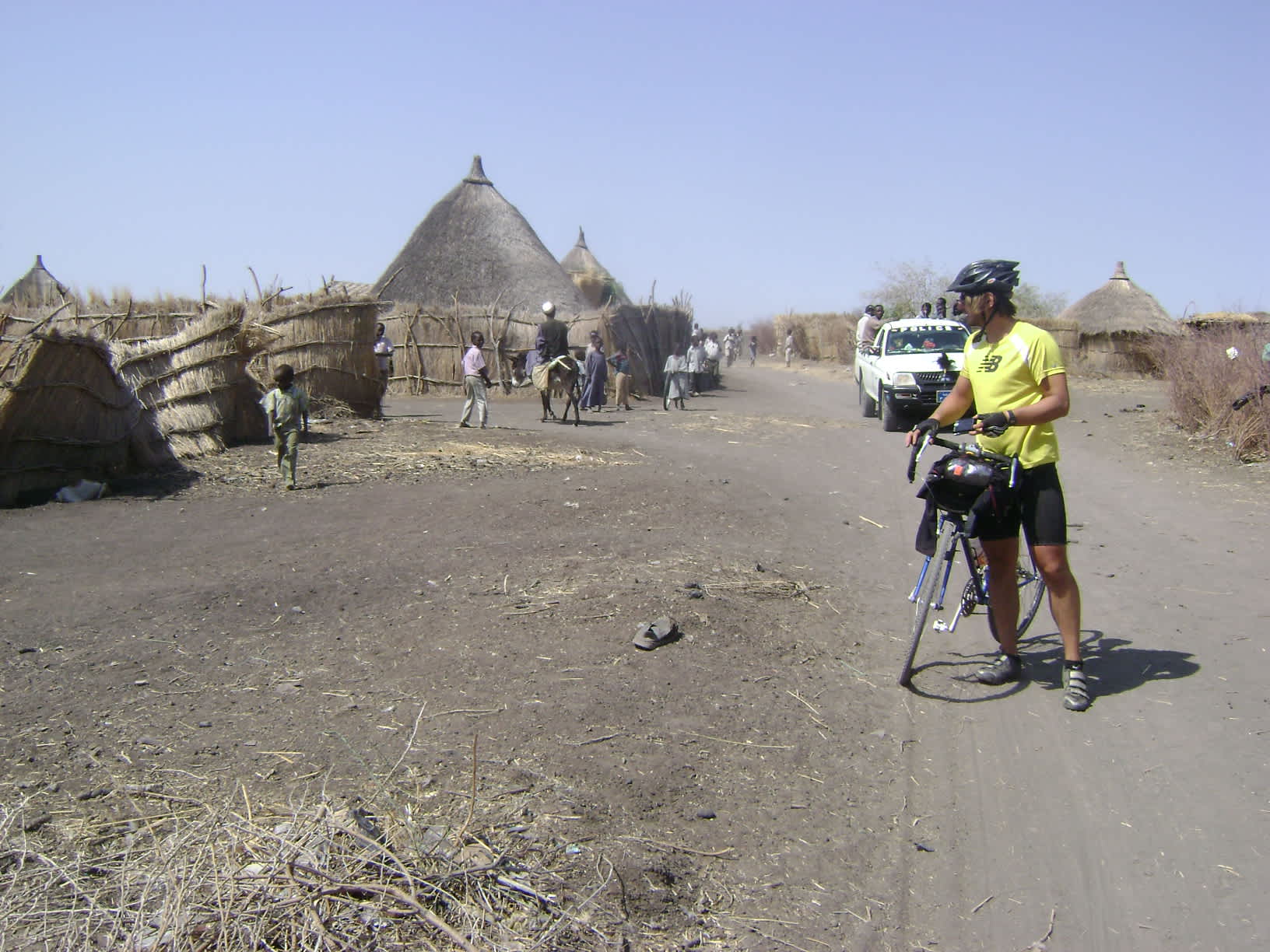 When the new route was announced to the riders at the pre-tour briefing in Cairo, there was loud applause. I'm sure they pictured themselves spinning happily through vast plains, filled with animals, birds and trees. After all, anyone who checked out Wikipedia was reassured to hear that "The park is home to 27 species of large mammals such as leopard, cheetah, more than 160 bird species, 32 fish species, and small mammals, bats, reptiles, and amphibians. It is in a major flyway used by birds migrating between Eurasia and Africa. There are many North African ostriches residing in the national park as well." Sounded a bit like Tanzania's Serengeti National Park.
The reality turned out to be a little more complicated. The park was in the process of being 'rehabilitated' for a planned World Muslim Conference to be held there in 2017. This likely explained the local authorities enthusiasm for having the Tour d'Afrique cycle through the park. Facilities turned out to be mere figments of someone's fertile imagination and on the second day, due to the possible threat of lions, the riders were grouped in convoys, each with escorted by an armed guard.
And the road, well, here is what Gerald Coniel remembers about those 3 epic days struggling across Dinder National Park, "It was now a full scale survival operation, and it would last 3 more days… Your physical condition deteriorates rapidly once your body is under such pressure from every corner. Now it was no longer just about pedalling, it was about taking that pain in the arms, the shoulders, the backs, it was about saddle sores coming back as the washboard road keeps on hitting your butt for hours and hours, it was about technical skills of riding through thick sand patches, it was about avoiding falls and not getting lost."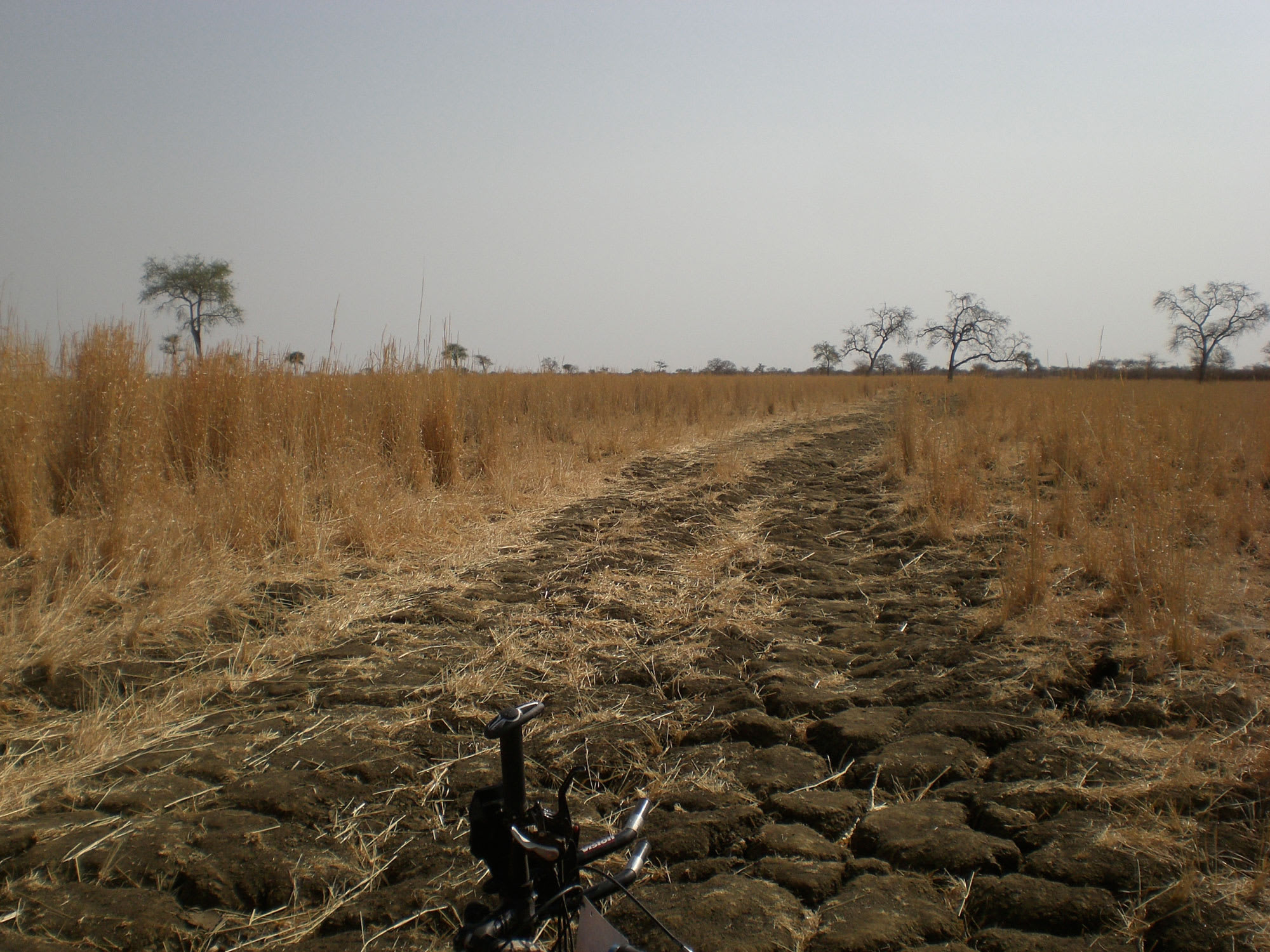 Brit Sunil Shah adds, "One section of road consisted of broken earth but the cracks in between pieces were large enough to swallow a wheel. One of the Australian riders, Dan, caught a wheel and stacked it quite badly. Several other riders chose to walk that section. Adrian, another of the fastest riders, lost control further down the road and hit a sandy embankment to graze a lot of his right arm." Another rider, Eric Olverson, later wrote, "I don't want to overly dramatize this, but I will admit that this day through Dinder, which riders later affectionately renamed The Fucking Dinder National Park of Shit, was the toughest in my life."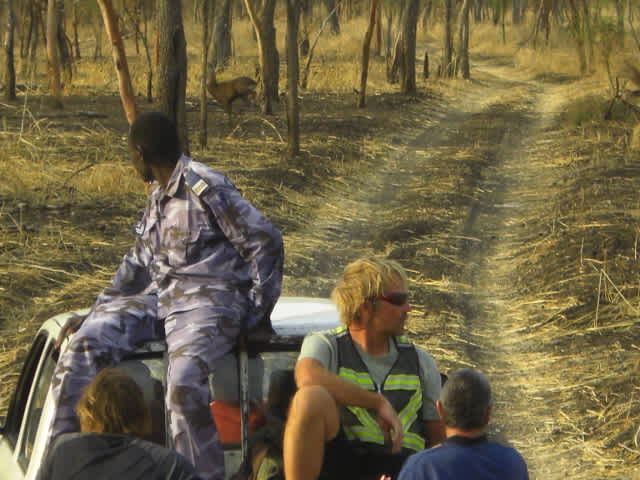 Many riders simply didn't make it through the day on their bikes. They were either completely exhausted mentally and/or physically. Or they were delayed by the conditions. 2010 Rider Sunil Shah recalls that, "Marcel, one of the fastest riders in the tour and a pretty serious racer, had about a million punctures. In his race strong attitude he had bought some lightweight off road 'cross tyres – these seemed to puncture as soon as anyone gave them so much as a sharp look, let alone the thousands of thorns lining the side of the track."
Even our field staff admitted that, "These will surely be rides that live deep in the hearts of many riders, but for others it was simply soul shattering, frustrating days." The Dinder Experiment, as this experience soon became known as, was never repeated and in 2011, the tour moved to a new route that avoided the park. Still, this is the stuff of legends. 'I Survived Dinder' t-shirts were printed by TDA in memory of this event and laid out on the riders' beds upon their arrival in Cape Town. I bet they still wear them proudly today.
"To all those cyclists …you are all graduates of the Dinder National Park school of pain and we salute you for traveling this road with us…" – TDA staffer Shanny Hill, reporting from Khartoum just after the Dinder ride.