Blog
REGISTER NOW
LOGIN
SIGN UP FOR OUR NEWSLETTER
We're Back Baby! TDA Global Cycling Returns To Europe
Tim Millikin is working on the 2021 Trans-Europa Cycling Tour and sends this report from Venice.
I was there in Africa, sitting in the shade of a school building in a dusty town in southern Tanzania, as a feeling of nervous uncertainty rushed through my body. Riders and crew all gathered together as Tallis, the tour leader, announced that due to an unknown virus that was spreading across the world, we were unable to enter Zambia and so the tour would return to Arusha and end. The feeling of immense disappointment was matched only by the understanding that something serious was going on. As governments around the world told their citizens to return home, we solemnly boxed up the rider's bikes, packed away our tools, said our goodbyes and left our hearts in Africa as the world went on a two year hiatus.
During this break, schedules were constantly pushed backwards, dates were changed, governments issued changing and conflicting travel advice and TDA adapted and reworked their plans so as to safely follow the rules and ensure they would be in a position to re-launch again as soon it was able. Riders had to adapt to these changes as well and much credit must go to them for showing a large degree of flexibility and resilience as they continually modified their own plans.
It has been a hard two years as riders and staff alike played a waiting game for the restrictions to end, for the world to open up, and to be able to ride our bikes across a continent again. In September, as the mist of Covid-19 started to disappear and we could see the TDA Trans-Europa on the horizon, everything was beginning to feel more positive.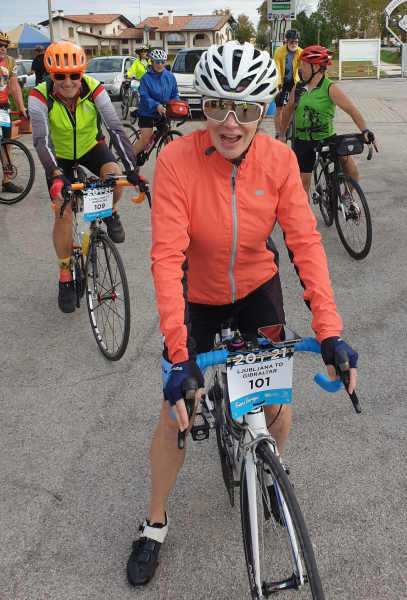 I asked the riders how they felt about being back on the road and Eve from Tucson said, "Beyond excited…we were literally pinching ourselves and saying is this true that were really here and its happening." Simon from Ireland added, "Great to be back out, I've spent so much time in one place! To be able to go from place, to place, to place, feels great."
We started out on a misty Ljubljana morning as 18 riders from around the world took their place for the obligatory start line photo. Then followed the sound of 18 pairs of clipless pedals popping in as the intrepid team turned and rode forward – 3035 kilometres to go until Gibraltar! The day started with a 50 km ride and a tough climb which saw some steep 15% gradients but everyone was smiling as they had lunch at the top of the climb. They were all happy to be back, happy to have reached the top and happy knowing it was all downhill from here!
Stacy Bailey told me "This is my first long tour, and it's been really nice. The first day really exceeded my expectations with a steep mountain climb and a beautiful gorgeous descent that was really relaxing. The first day was lovely."
The first ride ended as we crossed from Slovenia into Italy, from the Julian Alps into Gorizia and the home of good coffee and even better gelato! Everyone was smiling and the jubilant atmosphere matched the heights of the pass we had just crossed. It felt so great to be back on the road, to be riding in a new and exciting country, to pass borders without fear. TDA is back and perhaps even better than before as we now all know what a life with restrictions felt like, so now we would all make the most of each and every opportunity going forward.