Blog
REGISTER NOW
LOGIN
SIGN UP FOR OUR NEWSLETTER
Cycling Across The Apache Lands
At the age of 69, I am currently riding through California, Arizona and New Mexico and, in a sense, I am closing a circle. The circle started when I was maybe ten years old and I was imagining myself riding these grand vistas on a horse. Now, I am actually here on bicycle, when I am not in a ditch, but that is another story.
The cycling is just a means to bigger lessons about life.
If you were not raised in Europe in the 60's you have probably never heard of Karl May. He was born in Germany in 1842 and penned adventure stories for young people. He mainly wrote about American Indigenous peoples, though he never spent a single day in America. It is estimated that the circulation of his books reached 200 million copies and were translated into 40 languages including Slovak, my mother tongue. For comparison's sake, J.R Rawlings Harry Potter books have sold 450 million copies and certainly everyone has heard about her.
In the 60's, besides Beatlemania, there was another hugely popular happening in non-English speaking Europe and that was the  adaptation to the big screen of Karl May's fictionalized stories of the young Apache chief, Winnetou, his white collaborator, Old Shatterhand, who became his blood brother and a band of iconoclastic white men who were fighting with Winnetou against the bad guys taking over Apache land.
I, like many other kids, devoured the Winnetou novels and it was through them that my mind imagined one day riding a horse across the American Wild West. And here, five decades later, I am actually doing so – granted, not on a horse – and experiencing the real Apache territories. And what a land it is. Their original region ranged from western Arizona to Eastern Texas and from Northern Colorado to Mexico in the south. One could say we have now been cycling for a couple of weeks and will continue to do so for another couple of weeks, in areas not long ago roamed by the Apaches. If you enjoy wild open spaces with vistas that go on forever than cycling this area is for you.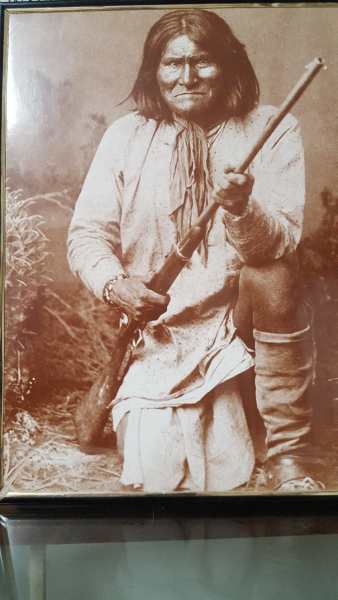 I, for one, am immensely enjoying it, whether it is for the connection the area brings to my days of innocence or simply because of its raw beauty. I have also enjoyed learning more about the Apaches from my visit to the Geronimo Museum in a place called Truth or Consequences. Here, I learned the fascinating story of a real Apache warrior, Geronimo, who was probably one of the inspirations for the Karl May novels. Here is a wonderful quote from Geronimo, a brave warrior, medicine man, spiritual leader and the last significant Apache warrior to surrender to the US army. "There is one God looking down on us all. We are all the children of one God. The sun, the darkness, the winds are all listening to what we have to say."
And what do we, the riders of TDA's Great American Roadtrip, say? A couple of days ago, we camped in a wonderful spot, Aguirre Springs in the Organ Mountains Desert Peaks National Monument. Getting there included a tough climb with strong head winds. After a very long day in the saddle, I was elated upon reaching the campsite and enjoying being up on the mountain. The next morning the wind didn't go away, in fact, it got stronger. That didn't bother me because I realized that once I descended from the mountain and reached the main road, the wind would be at my back – every cyclist's wish – especially when one has a long cycling day coming up. I was also excited because I was planning to visit another spectacular site on our route. White Sand National Park is a natural wonder, a huge area of white sand dunes and a region recently in the news as the place where human footprints from 22,000 years ago were discovered. That now pushes back the date when humans first walked the Americas.
After a half mile long steep climb, I made it onto the freeway. Making a right hand turn, the wind was now at my back and in front of me was a terrific descent. All my hard work would now be rewarded. Within seconds, I was speeding down the hill. Suddenly, a strong wind gust from the side hit me and I was quickly on my way into a ditch and then a few minutes later, on my way to the hospital. An MRI and X-rays fortunately showed nothing serious had been damaged but, as such incidents tend to do, with bruises and pain all over  your body, one appreciates life more and focuses one's mind. To use Geronimo's words, "What we have to say" to the winds in this short life.
When I think of Winnetou's books that I read as a child, the one thing that sticks in my mind was the way the young Apache chief and his blood brother behaved. It was fiction, but it was a fiction with lessons for life. I have come on the Great American Roadtrip to cycle and enjoy the beauty of the land but, as always, the cycling is just a means to bigger lessons about life.
RELATED
TOUR