Blog
REGISTER NOW
LOGIN
SIGN UP FOR OUR NEWSLETTER
TDA's Great American Transit
So, the Great American Roadtrip has come to a successful conclusion in beautiful, historic Savannah, Georgia and the riders have packed up and moved on with their lives. Ever wonder what happens next?
Well, some staff may fly off to work on the next tour while others return home. Someone, however, has to deal with the support vehicles. The 3 that started the tour in Santa Monica, California now have to somehow be returned to Victoria, BC where they are stored when not being used. From Savannah, that means driving them across America for about 5,000 kms. That's where I come in…
Amongst the basic skills being lost these days is the ability to drive a standard vehicle. You know, a manual transmission, stick shift. Perhaps not surprising, given that less than 2% of vehicles sold in North America these days do not have an automatic transmission. At the time I wondered why our Operations Manager, Miles MacDonald, had emailed me, asking if I knew how to drive standard. Having learned that particular skill on the snowy, hilly streets of Montreal, I answered in the affirmative. Next thing I knew, I was on a plane to Savannah, Georgia to meet up with the rest of the transit crew.
We had 3 vehicles – a gas-guzzling Ford van and 2 jerry-rigged Mercedes trucks. The latter had been been shipped over from Germany (hence their manual transmissions) to BC where TDA's resident mad bike mechanic/builder, Andreas Pakenham, had custom built the cargo beds to support our bike tours. I was assigned the smaller of the 2 Mercedes while the Ford van was to be driven by tour videographer, Coby Werlin, and the larger Mercedes truck by TDA staffer, Micah Markson. Micah was joined by a friend from Toronto, Dave, whose partner was studying for exams and had strongly suggested that he find somewhere else to be for the week.
After a 1/2 hour test spin through Savannah's suburbs (I hadn't driven standard in over 25 years), I confidently proclaimed myself ready to roll and at 06:00 the next day we headed out on our adventure. Nashville, Tennessee, 800 km away, was to be our destination for the day. Oh, did I mention that the larger Mercedes had a regulator on its engine, limiting its speed to 90 km/hr! That would likely guarantee no speeding tickets but some very long days…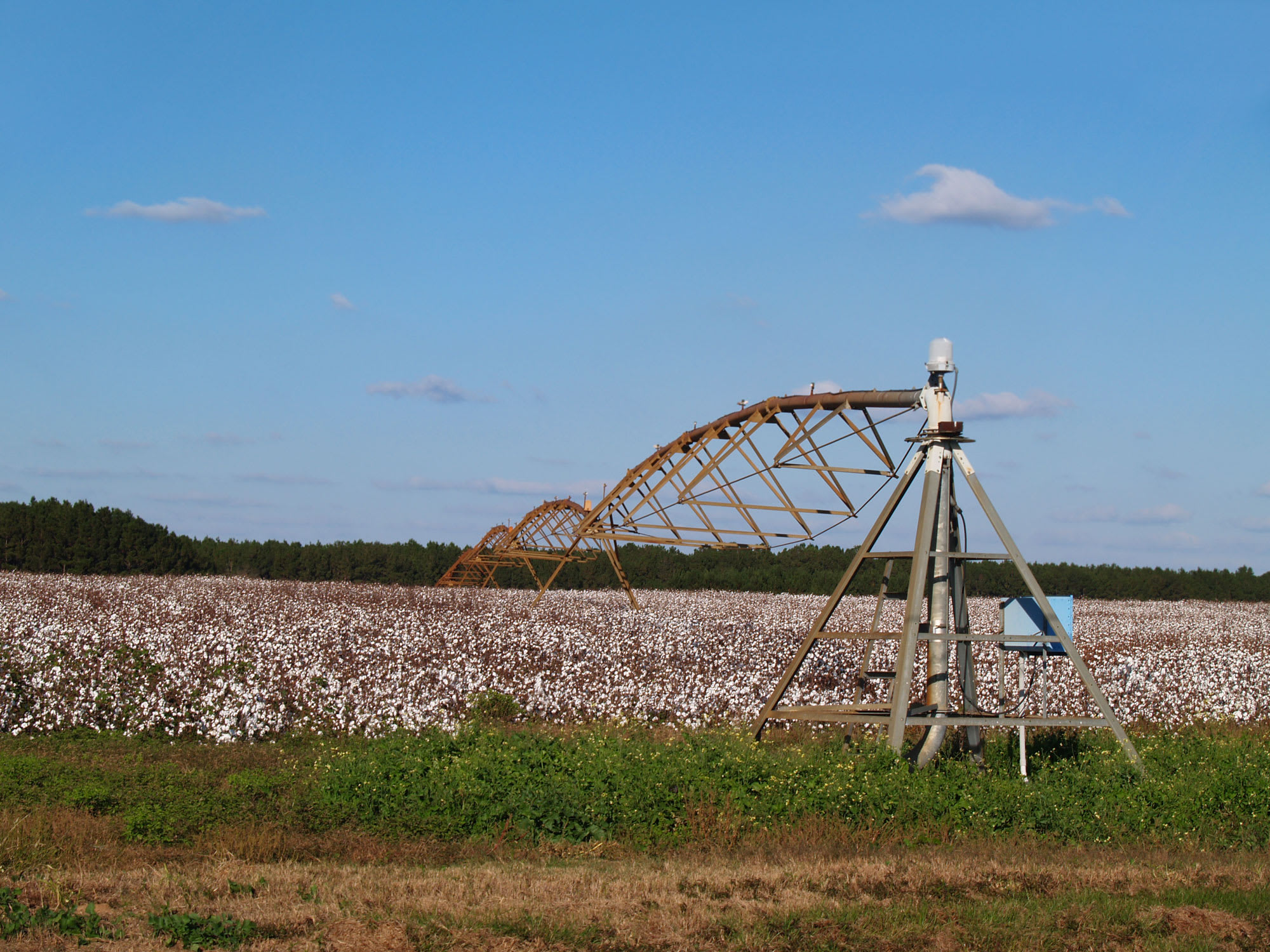 Georgia was covered in fields of cotton, white tufted balls of it sprinkled across the earth, sandy soil and endless pine trees. The interstate was littered with a vast wash of abandoned tires, both whole and in an endless array of pieces, big and small. It was also dominated by towering billboards touting gas prices (an American obsession), personal injury lawyers and Jesus. The exit signs listed an absolutely overwhelming number of fast food restaurants at each stop, most of whom I had never heard of.
In the American south, the number of Waffle Houses and Dollar General stores is truly staggering. At the border with Tennessee, 2 huge fireworks stores, each claiming to be the world's biggest, sat directly across from each other.
We were running late. For our lunch stop Coby had driven ahead to scout out a good spot and decided that it would be a great idea to eat at the Bon Temps. The menu looked great but getting there involved crawling into downtown Atlanta on gridlocked roads, not a journey I remember fondly. Dave was convinced that Coby's real agenda included a nearby vintage store but that's just a theory…
Crossing the Tennessee River just past Chattanooga presented us with a beautiful sunset but it was now dark and we still had over 200 km to cover. The drive into Nashville was a nightmare. Each large US city is surrounded by a spiderweb of interstates, weaving in and out, merging and dividing endlessly. I was following Micah and trying to match his occasional, ok, frequent, last minute lane changes as an endless stream of cars and trucks raced past. It was like being trapped in an insane video game. We arrived at our hotel late but safe and ordered the local specialty – Nashville Fried Chicken – which turned out to live up to its hype.
That night, over beers, we came to an important conclusion. Our limited speed meant that the interstates offered little advantage in terms of making time so we decided to drive mainly on secondary roads from then on. This turned out to be a great decision. Leaving Nashville, we skipped through a corner of Kentucky and Illinois before entering Missouri. We crossed the mighty Ohio River high up on an ancient but spectacular 2 lane bridge, before passing through one of the saddest towns I have ever seen. Cairo, Illinois. Every store was closed or burnt out. The only thing open was the 'Vodka Shack' which featured 4 stick figures staggering about in its parking lot. On the way out of town I saw a roadside shrine to a dead cyclist and a beautiful tawny owl majestically perched on a fence post in the pouring rain.
Missouri turned out to be the biggest surprise of the trip. It was beautiful – lakes and rivers and hills and twisting roads. Each small town had a wide variety of churches, although mostly Baptist, and, almost always, some historical reminder of the civil war. We even passed by the small hamlet of Meta (does Mark Zuckerberg live there?) and a huge mauve and purple sex shop asking for donations (a used dildo anyone?). Unfortunately, the roads also revealed an appalling amount of roadkill including, gasp, even armadillos and the dreadful toll that American driving extracts from the population was reflected in the large number of roadside shrines, some even lit at night.
We drove on through Nebraska where every small town had its own fairgrounds and into South Dakota which was incredibly flat, just like the famous scene in the Tom Hanks movie, Castaway. The sunset that evening took up 180 degrees of the sky and lasted over an hour. Without warning, in the middle of nowhere, there appeared a field of colourful, historic farm windmills. In the distance, huge freight engines appeared to be dinky toys set up against immense grain elevators.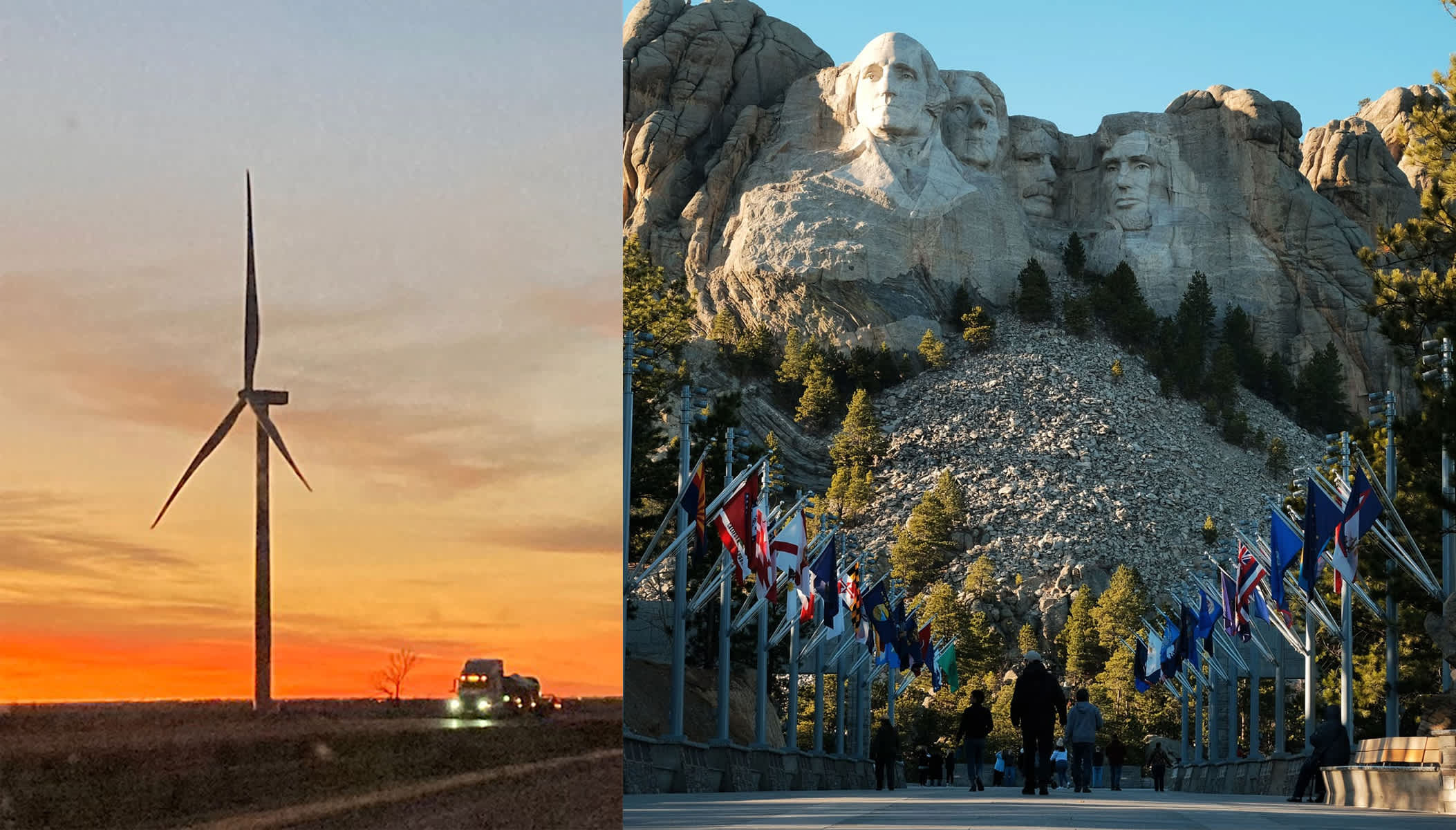 The land began to rise and we climbed up into the Black Hills to visit Mt Rushmore, a political statement, a slap in the face to the Lakota Sioux who consider this beautiful land to be sacred, sculpted by a man with close connections to the KKK.
We continued west. Crossing the Missouri River, the grain fields changed into cattle ranches. Road signs reminded drivers that they had to carry proof of ownership for their livestock. A Mexican restaurant advertised that it had 'Mexican food so good that President Trump would want to build a wall around it'. A car dealership included a cowboy clothing store. We drove through the warm sun in the incredible Badlands National Park.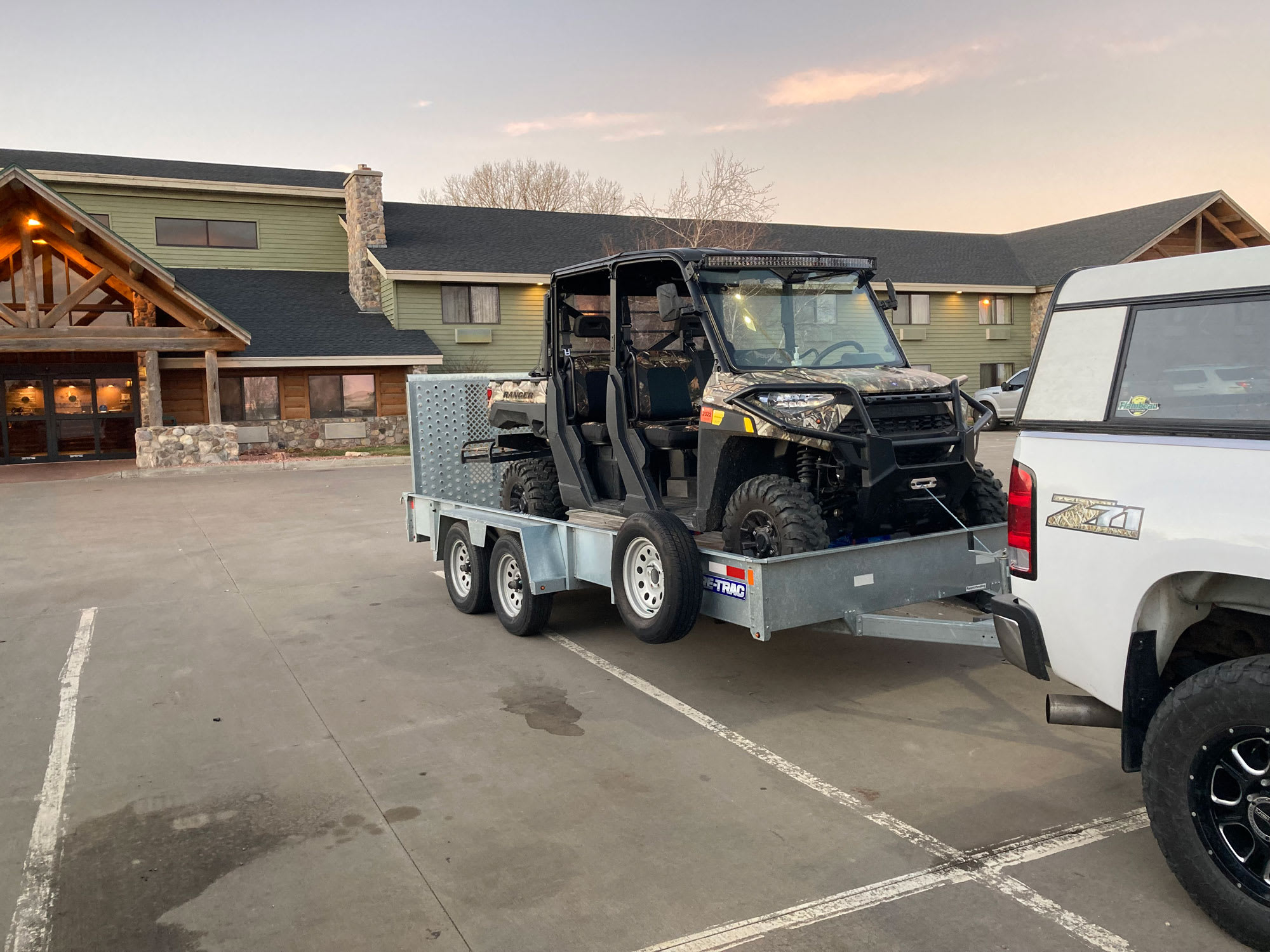 Every second vehicle was towing a trailer, a trailer with a car, another truck, an ATV, a couple dirt bikes, some livestock. We awoke to snow the very next morning in Gillette, Wyoming.
In Montana, every business is also a casino, including the KOA campground. The drive through the Rocky Mountains was as beautiful and spectacular as you would expect and Washington State's west coast was as rainy as predicted.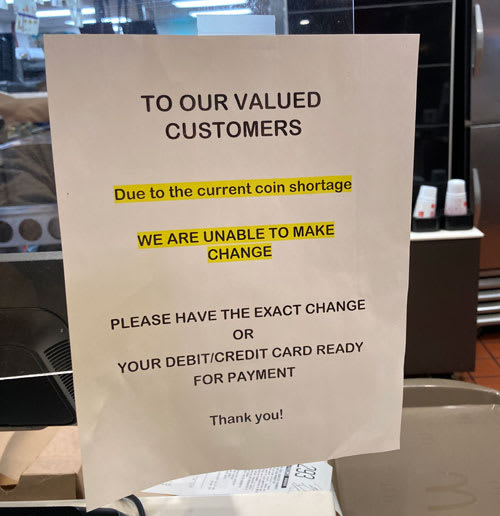 Our last night was in Yakima on American Thanksgiving. The US takes this holiday very seriously. Nothing was open. Not even the Domino's Pizza! Nothing except the McDonalds. We reluctantly headed down and ordered some McRibs and fries. There were about 17 staff working but they were all at a table chatting away furiously. A lone girl with a mop was behind the counter and we tried to pay here but, apparently, there was a coin shortage in the area so she wasn't sure she could give us change and she wouldn't know until she opened the till. Dave gave her some bills and she handed him some change. Not enough so she practically threw some bills at him, slammed the till shut and went back to mopping. We returned to our hotel, did our COVID tests and anxiously awaited the results. All negative, thank God! The next day we drove to the ferry and made the successful crossing back into Canada and dropped the vehicles off at our Operations Manager's house in Victoria.
We had driven through 13 states. We had crossed 5 of America's greatest rivers – the Tennessee, the Ohio, the Missouri, the Mississippi and the Columbia. We had managed to pass all of 4 vehicles the entire trip (and 2 of those soon passed us on the next downhill). We were amazed that every gas station had clean washrooms. We had marvelled at the automatic pancake making machines in our hotels. We had completed the transit.