Blog
REGISTER NOW
LOGIN
SIGN UP FOR OUR NEWSLETTER
The Naked Mile: A Cheeky Tour d'Afrique Tradition
"There are strange things done under the Namibian sun
By cyclists who ride the continent for glory;
The African trails have their secret tales
Most would sound like a crazy story;
The Southern Lights have seen queer sights,
But the queerest they ever did see
Was that day on the road outside Solitaire
I got naked, just my friends and me."
– (Sincere apologies to Robert Service)
The Tour d'Afrique's tradition of the 'Naked Mile' was perhaps inspired by the World Naked Bike Ride which was started in 2003 to draw attention to "oil dependency and celebrating the power and individuality of the human body." (Wikipedia). It took a few years to manifest itself on the tour. Cycling across the African continent was certainly an obvious method of drawing attention to oil dependency, not to mention the power of the human body.
The tradition was started on the 2006 expedition. Before that, as 2005 rider David Houghton commented, "We limited our nakedness to skinny dipping and sprints to the shower." Who started it is a mystery! Why Namibia? Likely because it has so much open space that a few naked cyclists might easily go unnoticed. I remember being part of the first one and pedalling happily along before noticing a tour bus approaching. What to do? Well, we just kept spinning along and thoroughly enjoyed the looks of shock, surprise and yes, even horror, as the golden-aged tourists suddenly realized what was going on outside their windows. They came to see Namibia's famous dunes and instead were treated to our cycle-hardened moons!
In 2009, one rider wrote, "Today things got weird. Rumours have been floating around for a while that some years ago one of the tour groups decided to strip down and ride their bikes naked for a mile. For any normal group of people this idea would seem to be ludicrous… but we are a band of individuals who have decided riding bikes from Cairo to Cape Town sounds like a grand vacation. Therefore, upon hearing that such an ad hoc celebration of the flesh had occurred on years prior an adventurous group of our cyclists (myself included) decided to take it upon themselves to "gear down and go for it"."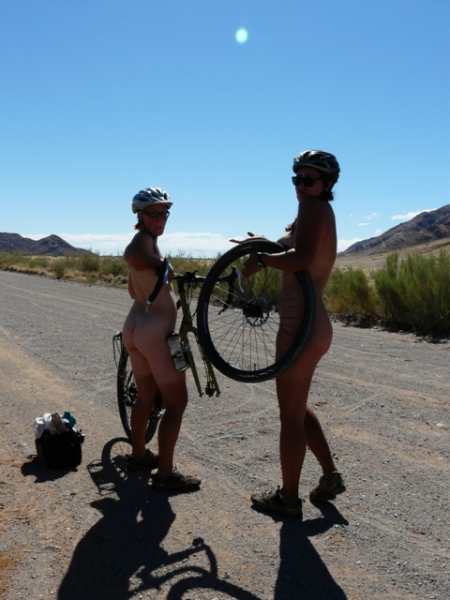 In 2010, one staff member, who shall remain anonymous, wrote, "Off the top of my head, I can think of a few places I'd enjoy being naked: the shower, the bedroom, a sauna, a lake. But naked while riding a bicycle over a gravel road in the full sun of the Namibian desert doesn't immediately spring to mind. Immediately, that is. Namibia offered epic views and I was enjoying my ride at the back of the group as the sweep, alone with my thoughts and endless kilometres of sand and sky. Suddenly something caught my attention; off in the distance I could make out two figures coming toward me. By now I can usually identify riders by pedal stroke and jersey long before facial features become distinguishable. But this time, something was amiss. It looked as though the pair was wearing pale, flesh-toned body suits. As they pedalled closer I could see they were wearing little more than serious cycling tan lines, helmets, and mischievous smiles. I had heard rumblings of a resurrection of the Naked Mile, the brainchild of some fun-loving riders of TdA's past, and it donned on me (around the time I got my first glimpse of nipple), that The Naked Mile was on!" An added bonus was that, "Moments after pulling off our jerseys, Henry Gold rumbled toward us in The Green Machine, one of our beastly support vehicles. Caught red-handed (and nearly braless), we seized our opportunity and promptly mooned Tour d'Afrique's founder."
Over the years the competition to ride the Naked Mile the furthest intensified. Sure, setting the record for the fastest ascent of the Blue Nile Gorge is something to talk about but in 2012, one female Canadian cyclist managed to ride the full 84 km stage butt naked. Now that is a record to be proud of!
In 2014 a group of riders spelled out TDA 2014 on their backs in pink tape and rode their mile right past lunch causing quite a spectacle.
A 2017 South African cyclist remembers that his wife, "cycled with the girls, who in true TDA tradition, stripped off their kit & rode the "Naked Mile" before lunch. Two of the Racing Snakes, Charles and Mark rode the complete 30 km Time Trial naked, much to the delight of the numerous Tourists in the immediate area."
In 2018, a British rider wrote, "It wasn't as awkward as I had anticipated. And was actually pretty comfortable. We were at the top of the hill by this point so we had a nice cruise down, albeit corrugated again, to the plateau. We attracted a fair about of attention from the handful of vehicles. Maybe 25-30% of them stopped/slowed to get a better look. A tour bus even stopped in the middle of the road and the driver whipped out his phone to take pictures. There was also a couple standing in front of their land cruiser with big cameras taking pictures and talking to us."
Of course, in 2020 and 2021, the pandemic added the Naked Mile to its many victims but the 2022 Tour d'Afrique will pass through the Namibian desert. Will the tradition continue? Well, there is a isolated stretch of a gravel road, deep in the Namibian wilderness, where each year since 2006 a sacred rite is undertaken. Where cyclists strip down, shedding their clothes and inhibitions. Where they pedal effortlessly for a 1 mile and maybe many more, blowing shamelessly past amused ibex and the occasional horrified tour bus. So why not! Why not, indeed?