Blog
REGISTER NOW
LOGIN
SIGN UP FOR OUR NEWSLETTER
Baba & The Hippie Trail
Mr. Shaik Baba, who hails from Bangalore in India (known to all simply as 'Baba'), has been working with TDA as a bicycle mechanic and support person for many years now.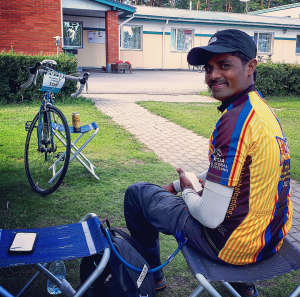 His first tour with us was the Hippie Trail in 2016 and since then he has served on subsequent Hippie Trail tours, our inaugural Trans-Himalaya tour and other cycling adventures in Madagascar and Europe.
Baba will be working hard on our 2023 Hippie Trail, so rest assured that you'll be in good hands if you're able to join us!
We recently asked Baba a few questions about his time with TDA and specifically about his experiences on the Hippie Trail.
Which Hippie Trail years did you work on with TDA?
I worked on the Hippie Trail Bicycle Tour in 2016, 2017 and 2019.
Can you describe your top 3 favourite days (rides) on the tour?
There are too many to mention but these are just the first three that come to mind. The day cycling into Kumbhalgarh in Rajasthan gives you a very vibrant feel. The pretty lakes, the rolling hills and the old Rajput forts are very interesting. Then there is the incredible experience of riding to the stunning caves in Ajanta and Ellora. Finally, the sea views while exiting Mumbai by ferry are amazing.
What do you think has been the biggest surprise for most of the Hippie Trail participants who had never been to India before?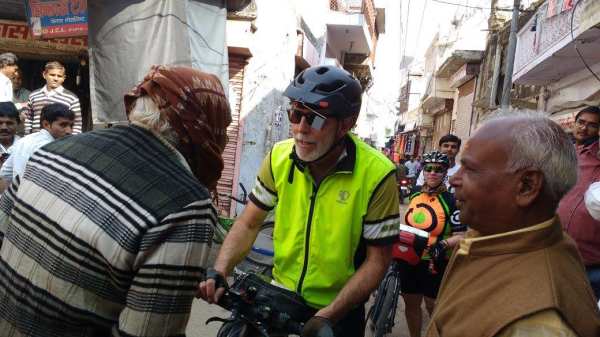 The riders were always surprised by the number of selfie requests that they got while travelling through small villages and towns. Local people are very inquisitive and are very eager to ask the riders many questions.
Oh, and another thing people found surprising is how people travel in remote villages on our route, especially in the Northern Indian states like Uttar Pradesh and Rajasthan where public transportation is very limited. We Indians call this the JUGAAD (the term itself refers to something like a work-around or a useful hack or a makeshift fix), a low-cost vehicle made of wooden planks and old SUV parts, powered by diesel engines originally intended to power agricultural irrigation pumps. They are known for poor brakes, have a maximum speed of less than 40 kph…and usually are seen carrying at least 30 people at a time. 🙂 Would you be surprised to know that the term Jugaad even found its place in the Oxford dictionary?
What are some of the amazing food dishes that participants can look forward to on the Hippie Trail?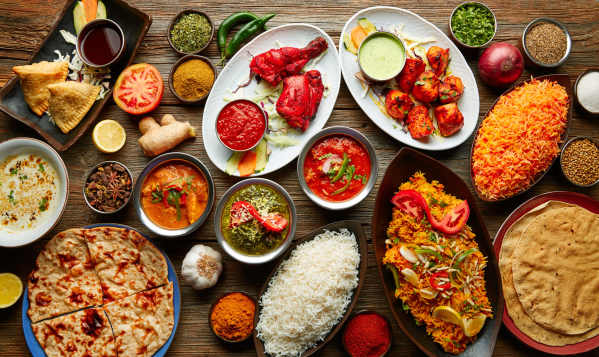 The Hippie Trail passes through 5 different states. Although the food dishes/curries might have similar names, every state has their own delicacies. It is difficult to mention all the dishes that one could possibly try while travelling through India but some of my favourite dishes are biryani, mutton korma, chicken kebabs, different fish frys and naan breads. There are also some tasty snacks like samosa kachori, poha (flattened rice) and to drink there is masala chai, sugar cane juice and lassis. Riders are in for a gastronomic treat!
>>Related Post: Sleeping Like A Maharaja
What is your favourite hotel on the tour?
My favourite ones happen to be in Rajasthan. At the Dongarpur Hotel there is a man-made lake right next to the hotel, a hydraulic bar, an African Zoo, a collection of vintage cars and motorcycles and the biggest dining hall I have ever seen ☺. I also love Fort Kherjala. [It was built in 1611 for Maharajah Gopal Das Ji and is an incredible example of Mughal/Rajput architecture. Carved out of red sandstone, it is renowned for its intricate latticework and window boxes]. Finally, there is Roopangarh Fort [which once served as the primary residence of the Maharajas of Kishangarh]. Here, our Hippie Trail riders will bed down here for the night in one of the fort's 20 rooms. If they are lucky they may end up in what was once a royal suite.
RELATED
TOUR
Hippie Trail
"Turn on, tune in, Drop out" It was 1967 - the Summer of Love - and Timothy Leary had this advice for his young followers at the Human Be-In taking...