Blog
REGISTER NOW
LOGIN
SIGN UP FOR OUR NEWSLETTER
Argentinian and Chilean Food Culture
Nicholas Coe is the Content Creator for the 2022 South American Epic Cycling Expedition. In this report, he looks at the food in both Argentina and Chile.
Now that we have experienced time in Argentina and Chile, the group has been able to taste local foods in both countries of this expedition. Either while on the road cycling or enjoying a rest day, we are getting a taste of local foods almost every day.
From our experience, Argentina knows how to cook meat. Beef, beef, beef! It is of extremely high quality, but low in diversity. They have just a few things they specialize in, but those things are really, really good. Good maté, good parrilla, good beef and Dulce de Leche, of course (they use it like people in the US and UK use peanut butter). Parrilla is basically the Argentinian word for grilling. It refers to any meat that is cooked over an open fire or coals on a grill – and almost every restaurant cooks that way.
The group had a rest day in Mendoza, the capital for Malbec wine in Argentina. We caught wind of a restaurant that was considered one of the best wine restaurants in the world – Abrasado Restaurante. The steak to wine pairing certainly did not disappoint. It felt like a must do, especially after passing kilometres of vineyards on the way into Mendoza the day before.
There is less variety in Argentina than in Chile which also has parrilla, but is better known for its seafood and especially ceviche. Ceviche is an interesting dish from Peru – raw fish that is soaked in a citric substance like lemon and then mixed with a variety of ingredients. With a long Pacific Ocean coastline like Chile, it would be a surprise if they didn't eat a lot of seafood! In any coastal town, we would bike past dozens of ceviche stands.
Our chef  Mark loves to use local foods in all of his dishes. While in Argentina, he would get local beef to add to his curry, stew, pasta, etc. While in Chile, he has used an open grill to cook fish that was caught just hours prior to the meal!
It is very interesting to observe the changes in food and cuisine as one travels along. The type of food being used is based on the resources available to the culture; beef in central Argentina and farmland and fish in coastal Chile. Other cultures also can have an influence on the food as well. Argentina is known to have fantastic ice cream (which is true!) due mainly to the country's Italian cultural heritage.
One common interest for everyone on the South American Epic is wine. And why wouldn't it? We are cycling in fantastic wine country! Argentinian native and TDA staffer, Juan Farias, thinks, "Argentina does Malbec the best, but Chile has the best wine." Chilean wineries have mastered more of a variety like Cabernet Sauvignon, Merlot, and Carmenere but Argentinian Malbec is considered the best in the world. An added bonus is that when you are in wine country, it is typical for the wine to be extremely cheap…
As we head farther south, food is going to become scarcer with much smaller towns and much less variety available. It's going to be interesting to see how this food transition unfolds!
RELATED
TOUR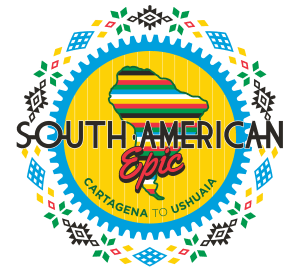 South American Epic
This challenging expedition offers you the best opportunity to explore the vastness and diversity of South America by bike. In keeping with the TDA...