Blog
REGISTER NOW
LOGIN
SIGN UP FOR OUR NEWSLETTER
The Cycle Of Happiness – Tour Logs From Tour d'Afrique 2023
Ethan Weil is the content creator for the Cairo to Khartoum section of the 2023 Tour d'Afrique. He sends his first report from Luxor, Egypt.
"The best ride of my life, and I've done some rides!" Craig, our oldest rider on the tour, had been ecstatic with the ride on day five. With a big smile on his face he rode through the Red Sea Mountains. The route started in the beautiful coastal town of Safaga, then threaded through the mountains on the way to our desert coke stop camp.
Craig wasn't the only one either as many riders rode into lunch with faces of joy due to great road conditions, a tailwind, beautiful scenery and a nice downhill after the first hill climb of the tour. Many cyclists, like Craig, have been preparing and training for months ahead of this journey from Cairo to Cape Town and each have unique stories on how long they've been cycling, why they cycle, and what got them to join the tour. One cyclist in particular, who happens to be one of our guest riders from Egypt, tells his story about why he cycles.
After coming in for lunch from a long ride in the desert, Ashraf came up to me and we talked about how the ride was going which led to me asking why he enjoys cycling along with what got him into it? He responded that, "Cycling as a sport in Egypt is not as big as it is in Europe and when I ride, I have other Egyptians ask me why I do it or why do I ride with a tour, I ride for health and for happiness. Cycling keeps me healthy and makes me very happy." His love for cycling is easily seen as he talks about it. I connected with him and his answer as it's also why I ride. We talked about how cycling is also a great way to see things you wouldn't otherwise see by car, as it doesn't have such a constrained view.
Riding a bike is a slow enough speed to take in the senses and scenery around you but it also a great form of transportation. Ashraf's love for cycling runs in the family. When I asked why he cycles with the tour in his home country of Egypt he said, "My son also cycles and is ranked number two in Egypt, He is 16 and TDA Global Cycling doesn't allow anyone to join the tour until they are 18 years old. When he turns 18 I plan to cycle from Cairo to Cape Town with him on the Tour d'Afrique." I loved how he not only cycles for fitness and enjoyment but also to create a strong bond with his son. He even told me that he let his son know when the tour was driving out of Cairo so his son could cycle alongside our vehicles.
The bond Ashraf has with his son over cycling resonates with me as it was my own father who got me into cycling too. I have fond memories of him nudging me to get some exercise and join him on a ride to enjoy the outdoors. Cycling brings happiness that can be shared between generations, thus creating a cycle of happiness.
RELATED
TOUR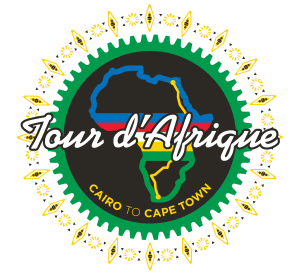 Tour d'Afrique
Our original trans-continental journey and flagship expedition crosses Africa from north to south, covering 10 countries in all. Beginning at the...