Blog
REGISTER NOW
LOGIN
SIGN UP FOR OUR NEWSLETTER
Local Bikes In Africa: An Appreciation
Every year, the riders registered for the Tour d'Afrique spend a lot of time, sometimes perhaps too much time, deciding which bicycle they want to bring on the expedition. Most riders have more than one bike at home and have to make a choice – mountain bike, gravel bike, touring bike? They agonize about tire size, gearing, suspension, brakes, and much, much more. Of course they do. They are about to pedal across Africa from Cairo to Cape Town so, obviously, some concern is to be expected.
Once they hit the road and begin cycling, they may begin to see that their fancy machines seem somewhat out of place. As a past Tour Leader put it, "We may act as role models showing the Western World that you can travel anywhere by bike, but being here we also learn that the bike is far more than an instrument of sport or recreation…. it is a tool of empowerment for the people." After all, in Africa, especially the rural areas, a bicycle, any bicycle, is a basic need and serves many purposes – taxi, food delivery, cargo truck, ambulance, bus, whatever they can pile/load/strap onto it.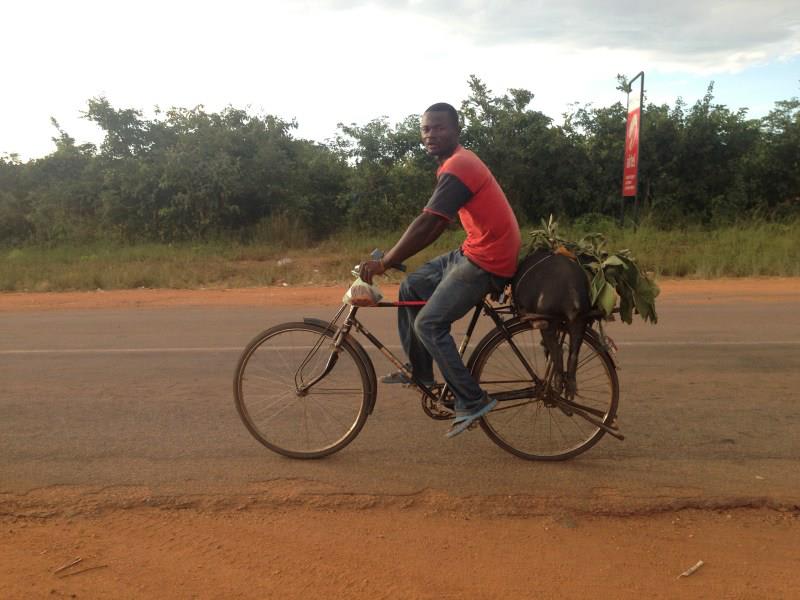 I remember cycling along in Zambia in 2006 feeling good, really good. I was now used to riding 120km/day without breaking the proverbial sweat. I was powerful and strong. Then a local man on a single speed bike that looked like it was ready to fall apart pulled up beside me. He had a pig tied onto his back rack, one that was  almost his size. He smiled at me and I smiled back. Then he increased speed and pulled ahead of me. I responded in kind pulling ahead of him expecting to leave him behind. Not a chance. He went by me again and, despite my best efforts, pulled away, leaving me in his wake. A valuable lesson.
In 2014, the riders on the tour got a chance to understand the locals' cycling experience as the result of the 'Phoenix Experiment', named after the most popular brand of bicycle in Malawi and Zambia at that time. As the Tour Leader, Randy Pielsticker, noted, "the Phoenix is the typical African bicycle, a pure steel frame, with integrated rack and a kickstand that could replace an indoor trainer. They only come in one size but are complete with fenders, reflectors, a bell, pump, tire lever and wrench. Often when we see them on the road they are laden with livestock en route to the market or carrying 50 kg's of charcoal, an entire family and their dirty laundry. They are not built for speed, they are built to be bombproof, and a few of our intrepid riders have volunteered to saddle up to these beastly cycles for the final 151 km of rolling hills leading us to Victoria Falls."

The result? One rider got about 20km into the stage. Then his chain was not cooperating. Neither were his tires, fenders or brakes. Others decided to try to replicate the local experience by carrying a kilo of Malawi tobacco or a case of beer. Staff reported that, "We passed quite a few riders who weren't actually pedalling their bikes, but dealing with mechanical breakdowns. As most didn't carry the special tire lever that is about a foot long, repairs took quite a while." Certainly a learning experience! Frustrating for the riders used to their own bikes perhaps but "The locals absolutely loved seeing everyone roll through on the same bikes as them. We got many waves, laughs, thumbs ups, and bell rings."
So, in appreciation of the humble bicycles of Africa, here are some reminders of their endless possibilities!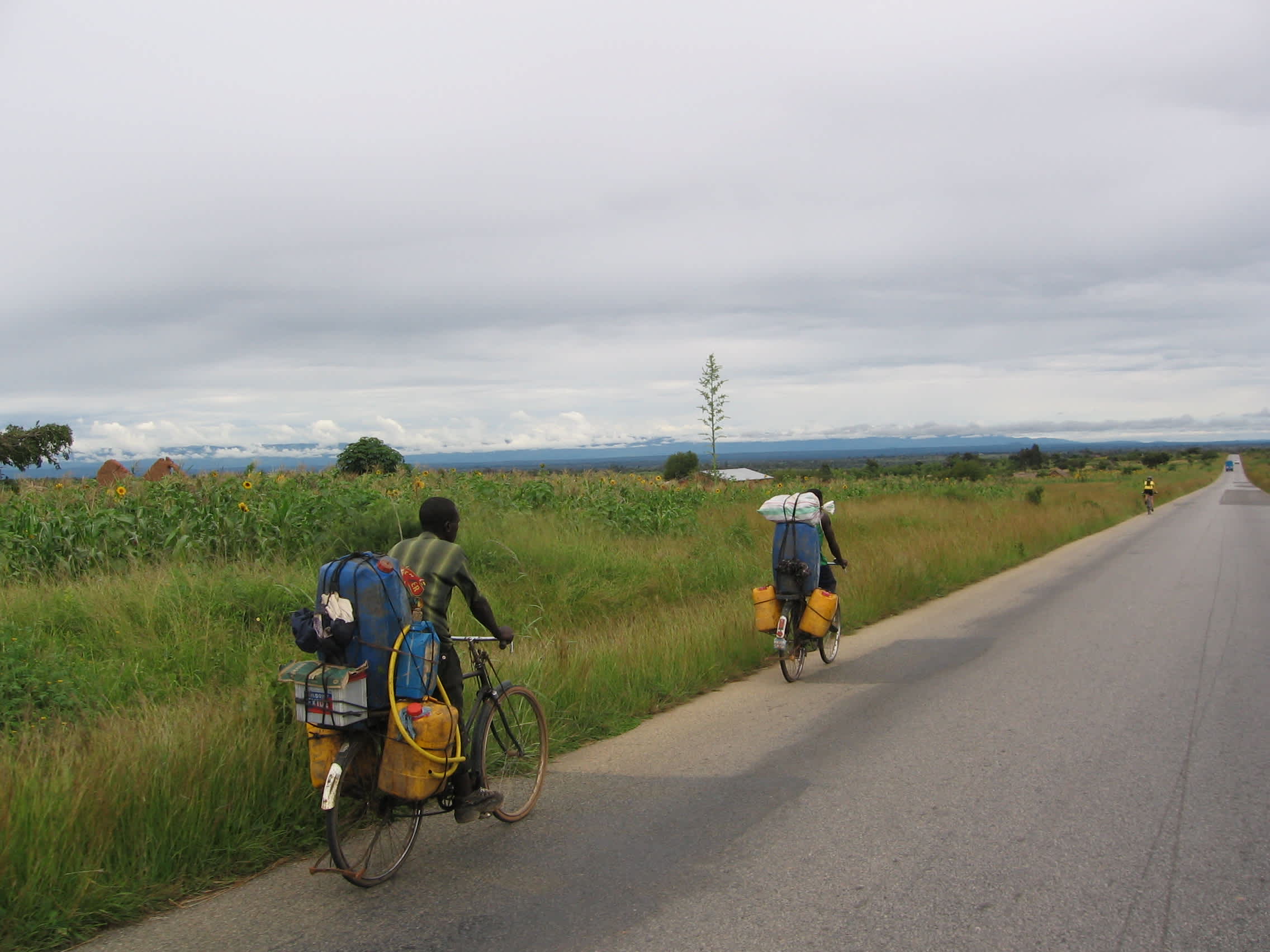 "We have seen the most bicycles in Malawi, by far. Everyone – from the youngest boy reaching the pedals only on his tip toes while hovering above his top tube; to the old woman transporting a pig on the back of her bike to the market; to the taxi driver taking a whole family downtown – are on a bike."