Blog
REGISTER NOW
LOGIN
SIGN UP FOR OUR NEWSLETTER
I Know What You Are Doing This Summer…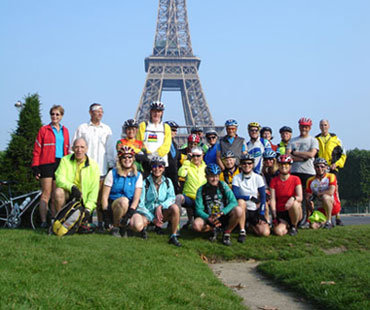 The Orient Express Bicycle Tour presents many wonders, challenges and bemused laughter. Yes, bemusement. My last time working on the Tour was as the Chef in 2006. Earlier that year I had worked as the Chef on our African Expedition, the Tour d'Afrique. Europe seemed like it would be a breeze…
Paris is glorious Paris. The architectural, artistic highlights everyone knows, the hot summer nights, people packed into small streets, along canals, drinking and jovial. There is a freedom that pervades the senses, and the early mornings tend to welcome the all night revelers, sitting roadside at never ending cafes and bars. My Paris experience that year was as odd as most of my experiences. My mission was to find a teapot. Funny enough, but brewing nice coffee out of a camp kitchen everyday for thirsty early morning cyclists is very important, and a decent tea pot, some cheese cloth, and a medium grind coffee does the job. At first my attempts circled around central Paris and classic French cooking equipment stores, as a trained Chef I was in heaven, but 200 Euro copper teapots stunned the consciousness. The orbit of my search grew steadily further from Paris's centre, pushing into less discovered communities, into side lanes, and of course, into endless stores full of knick knacks, which stocked every possible item, but for a teapot. On and on the search went, the strong heat making the endless trees of Paris's boulevards feel magnetic to wanderers such as myself. At last in a community to the east of centre, I found a small Turkish-run store where they had a teapot which was of the appropriate size, material, and ruggedness. I jumped for joy and bought 2 of them.
Each morning on the Orient Express Tour is unique. With the exception of freshly brewed coffee you never really know what will happen, and of course, what the day will bring. The cyclists pack up their tents for the day (if we've camped the night before) and enjoy a quick breakfast, before mounting their bicycles for what will be a day full of pedaling, watching sights stream by, stopping for a pastry, or even a big piece of cake, and talking to the locals…
If the day's ride happens to be in Bavaria, which we do pass through, then talking to the locals can be incredibly interesting. Personally I find Bavarians some of the strangest people on earth. Somehow German, though somehow not. They have a habit of close talking; this is the practice of standing extremely close to you when in conversation. There is one campsite owner there in particular who would almost stand with his feet on my toes, his eyes ogling mine from the closest of distances, his Bavarian hat's brim gently brushing my forehead. Speaking in a heavily accented German, which unfortunately I couldn't comprehend, he spoke on and on, in his intense close talking position. Eventually I realized he would like to lead me into his home for an icy Bavarian Brew, it was then I realized close talking could lead to positive outcomes, and while I was sipping that cold beer, I felt at peace in southern Germany.
A campsite is a campsite, and a hotel is a hotel. Well, not exactly. On the Orient Express Tour there are some memorable, I would even say, extra special, places we reside for the night. While Western Europe tends to bring more straightforward accommodation, Romania and the East can present more original options. I've been dreaming a lot of the new spots we'll camp at this year in Transylvania. I'll be driving our Company Van along our route in Eastern Europe early this Spring, and hope to find some beautiful locales, surrounded by lush green hills and fast running streams (I'm dreaming of this of course, but am certain to find something unique) One thing that is sure to be there are the lively Romanians! A habit I've never fully gotten used to but chuckle at is the Romanian Male's since of bravado. Do not be surprised to see men walking around with their shirts pulled up to expose their, not always so trim, bellies. Nothing like a hairy belly to tell the world how tough you are…anyway, you can try it while riding your bike if you like.
Now, to arrive at the essence of this little message, I would like to welcome all of you to this year's edition of the Orient Express Tour. I will be with you from Paris to Istanbul, cooking your meals on camp nights, and helping organize the day to day adventure. The countries we travel through on this trip never cease to award those who take the time to explore them, and as always, what better way than by the seat of a bicycle! Take care and see you in Paris.