Blog
REGISTER NOW
LOGIN
SIGN UP FOR OUR NEWSLETTER
Looking back at Egypt…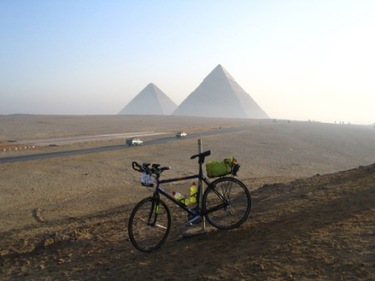 We have just completed our first part of Egypt- 1050 km. New people, new culture, new experiences, sore knees, sore backs and some sore back sides. Landing in Cairo and staying for 4 days allowed us to familiarize ourselves with Egypt
Our group, I must say after 9 days of biking is great to be around. The tour leaders are fun and easy to get along with. Everyone is ready to help; from fixing flats on the read to lending parts. During the ride each day we naturally break and ride with riders of similar capabilities, but after we all mingle.
It has been fun on the roads. There are no lines and even if there are no one uses them. Only cars, tractors, trucks, people, tour buses and us. At one time 4 of us on bikes were passing a tractor pulling two wagons of sugar cane as it passed a donkey cart with two tour buses passing each other the other way, everyone uses their hors.
The police & military have taken care of us in the cities. They escort us at intersections and they hold traffic for us. For the most part the road surface has been very good. We have had some very interesting campsites: on the side of the road in the desert to a really neat place in Safaga by the Red Sea. Because of good roads & good winds most rides have been finished by noon giving us ample time to rest and relax in the afternoon.
The ancient pyramids & Egyptian artifacts that many have only seen & read about in National Geographic have come to life. We have seen it touched, been there: the Red Sea, the Nile, camels, all & more.

Wow, I have enjoyed this first part & look forward to the next.
– Svend Paulsen