Blog
REGISTER NOW
LOGIN
SIGN UP FOR OUR NEWSLETTER
What To Know About Cycling Egypt
Ethan Weil is the content creator for the Cairo to Khartoum section of the 2023 Tour d'Afrique. He sends his second report from the shores of Lake Nasser.
From the early morning call to prayer to the hustle and bustle of Cairo's city streets, it is an organized chaos of traffic and car horns that somehow works within a dense city. Full of rich, ancient history, Cairo's cityscape is highlighted by the Great Pyramids of Giza as a backdrop while one wanders the streets full of food carts, markets and shops. These are just a glimpse of the things you'll notice when you first land and prepare for your tour from Cairo to Cape Town. The riders are currently gearing up to take the ferry across Lake Nasser in order to enter Sudan so I thought I would try to describe what the experience is like to cycle the length of Egypt in 2023.
Most of our riders on this year's Tour d'Afrique brought either gravel or touring bikes, a mix of custom built and brands like Trek, Canyon, Cannondale, Kona, Specialized and more. These bikes tackled the roads of Egypt with minimal difficulty but there were some flats along the way. These were quickly sorted out, ensuring the riders could continue their ride. The route through Egypt took us along some great smooth-riding roads to some rough patches of pavement intermixed with sand and dirt. Speed bumps, humps, strips and dips are also something that riders must be on the lookout for, especially while biking at speed, as some may be hidden or not clearly labeled . Some other cautionary tips while riding in Egypt are more relevant to cities and villages where a little donkey, motorbike, dog or kid could step in front of your path and take you by surprise. It's best to go with the flow of the traffic, cycle in groups when necessary and be alert to your surroundings.
There is great cycling to be had and some amazing views along the way; the Great Pyramids of Giza, riding along the coast of the Red Sea, navigating the Red Sea Mountains, exploring the Valley of the Kings and the Luxor Temple Ruins, cruising downhill next to the Nile, enjoying the charm of coastal towns and Nile villages on our way towards the Egyptian border with Sudan. The riders shared the love of coke stops, often getting tea, coffee, coke and falafels as they pedalled through Egypt. We now prepare to enter Sudan, thus setting off on the next part of our journey in a new country! Thanks Egypt for a great experience!
RELATED
TOUR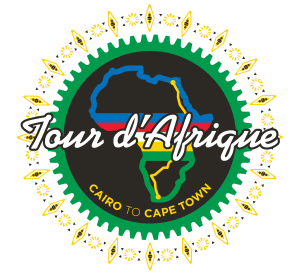 Tour d'Afrique
Our original trans-continental journey and flagship expedition crosses Africa from north to south, covering 10 countries in all. Beginning at the...