Blog
REGISTER NOW
LOGIN
SIGN UP FOR OUR NEWSLETTER
Lots of up today…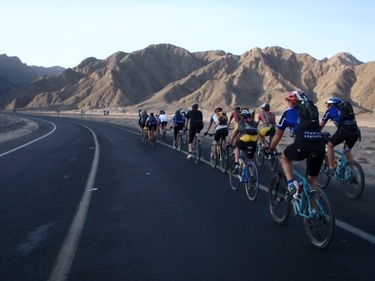 Port Safaga, a bustling tourist destination for scuba divers. We were camped on our own private beach. It was a peaceful sleep listening to waves of the Red Sea lapping on the shore, until 5 am when the minaret from the neighbouring mosque broadcast the daily prayers to Allah.
Stage 5 of the tour, there were nearly 20 cyclists gathered just 5 km from town for the official race start. The road climbed for the first 60 km through a barren desert canyon. But the climb isn't steep just long and steady. The scenery in the canyon is spectacular, very desolate other than the random Bedouin and their livestock. As the sun breached the jagged peaks surrounding us the temperature rose. At the summit of the ascent we found the lunch truck. The remainder of the day traversed the plateau, slaloming the mesas as we approach the Nile. In years past this has been the most challenging stage in Egypt due to the blistering headwind, but today we were graced with a tailwind, pushing everyone into camp.
I started the day with the Racers, but I was happy to let them go when I stopped to straighten a potato chip of a bike wheel from one of our local Egyptian cyclists. There was also a little road rash I had to help clean just 5 km from camp. Busy day. But it was my first complete stage of the tour so far, and since I haven't really ridden since September, my legs have tingly feeling of satisfaction right now.
Tomorrow we arrive in Luxor, to stay with my old friend Mr. Reizieky. On the banks of the Nile, Luxor is the gateway to many Egyptian ruins and temples and it is our first rest day of the tour. Rest that is well deserved by all the clients and staff.
note – results for the first 4 stages of racing are now online. Check back regularly for the latest.