Blog
REGISTER NOW
LOGIN
SIGN UP FOR OUR NEWSLETTER
Idiosyncracies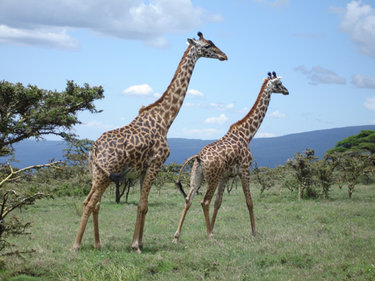 Giraffe in Tanzania
At just over halfway through this year's tour our current three day layover in Arusha is a much needed respite from the trials and tribulations of these African roads.
We had been told that the worst roads in Africa were in Kenya, likely an accurate statement, but the fact of the matter is that a marginal improvement on terrible roads doesn't mean much.
The road from the Kenyan border to Arusha was difficult as construction trucks and massive boulders shattered any illusions of sweet tarmac all the way to Cape Town.
Furthermore, the roads of Northern Kenya claimed one more victim as Paul Porter's stem shattered just before lunch compelling him to walk a few clicks before an emergency repair operation could be undertaken in the shadow of our support truck.
Anyways, with the tour halfway completed I have watched as a number of idiosyncrasies developed throughout the riders in our camp. It is my pleasure to now itemize them for you, dear reader, now.
Riders stopping at any roadside stand that sells Coke, regardless of how flyblown the place may be or how oppressively hot the actual Coke may be.
Riders having on their person at all times they are off the bike, a headlamp or some form of illumination. This is actually a great strategy because the sun here tends to circle directly above our heads for the majority of the day and then plummet within half an hour over the horizon leaving the camp in utter darkness.
Riders with big appetites placing themselves strategically during Rider Meetings so they can be first in line for dinner, enabling them to finish their first massive plate quickly to be in line for second helpings.
Riders regularly conducting extensive, involved, detailed and animated conversations about their gastro intestinal patterns and deposits.
Riders walking everywhere with toilet paper stuffed into all available pockets, even on rest days in bustling cities with fully equipped facilities because "you never know".
Riders conditioned to automatically extend their arm and give a thumbs-up whenever a large vehicle behind them honks its horn.
Riders pouring chocolate Illovo syrup on EVERYTHING at breakfast.
Riders approaching jam that is coloured fluorescent pink without any reservation or hesitation.
Riders automatically flipping their bikes upside down upon dismounting (for fear of thorns).
Male riders deciding that the most appropriate look for the trip being beards and buzzcuts.
Naturally, individual riders have also developed and repeatedly exhibited numerous character traits that are at once hilarious and occasionally frightening (Never touch Lloyd's tent), but they are not for public consumption.