Blog
REGISTER NOW
LOGIN
SIGN UP FOR OUR NEWSLETTER
Catch You Further Down the Trail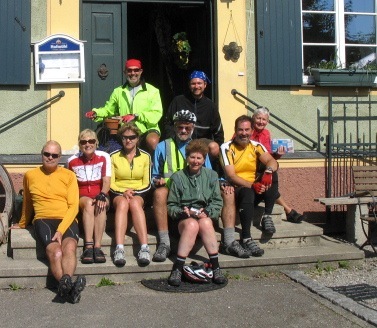 After leaving France, our team of riders have hardly left Germany's many bicycle paths. These cycleways offer a welcome reprieve from the challenges of sharing the road with cars and trucks that fly past at speeds far greater than ours. These paths offer a new sort of challenge — the paths are often very busy and packed with other riders, pedestrians, swarms of insects, mud, and gravel. At least once, the rough gravel has caused a rider to fall off of their bike and bite the dust. In spite of the hazards, each and every day along our route has been wonderful.
Our route largely follows the beautiful Danube River that begins in the town of Donaueschingen and flows eastward from a natural spring called the Donauquelle. We follow the designated paths that correspond to this river all the way to Bratislava, Slovakia; however, the ride from Eggelstetten to Kipfenberg and on to Regensburg changed things up a little bit when we instead followed the Altmühltal cycle path that follows the flow of the river of the same name. This allowed us to enjoy a number of Germany's beautiful forests, small villages, farms, and even the occasional flea market.
We have been fortunate to have had incredibly beautiful weather along the way. The crisp, clean air and bright sunlight have made each day a real joy. In fact, we've had to leave camp in a downpour only once — and the rain cleared up before noon. Let's hope that we continue to be so lucky on our journey east.
The great meals that Hatice and Miles provide offer the perfect incentive for us riders to make it to lunch and dinner. Adam, Mark, and Paul from Nova Scotia, whom we collectively call the "Jackrabbits" because they leave in the morning at lightning speeds to make it back to camp early. What's the rush guys? Maybe they're just hungry and are eagerly awaiting the next meal. The rest of us tend to ride together, and we also tend to make frequent stops. In the morning we scout out a nice bakery or café for a cup of coffee or hot chocolate and a little snack. In the afternoon we often make another stop. This time it's for something cooler, like an ice cream cone or a tall glass of beer.
The time that we spend together when we aren't riding has been just as enjoyable. We spend lots of time at camp getting to know one another a little better by telling stories, the occasional joke, and talking about the people that we miss back home. Besides the time that we spend on our bikes, the best part of every day is the chance to explore the new places that the tour brings us. Now we're enjoying a well deserved rest day in Regensburg before we head back to the trail for five more days until we reach our next chance to sleep in a warm and comfortable bed in beautiful Vienna.