Blog
REGISTER NOW
LOGIN
SIGN UP FOR OUR NEWSLETTER
Iguazu Falls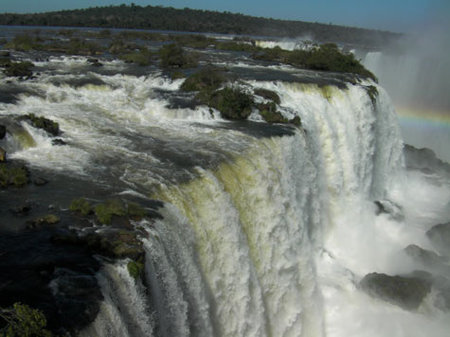 We have arrived in Foz do Iguazu and the first section of Vuelta Sudamericana is done. It was not easy. After riding for three days and then a rest day, then four days and a rest day, we rode for eight days arriving if Foz yesterday. The terrain difficult, many rather too many rolling hills, the lodging varied from lovely camping, to nice hotel, to an interesting hostel, the food good to excellent, the weather mostly cooperative, the scenery an interchange of green farms, forested areas and small towns, the only problematic issue – Brazilian drivers. But the group was not fazed by all of this and in fact the challenges seem to have positive affect on the group.
All are in good health and now are enjoying the sights and sounds of one of the most spectacular waterfalls on the planet. Personally having had the opportunity to visit Victoria Falls four months ago, Niagara Falls two months ago and seeing the Iguazu Falls this morning, I would have to say that the Iguazu Falls and the surrounding area are certainly the most spectacular of the three.
Tomorrow another rest day, time to decide what to do – see the falls from the Argentinean side, go for a day to Ciudad del Este or spend the day in the city.
bckbk