Blog
REGISTER NOW
LOGIN
SIGN UP FOR OUR NEWSLETTER
Off the Beaten Track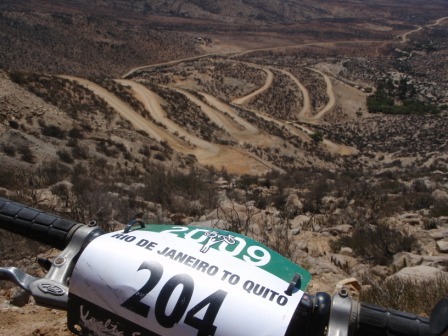 The Missing Link… So how far off the beaten path are you willing to travel? Regardless of where most tourists go, I'm yet to even find a map that shows a linkage of roads along the Chilean coast from La Serena to Caldera. But that didn't stop us. Google Earth showed a maze of tiny roads that fizzled out into a coastal mountain range. During the scout it took me several attempts to find the passage, but my challenge now was to lead this group of courageous peddlers back through it.
Our first day out of La Serena began on the Panamericana Norte. It was paved, scenic, but there was a 14km climb with 600m of elevation gain mid day. The final stretch of the day took us down a dirt road to the remote town of Punta Choros, a windswept fishing village with fabulous seafood, but also a popular tourist destination for viewing the sea lion and penguin colonies or whales during migration. And this is the point where on all maps the roads end.
We began our second day with an 8km convoy through a myriad of intertwining sand tracks. Pick your line! Some were corrugated, some were ankle deep beach sand, none of them were easily cycled, but it was only 8km. The majority of the day was spent on a relatively smooth road with great tailwinds, but the unforeseen challenge of the day was the last 20km. It was a mining access road with a loose surface and a long gradual climb. As we progressed up this road the surrounding mountains closed in around us until we found ourselves riding through a spectacular slot canyon barely wide enough for our support vehicles to pass. Our destination, El Higuero, at least that's what I think it's called; there were certainly no welcome signs. It's a ghost town, leftover from the mining boom 80 years ago. The southern end of which had been buried by landslide. What remains are a few roofless houses of dry stone or adobe walls, a plethora of rusty tin artifacts and a cemetery. Perhaps the creepiest cemetery I have ever visited. Most of the graves had been desecrated and broken open, skulls and human bones scattering the ground. I can't imagine that many gringos have ever set foot in this place let alone pitched a tent and spent the night.
Our third day was perhaps the most challenging day of the tour so far; over 2000m of vertical climbing on very rough roads. But what goes up must come down. Our support vehicle had to detour because the switchbacks were tighter than its turning radius. Once again two wheels prove to be superior. Navigation was not easy either as there were many dead end forks leading to remote communities or new mining developments. And of course, the smooth road is never the right road. As we descended back towards the ocean we rejoined the pavement for the last 25 km only to be hit in the face with a gale force headwind all the way to our picturesque beach camp. What a day! But this group seems to thrive on the challenge, invigorated by facing the elements.
Yesterday was a long stretch beginning along the coast and gradually moving inland passing some bizarre geologic formations. We have now entered the true Atacama Desert, the driest place on earth, yet ironically situated on the shore of the Pacific Ocean, the largest body of water on earth. Today we rest in Caldera a quaint port famous for smuggling weapons into this region during the war of the pacific. But a hot shower, a good night's sleep, some delicious fish, a fine glass of wine and an internet café makes this stop more than luxurious.
From here we will continue along the coast to Antofagasta, where we turn inland and begin our acclimatization for the Altiplano where we will face extremely harsh conditions; altitudes of 4800m, subzero temperatures, lack of food and water supplies, blistering sun and relentless winds. Vuelta…