Blog
REGISTER NOW
LOGIN
SIGN UP FOR OUR NEWSLETTER
Travels in Northern Argentina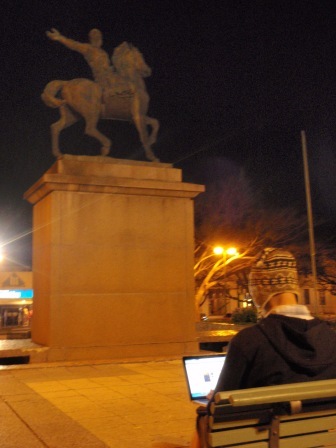 We crossed into Argentina on a beautiful sunny morning with undulating quiet roads lined with lush rain forests. The scenery changed to pine forests and orange groves and we enjoyed some scenic routes along the river Uruguay – an expansive river, quite undeveloped and with sparsely populated banks. The beauty of cycling through these rural areas was being off the well trodden tourist path and coming face to face with local Argentinians. A coke rest stop at a gas station (only shop open during siesta time)attracted a few inquisitive locals and a short conversation in our limited Spanish was actually very rewarding! A photo stop drew the attention of an old farmer who keenly pointed out sites and nearby borders of Brasil and Uruguay as well as telling us it was much quicker to travel by car!
The weather had held out since our rest day at the falls until several days later… We were staying at a municipal campsite, with somewhat basic facilities, being a Sunday it was teeming with youngsters enjoying the riverside location, swimming in the river and a few cyclists joined in a game of water volleyball, I enjoyed a conversation with a missionary who had moved to this small community 8 years ago from Buenos Aires, unfortunately I had to get to rider meeting & dinner and missed an opportunity to taste the local mate and pastries offered to me. Mate is like a tea but the leaves are from a plant similar to holly, the leaves are placed in a mate cup with a metal straw and hot water is poured into the mate cup all day long – everywhere you see the locals, young & old, with a flask under one arm and a mate cup in hand!
Well, back to the weather, at 5am the heavens opened and a massive thunderstorm with almighty cracks of thunder and lightning left me quivering with fear in my flimsy tent! I was already fragile with little sleep as a delicate stomach situation had kept me up during the night and "forced" me into the truck and now wih the rain storm I was glad not to be riding. It wasnt a paricularly good truck day given the torrential rain and the need to scour for suitable overnight facilities as the aptly named "swamp camp" planned for the night was an untenable option! Options being investigated included a gas station, a farm and a school and whilst I had thoughts of how awful these options were my thoughts went to those cyclists arriving wet, cold and as it turned out VERY muddy after a long day on the saddle…they would not be impressed! Thankfully we settled on a small warm hotel with hot showers and even a tv (Alas no English stations)! Pure luxury!! As it was a public holiday – San Martin´s day (17 August), it felt like we were in a ghost town as everything was shut except a superb coffee & pastry shop – perfect place to waste a few hours….relax!
The planned route the next day was a clay road to Ibera National Park for our rest day(a beautiful wetland area with great walking, kayaking and birding opportunities) and I was looking forward to both the rest day and some wildlife experience. But the rain made the road impassable so plans changed (this is an adventure) to a truck day for all and approx 450km ride to Mercedes in gaucho country! En route we stopped at Yopeyu where Don Jose de San Martin (founder of Argentina) was born, it felt like stepping onto a cowboy movie set, a complete time warp, and also somewhat deserted! The road travelled was long and flanked by AFrican bush style landscapes and many cows. Mercedes is a charming town with faded Spanish colnoial architecture ans slightly more touristy (local tourists) with some souvenier shops – aaah, some retail therapy! Great place to wander along streets and admire architecture and enjoy tastes of Argentina – juicy steaks, rich, medium bodied red wine and great ice creams!
The ride out the next day on flat roads, some drizzle, and a massive head wind forcing us down to 14km/hr…. with 176km for the day there was no way I would finish in daylight and in one piece and by lunch I wasn´t having fun anymore so packed the bike on the lunch truck, curled in the back seat and promptly fell asleep until I had to make room for a few more cyclists not able to finish the day! The highlights of the day (there are always some!) were seeing gauchos herding their cattle with the help of an Alsation, beautiful birds and rhea (small ostrich like birds). We were leaving Argentina the next day and into Uruguay, but we were to return in Buenos Aires on 26 August!
– Natasha Barker