Blog
REGISTER NOW
LOGIN
SIGN UP FOR OUR NEWSLETTER
West from Cordoba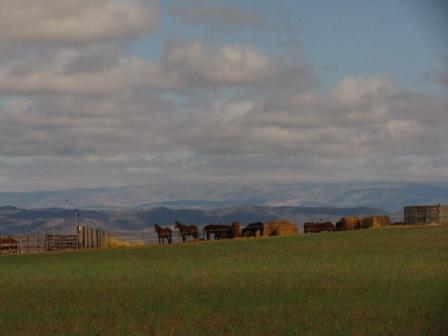 We set off from Cordoba for 5 day stretch to San Juan and bush camping was the accommodation for 4 nights. We were looking forward to hitting the start of hills and what promised to be stunning scenery of the Sierras. Little regard was given to the weather and wind conditions as our minds were set on leaving the flat boring paved roads experienced from BA to Cordoba …and tailwinds.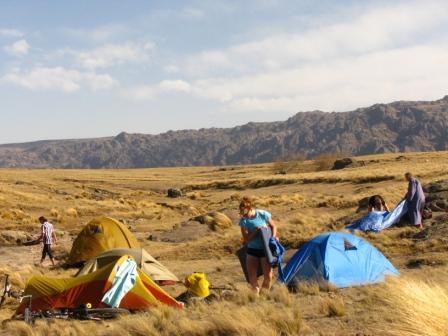 Our first camping site was Bush camp 1 along a dirt highway with strong winds buffettingthe tufts of grass. I was on the truck due to a nasty chest cold but all hands needed to pitch kitchen tent in the gale force wind. The wind died down and with the sun out it was a glorious afternoon and just a few minutes walk away was a kiosk with coffee, beer, wine, chocolate and toilets! As the day drew to an end, the temperature dropped dramatically, the wind picked up as we headed to bed around 8pm and during the night we experienced thunderstorms and then complete calm with full moon lighting up the surrounding hills. Next morning the temperatures were sub zero and a fine mist covered the area and drenched our tents as we packed up and headed off.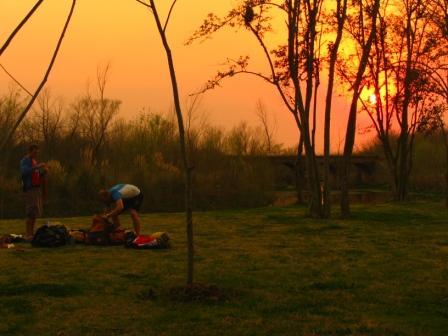 Bushcamp 2 was located in a yard outside a 17th century Jesuit church and school and a step up with toilets. Whilst it felt more sheltered, it was a clear night and bitterly cold as we settled in our tents for the night around 7.30pm! A few rebels walked the half km back to town only to return at 8.30pm! We woke to frost on our tents and bitterly cold temperatures…breakfast had moved to 8am so we could get ready in light and when warmer. I didnt want to leave the warmth of my sleeping bag and tent but the sun was shining and I felt better so with several layers from head to toe we set off for a 9km climb with spectacular scenery and then a magnificent 16km descent surrounded by shadowy mountains. Yes, the road was rocky and the wind bitingly cold but the sun was shining, the terrain mountainous – one of my perfect cycling days!!! The next 70'km was straight dirt road with sandy patches which kept you on your toes/pedals I should say, lose concentration and one could find oneself stacking and covered in dust! Yes, it happened to me, a hilarious sight and no damage done.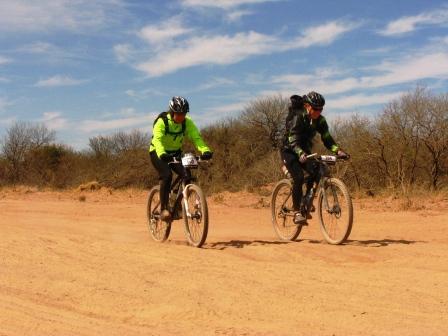 Bushcamp 3 was on the side of the road, now aptly named ´Dust camp´at 96km and you had to be careful of devillish thorns when pitching tent or wandering off from the sandy roadside. Fortunately there was no wind or rain otherwise I am sure we would have had gloomy faces, just a mangificent sunset and a brillian starlit sky and absolute silence, only 1 car passed in the night!
Bushcamp 4 was set to be in the desert and at the bottom of a descent at around 120km …there would clearly need to be an ascent! After 5km of dirt road we welcomed the smooth paved road and enjoyed mountains and desert scenery to lunch at 70km. We kept a steady pace line in the afternoon with Gerhard, Jurgen and Hans with frequent photo and rest stops to appreciate the view and a short climb before descending to our oasis…desert camp. An early enough arrival to enjoy the surrounding mountains, clean bike, change tyres and relax over a few drinks before dinner at 6pm – osso bucco – our chef Miles certainly looks after us with delicious varied meals followed by campfire aand a few stories regaled to the newcomers.
I realised we were a third of the way through the full tour and couldnt believe it had gone so quickly yet we still had huge challenges ahead. Another evening with amazing stars and silence.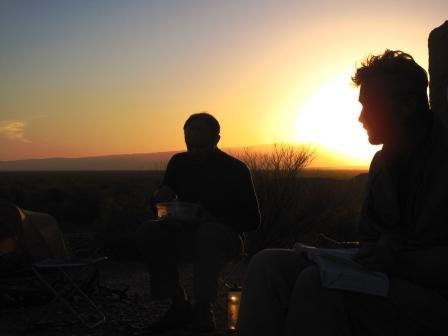 We woke to a beautiful morning and sunrise and back on flatish (we thought) paved road. It was steady slow incline to lunch. The afternoon session was broken up with coffee con leche and ice cream at the gas staion ( a huge attraction for weary cyclists) and a tree lined road surrounded by vineyards and mountains. It was pretty warm so we were not tempted to stop for wine tasting and a hot shower in a hotel room was much more appealing after 4 days of bush camping!
We had one rest day in San Juan, wine region not quite as popular/well known as Mendoza, but I can attest to the wine being of excellent quality with several opportunities to appreciate Viognier over the Chardonnay and the Cab Sav over the Syrah…but I cant remember the vineyards. We frequented our favourite coffee shop Bonafida (Vida cafe equivalent) and wine bar and savoured the tastes of Argentina at a classy restaurant (El Sanchez) with excellent steaks as well as the local restaurant for empanadas. the cycling and outdoor shops continue to enjoy our custom as we stock up on parts and warmer clothes and look forard to next 6 hilly days to Sangitago Chile – Adios!
– Natasha Barker