Blog
REGISTER NOW
LOGIN
SIGN UP FOR OUR NEWSLETTER
Woof!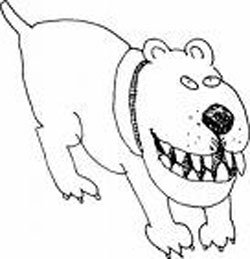 Just when our days of riding were settling into a peaceful pattern of long flat roads through a terrain of the wide expanses of Argentinian fields in soft mist with damp cows and spotted horses grazing ……..Henry, fearless founder of the TDA, decided to ride a little too close to some guard dogs.
Well, the usual cyclists´ trick of just talking softly to the barking dogs to calm them and the self down was not working very well (perhaps, had he spoken to them in Spanish, they would have calmly trotted away) and after a few hundred meters one fierce monster dog jumped up and took a sharp little bite of his shin right through his pants!
Turns out, the lovely doctor at the local hospital in Villa Maria
told us, that rabies is in control in this area (and in Argentina) so we stopped watching for him to froth at the mouth. A few hours, a clean bandage and a fresh tetanus shot later he was back in the saddle.
– Ruth Schonblum