Blog
REGISTER NOW
LOGIN
SIGN UP FOR OUR NEWSLETTER
10 Things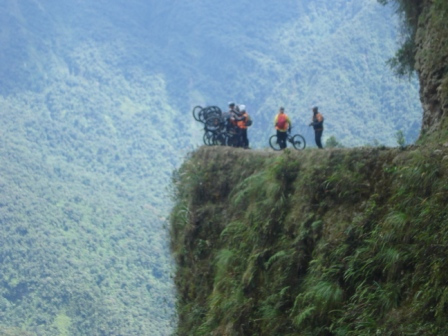 10 things you'll find travelling in Bolivia
1. Very friendly people.
2. The Salar de Uyuni, the worlds largest salt flat.
3. A fresh squeazed cup of warm donkey milk, in front of the bus station in Oruro.
4. Tihuanako, one of the most significant, pre-Incan archaeological sites.
5. The Death Hwy, a 60km, 3500m descent of hairy switchbacks tacked to 800m cliffs and no guardrails. (above)
6. Pachamama
7. A dried llama fetus from the Witches Market in La Paz, take it home and bury it under your house for good luck
8. The best value for tour operators in South America to arrange a trip into the headwaters of the Amazon.
9. Copacabana? Are we back in Rio?
10. Americans need a visa.