Blog
REGISTER NOW
LOGIN
SIGN UP FOR OUR NEWSLETTER
Ode to Pablo Neruda from the salt and sands of his beloved Chile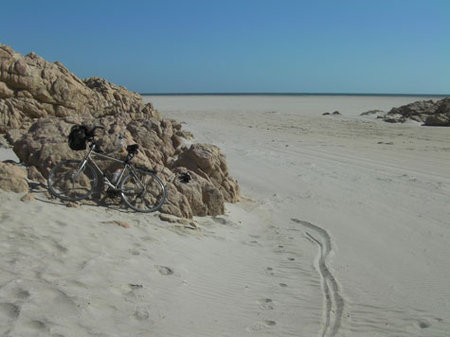 Our cyclists continue to ride the arid windy roads that connect the copper, lithium and salt mines in Northern Chile's Atacama Desert.
This wide open desert exerts its spell on our senses.
Not only do we see chunks of salt on the sand and rock but we taste it in the air and smell it in the powerful winds..
Our daily intake of water has surged and we are, as always, eager, after a good strong day of riding, to sit down together at our campsite for delicious plentiful dinners that our chef Miles prepares in his makeshift kitchen.
Nights out here with good company, good food and the dark clear star studded sky overhead are truly magical.
Tonight's campsite is actually an abandoned old wide salt mine pit and we get to pitch our tents in a wide open crater hoping the walls around will provide a bit of protection from the early evening and early morning winds.
Chilean Nobel Prize winning poet Pablo Neruda expresses himself so richly about this very northern region of his country that we are so privileged to be biking through.
"Ode to Salt"
This salt
In the shaker,
I saw it in the salt mines.
I know you're
Not
going to believe me
But
It sings.
Salt sings,
The skin of the salt mines
Sings
With a mouth smothered
By earth.
I shivered in those
solitudes
When I heard
The voice
of the salt in the desert.
Near Antofagasta
The whole saline plain
Resounds:
It is
a broken voice
A song
filled with sorrow.
Then,
In its caverns
The gem salt, mountain
Of a buried light
Transparent cathedral,
Crystal of the sea, oblivion
Of the waves.
And then,
On every table
Of this world
Salt,
Your nimble substance
Sprinkling
Vivid light
Over their food.
Preserver
Of the ancient
Holds of ships,
You were a discoverer
On the ocean
The first thing to move
Into the unknown
Half open paths of the foam.
Dust of the sea,
Through you
The tongue receives a kiss
From the oceanic night:
Taste merges your sea essence
Into every seasoned morsel
And thus,
The least
Tiniest wave from
The saltshaker
Teaches us not only
Its domestic whiteness
But the central flavour
Of the infinite."
— Ruth Schonblum