Blog
REGISTER NOW
LOGIN
SIGN UP FOR OUR NEWSLETTER
Namibia: Deserts, Diamonds & Apple Pie
Tate Drucker is the Content Creator on the 2022 Tour d'Afrique. Her third post comes to us from beautiful Namibia. Be sure to follow their progress on Instagram.
An old VW Beetle left to disintegrate on the side of the road, rusted and burnt-orange against the dusty landscape. A sign creaking as it sways in the hot breeze, advertising homemade apple strudel made from a decades-old family recipe. A passing desert outpost town where both German and Afrikaans are spoken by the locals; all of whom seem to have either settled in Namibia in pursuit of its wide empty spaces, or have roots in this sunburnt country dating back hundreds of years.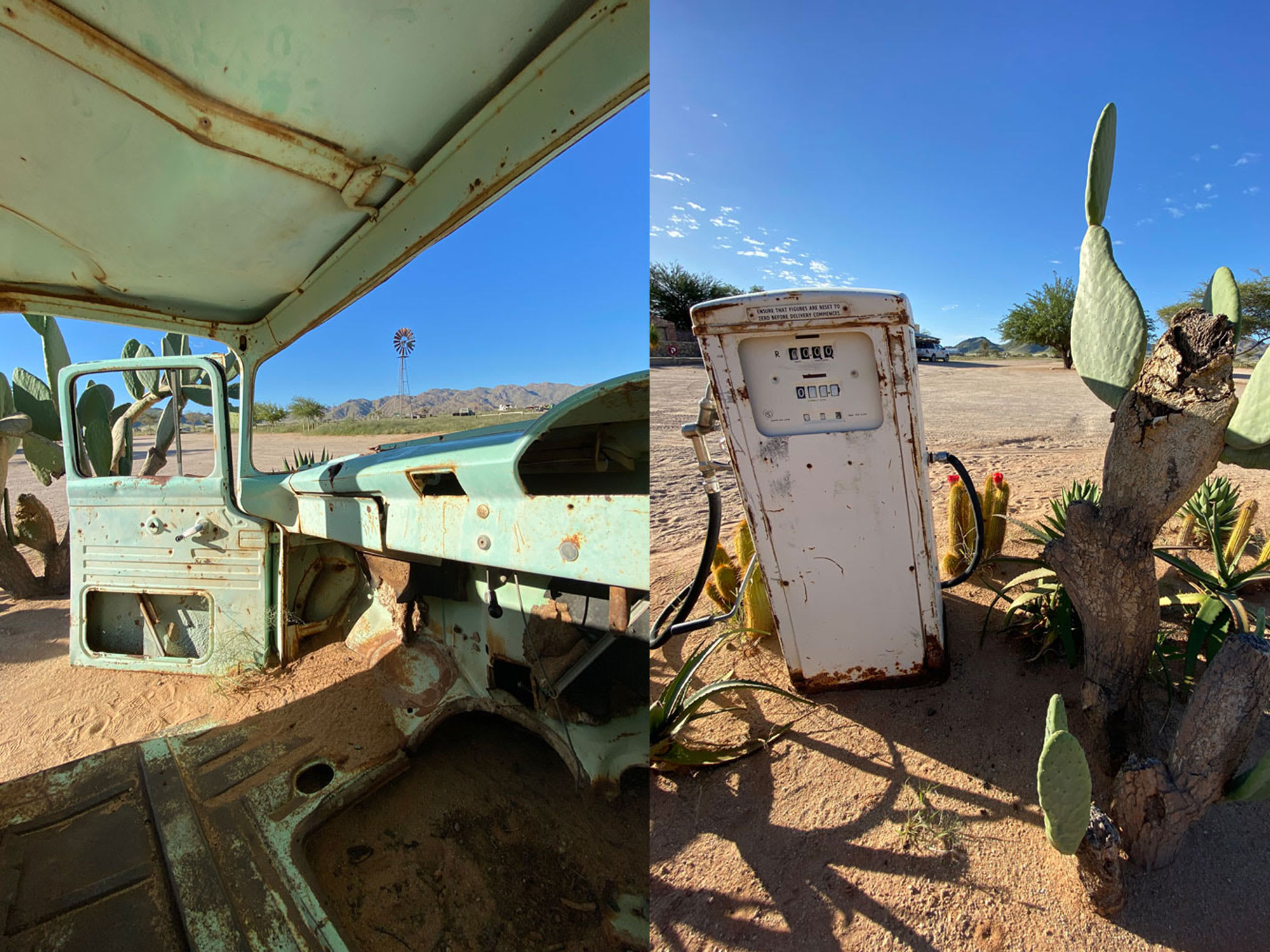 These relics of times-past dot the Namibian landscape, and have caught the attention of the 2022 Tour d'Afrique riders as they pedalled 1,355 km through the country. The vastness and consequent strangeness of Namibia has been palpable, and oftentimes difficult to ignore. As the riders left Botswana, the narrow stretches of road flanked by tall Kalahari grass gave way to spectacular expanses of landscape which are both beautiful and harsh at the same time. While riders got a brief taste of modern Namibian life in Windhoek — even though most them were busy with tasks such as changing their tires to prepare for the sand and gravel ahead, restocking bug spray and sunscreen, or touring some of Windhoek's humble museums and quiet parks — the majority of the route has been through Namibia's remote interior.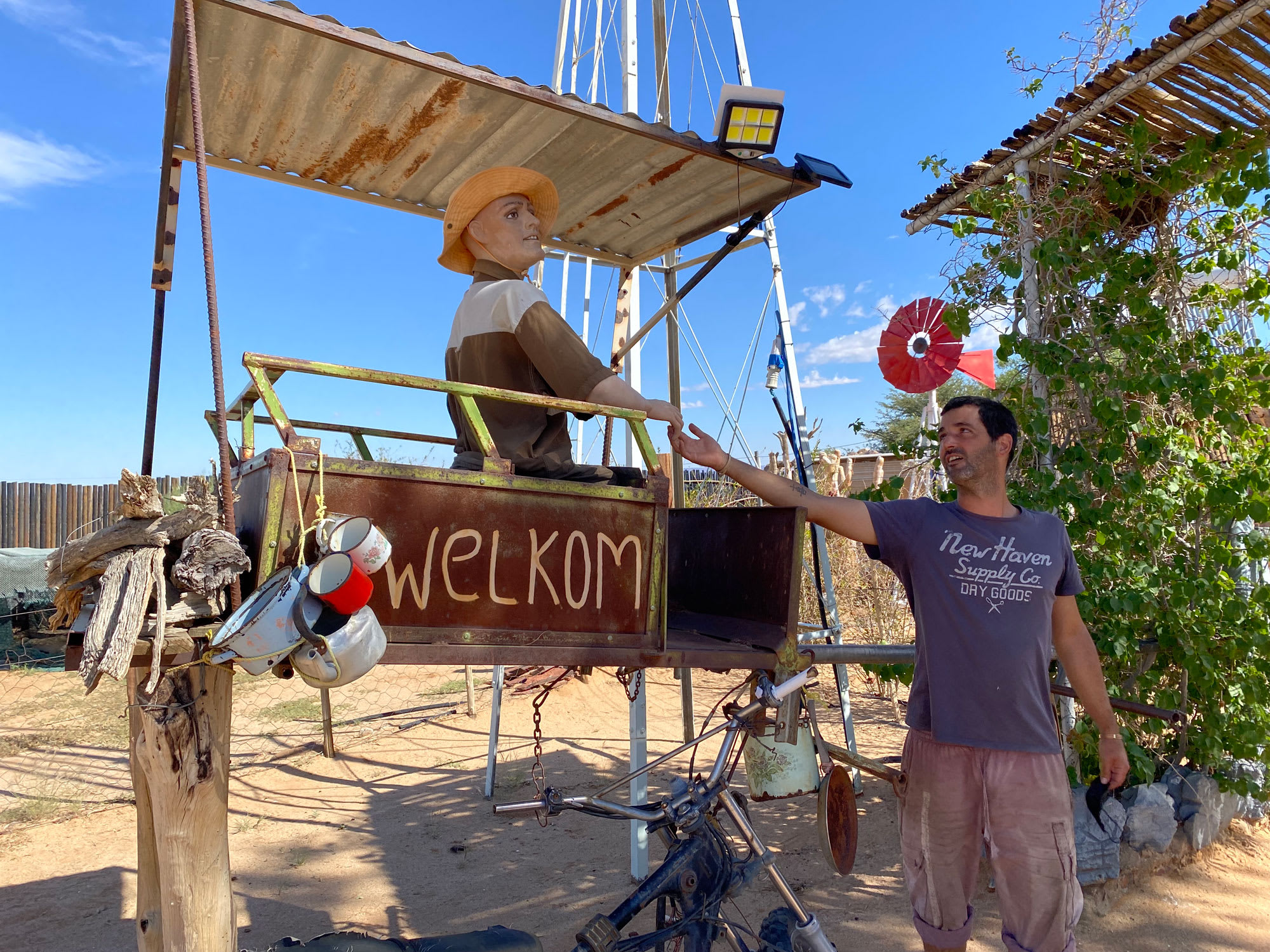 The beginning and end of each blisteringly sunny day has been flanked by campsites that often appear on the horizon like a mirage, slowly creeping into view. With each passing place, and with each casual conversation with a campsite manager who has their own history to tell and apple pie to offer, more and more of the riders have come to question how these people ended up living out in the desert in one of the most sparsely populated countries in the world.
Namibia's story isn't much different than the histories of other African countries that were also swept up in the 1800s by eager European nations. Namibia ultimately ended up under the rule of Germany, and was given the name German South West Africa up until its independence in 1968. At first glance Namibia may not seem like it would offer much for settlers in terms of fertile land or easy access — rolling green hills are replaced by building-sized sand dunes, and its inhospitable coastline is famous for its fog, shipwrecks, and towering walls of sand. However, what's underneath Namibia's surface is what attracted foreign eyes and interest: diamonds.
Namibia's harsh landscape lays like a blanket draped over scores of diamond mines, and in 1908, with the discovery of diamonds underneath its craggy mountains, Germany brought its own citizens into the country to dig up all the precious stones they could find. Nearby in British South Africa, people with diamonds on their mind also made their way across the border, establishing mines and small outpost towns throughout the Namib Desert. This mix of people from Germany and British South Africa is felt today, as some villages boast their German heritage, while others are run by South Africans who either have ties back to the mining days in the 1900s, or simply wish to live faraway from a fast-paced modern life.
Indigenous Namibians who had San or Himba roots were driven away from cities and towns during colonial times, either under the threat of violence or forced labor. Today, the separation can still be felt, as small towns that range from German to South African or local Namibian. Between them, a sea of sand makes these different outposts feel as if they're their own islands, and each day the cyclists arrive there on their bikes, unsure of what they'll find, like ships coming to shore.