Blog
REGISTER NOW
LOGIN
SIGN UP FOR OUR NEWSLETTER
Red Sea Reward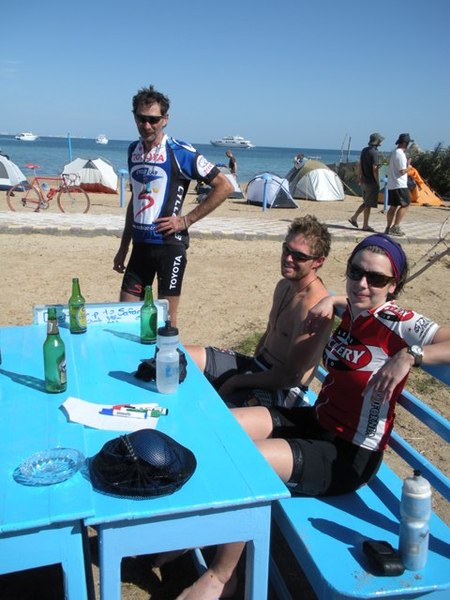 The fierce headwinds of day two en route to the red sea were cycling punishment, whipping fine mists of sand into panting lungs and forcing knees to crank along like cogs in a poorly oiled machine; that was then.
Now, on day four with the red sea just a bike tube's throw from our tents, cycling life is good. Very good. Our camp in Safaga verges on utopian status, offering the option of a refreshing dip after a day spent gliding over scorching hot pavement. Green bottles of "authentic Egyptian Stella lager," litter the single electric blue picnic table in the centre of our camp. The grass thatched beach bar nestled between the ocean and the road is experiencing a welcome surge in profits at this hour.
James, our chef, continues to dazzle riders with satisfying, palate-pleasing meals that keep us coming back for seconds, thirds (and even sixths).
Tonight
's coconut curried perch with brown rice and asian-inspired red cabbage slaw was so good there was a line up to wash dishes in appreciation. Not bad for roughing it in the desert.
Riders will brush the sand from between their toes and crawl into their sleeping bags smelling a little better
tonight
, thanks to the three hotel rooms we've rented for showers across the street from our camp. Some treated themselves to hotel laundry service, others opted to crouch down and scrub the most offending of their "must wash" selections in outdoor basins next to the bar.
Tomorrow
is another long day in the saddle. Our rest day in Luxor is still a few days away – a chance to give tired bodies a break and for long-awaited emails and blog updates to finally get written. Legs are sore, bellies are full and spirits are high. Shorts are clean too.