Blog
REGISTER NOW
LOGIN
SIGN UP FOR OUR NEWSLETTER
The Foundation Returns!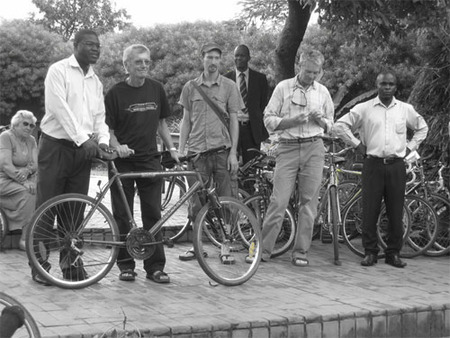 Handover ceremony, Lilongwe March 2009,
John Kanyama (CPAR), Tony Wheeler(Wheeler Foundation), Shanny Hill,Henry Gold(TDA)
In partnership with the Tour d'Afrique and Wheeler Foundation, Africycle was able to deliver 50 bikes to 4 organizations, assisting in the delivery and mobilization of several programs within Malawi. Increased mobility is a major factor that can increase the capacity and overall
success of particular community based programs. We have seen the positive impact a bicycle can provide and below is feedback we received from the beneficiaries and the people impacted by the project. Your participation has saved lives and improved the conditions in which many people live. Thank you on behalf of all.
Some highlights of the report:
CPAR/COOPI MALEZA -Health Care
Push Bikes Helping Save Lives In The Remotest Corners Of The City
For the first time the communities in Lilongwe have some hope of receiving health information with the provision of push bikes to community volunteers and health workers. In 2008, CPAR Malawi received a donation of 37 push bicycles from the TDA Foundation and Africycle that were distributed to health workers. In the following year another 22 pushbikes were donated and distributed to community volunteers working in the same areas. The donation has facilitated speeding up of the process of disseminating child survival information concerning the adoption of the 17 key care practices. The health workers and volunteers who received the bikes are able to travel and visit the households on a regular basis. Each volunteer is attached to 20 households that he or she visits twice every month. The project mobilized 1440 community volunteers, 600 health workers and 218 Village Health Committees (VHCs) who have served the nine traditional authorities in the district where CPAR is operating. So far through the support of pushbikes the volunteers have been able to mobilize 14,400 new households to start using hand washing facilities at their latrines. Additionally 10,000 new households were reached and started practicing the two-cup system which helps prevent diarrhea diseases at the household level and another 9,600 women have since started attending antenatal clinics. The volunteers and health workers that were given push bikes are now able to reach some of the remotest corners of the vast district spreading and disseminating information on key family practices. With a push bike a volunteer travels more than 5km to reach households far away from health facilities. Today Health Workers are able to organize and conduct village outreach services through use of the bikes. Without the bikes only half of the households would have been reached denying the rest an opportunity to important health information.

EMMANUEL INTERNATIONAL-Save-up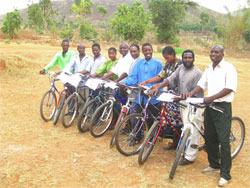 Anne and Ronney with fellow Village Savings and Loan Officers at bicycle delivery
Tour D'Afrique/Planet Wheeler Foundation, through Africycle,donated 10 bicycles to Emmanuel International Malawi for a new program that was just starting up. This program, called SAVEUP, is a village savings and loans program that is expanding in many areas of Malawi. The concept is simple: village people organize themselves in groups who are willing to pool a small amount of money on a regular basis. As the fund grows, the group members start taking loans. With these loans, they develop small businesses.
The Emmanuel International Malawi field team have worked with traditional leaders in their areas to identify individuals who can keep this program growing, individuals who are trained as Village Agents. These agents will undergo more in depth training which will prepare them for starting up new
groups, thus repeating over and over the village savings and loans opportunities in more communities…..the ripple effect!Village Agents who have just completed their SAVEUP training have been gifted with these donated bicycles. The bicycles will help them reach the communities around them,
providing them with a means of establishing an increased number of groups. The chief of each Village Agent was on hand to witness the handover of these bikes, a precious commodity to these communities. Anne Taulo is one of the VSLA participants from Zomba district, TA Chikowi in
Chiwamba village. Anne is the head of her household; she is 27 years old and lives with her 7 year old son, Brian.
In June, 2009, Anne found herself in the VSLA group. So far Anne has managed to save MK 4800. 00 (US$34.00) and she has taken a loan out worth Mk 3000.00 (US$21.00). She ventured into a cooking oil business and made a profit of Mk 2000.00 (US$14.00). She hired temporary help to assist her on her farm for Mk 1500.00 (US$ 10.00) and with the remaining money, she purchased small household needs like soap and salt. When Anne was asked to talk about her vision of the future, she said that when the money is shared out in December 2009, she intends to buy a sewing machine (US$78.00). Anne is thankful for village savings and loans and believes it will bring change and a chance to build her capacity. Anne was selected in her group to be trained as a Village Agent in her area. She wishes to thank Africycle and Tour D'Afrique/Planet Wheeler Foundation for the gift of the bike which she feels will help her in her responsibilities of forming, mentoring and supervising more groups.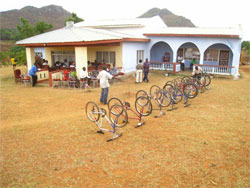 Mechanical Training Seminar for bicycle beneficiaries