Blog
REGISTER NOW
LOGIN
SIGN UP FOR OUR NEWSLETTER
Convoy into Khartoum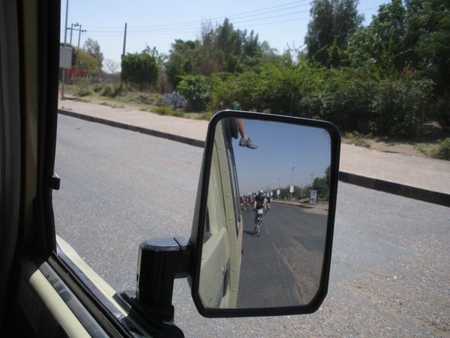 If I were to compile a list of things I'd really rather not do when the temperature is somewhere in the mid-30s and the

sun

is browning my skin faster than a marshmallow over a bonfire, travelling in convoy might be somewhere near the top.
Not that I'm complaining. Really. As far as convoy travel goes, I had it fairly easy. While Sharita rode on the roof, recording video in the blazing
sun
, I rode shotgun in the shady Landcruiser cab with our other tour leader, Paul. I spent the ride recording waypoints on our GPS and jotting down notes about railway tracks and traffic volume, taking photos of perspiring cyclists between cat naps. It should have been difficult to sleep with the incinerating heat, constant sirens and police whistles, but there's something about the rhythmic rocking cadence of a convoy that weakens the resolve to stay conscious.
We started the morning with a solo-start time trial known as "The Race of Truth," a suitably epic monniker for a 20km race through the desert of Sudan. The lunch truck was stationed at a gas station parking lot on the outskirts of Khartoum. Soon we were congregated around it, talking shop about race times and tailwinds like construction workers discussing rebar and framing techniques. We devoured a lunch of boiled eggs and tomato with pita bread, before emptying bladders and grouping together like a swarm of bees stuck in molasses for the slow-moving convoy.
Travelling at the head of the pack with a view of the truck in front of us, I marvelled at the sight of our Sudanese support staff in long, winter-weight jackets and heavy pants. I'm barely able to stave off heat-induced delirium when wearing shoes instead of sandals in this country. From the passenger seat I had the pleasure of taking in the reactions of the locals as we passed, ranging from pleasantly perplexed to overjoyed (complete with double-fist pumps).
Three weeks in and the bustling city of Khartoum is at our doorstep for our third rest day of the tour. Riders are fanning out to internet cafes and ice cream shops, searching for the coldest Coke they can find in lieu of the stronger liquid rewards we won't see again until Ethiopia.
Tomorrow
we get back in the saddle and enjoy the solace of cycling through Sudan some more. I might even get out of the Landcruiser one of these days.