Blog
REGISTER NOW
LOGIN
SIGN UP FOR OUR NEWSLETTER
Interview with the Aussies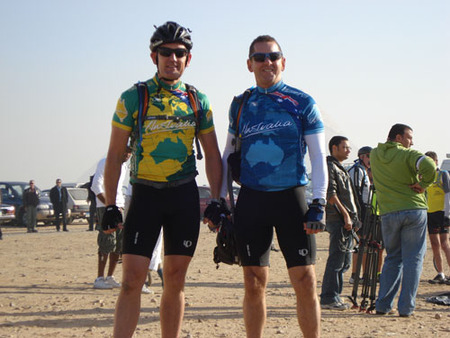 Sitting on faded green canvas camp chairs in a farmer's field in Ethiopia, Patrick Cantwell and Wayne Woodward are surrounded by tents, their domes peppering the sun-scorched grass landscape like brilliant cocoons of blue, yellow and orange. The pair are attempting to complete the Tour d'Afrique, an epic 12-thousand kilometre bicycle race and expedition travelling from Cairo to Cape Town in just four months.

Chatting as the sun sets amidst a mobile village of more than 60 spandex-clad riders after a hearty spaghetti dinner at camp, the couple from Sydney's Surrey Hills suburb speak candidly about the challenges they've faced one month into the tour. At 42 and 55, Cantwell and Woodward are not the youngest riders to attempt the journey, but fitness and discipline are something the pair take seriously, and it shows. "We had a trainer who basically got us on the bicycle as much as possible, cycling every day twice a day. Two hours in the morning and one hour in the evening," says Cantwell, describing their rigorous pre-trip training regime. "We stopped weight training and focused on endurance and cardio… sacrificing our muscles," adds Woodward with a chuckle.
While no strangers to the gym, both were relatively new to cycling before signing up for the tour. "At first, it was the physical aspect that appealed to us," says Woodward, "which cannot be underestimated. We expected it would be difficult and it is. This is about pushing ourselves beyond our limits, doing something we wouldn't normally do. You deal with saddle sores and muscle fatigue early on, but also mental tiredness and emotional meltdowns. Cycling more than 11 hours in 40 degree heat is rough. But that's part of what this is about – finding more when you think you've got nothing left on those long days. "

Cantwell read about the first Tour d'Afrique in 2003, clipping the article about an unusual journey travelling through ten African countries (Egypt, Sudan, Ethiopia, Kenya, Tanzania, Malawi, Zambia, Botswana, Namibia and South Africa), averaging 125km of cycling per day. Eight years later, the paramedic is living out his own chapter of the story, coming face to face with the great pyramids of Egypt, pedaling past camels over scorching pavement in Sudan, and tackling the breath-taking mountainous terrain and lung-busting climbs of Ethiopia. "It's scary how much we're eating," admits Cantwell with a look of genuine concern. "Just incredible quantities, and I'm losing weight. Ten kilos so far. You go searching for calories where ever you can get them. A couple of chocolate bars, ten Cokes…it's just burn, burn, burn."

Aside from the physical challenge and the opportunity to experience different cultures, the couple of more than 16 years are hoping to give back through their web site and blog, www.wayneandpatrick.org, raising money for both the Prostate Cancer Foundation of Australia as well as the Tour d'Afrique Foundation, which donates bicycles to health care professionals in Africa. "We want to help people in the communities we're cycling through as much as possible," says Cantwell.

The oppressive heat of the afternoon begins to fade, lending a mood of calm reflection to the early evening. "These are my favourite moments," says Cantwell. "This hour each day, sitting beneath an African sunset…the light is perfect. You've achieved the day." But one doesn't reach this level of post-cycling bliss without preparation. "Ride as much as you can before you get here. Just don't bring a new saddle you bought just before you got on the plane, like I did," stresses Cantwell, wincing. "But having said that, you can only prepare so much for four months of cycling across Africa." Woodward agrees, "You can prepare yourself for the end of the earth and this would still surprise you. But that's what's so great about it."
-Allison Barnes