Blog
REGISTER NOW
LOGIN
SIGN UP FOR OUR NEWSLETTER
Tour Of Freaks: Part Expedition, Part Social Experiment, Part Madness
"Put a bunch of intense, competitive, goal-oriented endurance riders in the African bush for a couple of months and what do you get? A whole lot of conflict, gossip and drama – and some fantastic dirty jokes." – Leah McLaren
When people sign up for the Tour d'Afrique, they are largely concerned with the physical challenge of cycling 12,000km across Africa. How can I do this? Can I keep up with the other riders? Will I get sick? Injured? I know that was my main concern before I rode the Tour d'Afrique in 2006! Once they get on the road, they are always surprised at how quickly they get used to riding120km/day. They are also surprised that the biggest challenge turns out to be not physical, but mental.
As Ms McLaren learned from her experience in 2010, "It becomes clear the most challenging thing about spending four months on the road in Africa under extreme physical duress, with little to no privacy, is the group dynamic." When you think about it, it certainly makes sense. You are bringing together a large group of individuals from all over the world, from completely different backgrounds, with completely different goals and asking them to come together and spend 4 months in close, very close, contact with each other. Day after day. Week after week. Month after month. All while dealing with the highs and lows of cycling from Cairo to Cape Town. Something has to give, right?
Well, certainly there are tensions that arise amongst the cyclists. That is to be expected but, perhaps counterintuitively, the close quarters that may contribute to disputes also provides a safety valve that is not available back in the 'real' world back home. As one rider told Leah McLaren, "At home, you can retreat into your routines, into your job title, into your comfort zone. Basically you can persistently be an asshole. Out here, that's not going to fly. Someone's going to call you on it."
"Part expedition, part social experiment, part madness, it is one of those things you have to go through to fully understand." – Leah McLaren
So instead of descending into a Lord of the Flies situation, as the days go by and the distances pile up, the riders actually begin to work together as a team with a common goal. On the 2017 expedition, staff member Brad Davis  wrote, "Riders who often used to cycle half-days and be utterly exhausted of a night are now riding the full day every day then going for a wander through the local villages in the afternoons. Riders who were disheartened to learn they wouldn't have the option of a shower tonight or would be none too impressed that the local bar's Wi-Fi didn't work are no longer fussed about campsite conditions, instead improvising or making the most of it. Where cuts and bruises used to be a source of distress, now they're a source of show and tell at camp or simply shrugged off in a "shit happens" kind of way."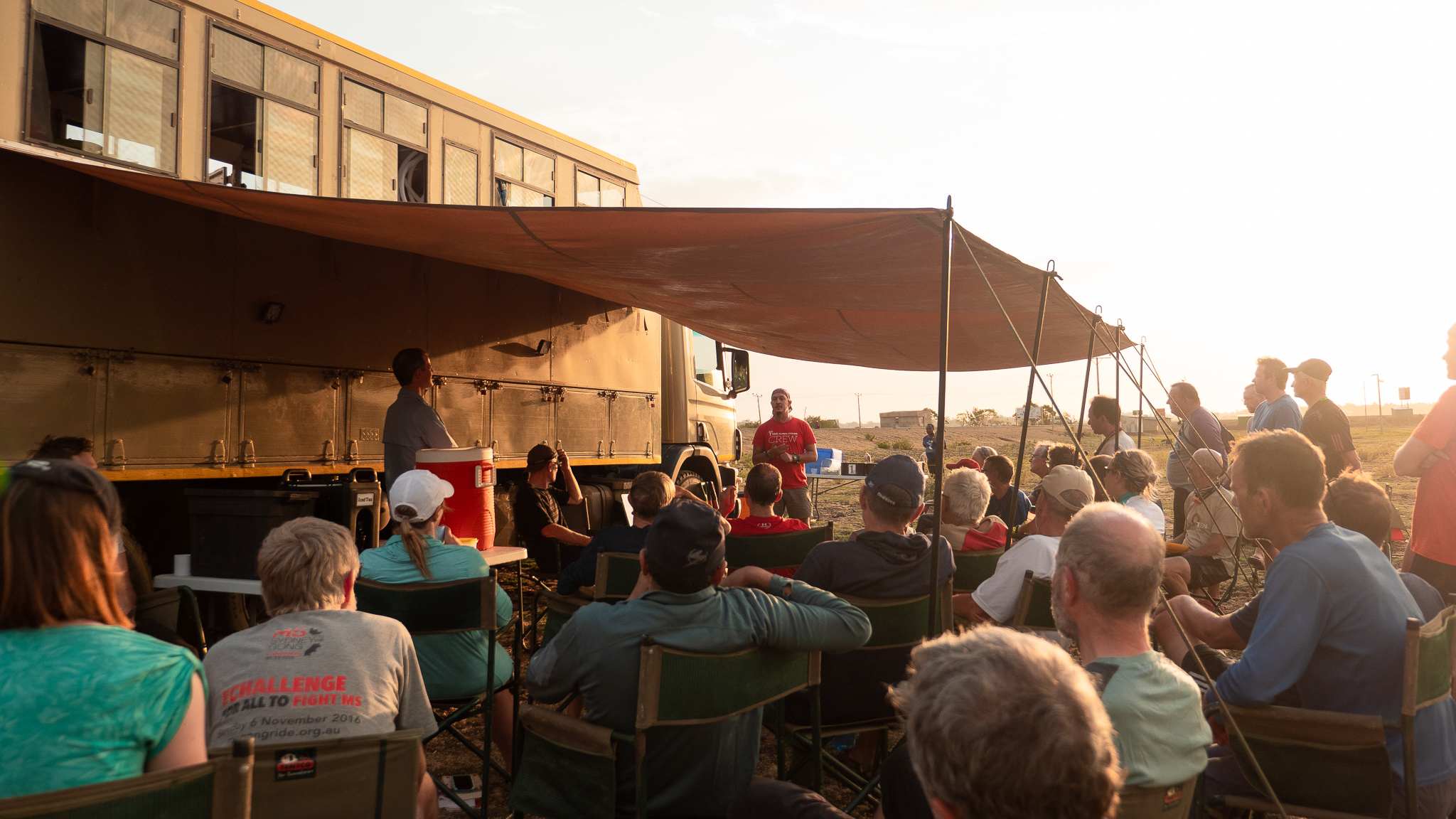 These individual transformations completely alter the group dynamic. In 2009, the dinner truck, which usually heads directly to the next campsite to get dinner ready, got stuck and wasn't able to get to camp until long after dark. How did the riders react? Were they angry and upset? Nope. "Riders; exhausted, dirty, sweaty, thirsty, descended upon the vehicle but not to clamber on board for their tents and clean clothes but rather to assist in getting dinner prepared. The kitchen was set up in less than five minutes and platoons of riders, some still wearing their CamelBacks were jumping at the chance to cut carrots, peel onions or tip-n-tail beans. Dinner for 70 odd people was ready in a flash. While this could be simply discounted by saying "well, the people wanted their food", what happened after dinner could not. A call went out from a staff member for volunteers to scrub pots, a call that was responded to by a mass of exhausted, dirty, sweaty but now well fed riders who chose to forgo setting up their tents or relaxing with friends to go that extra mile for the benefit of all."
>>Related Post: How To Thrive On Group Cycling Adventures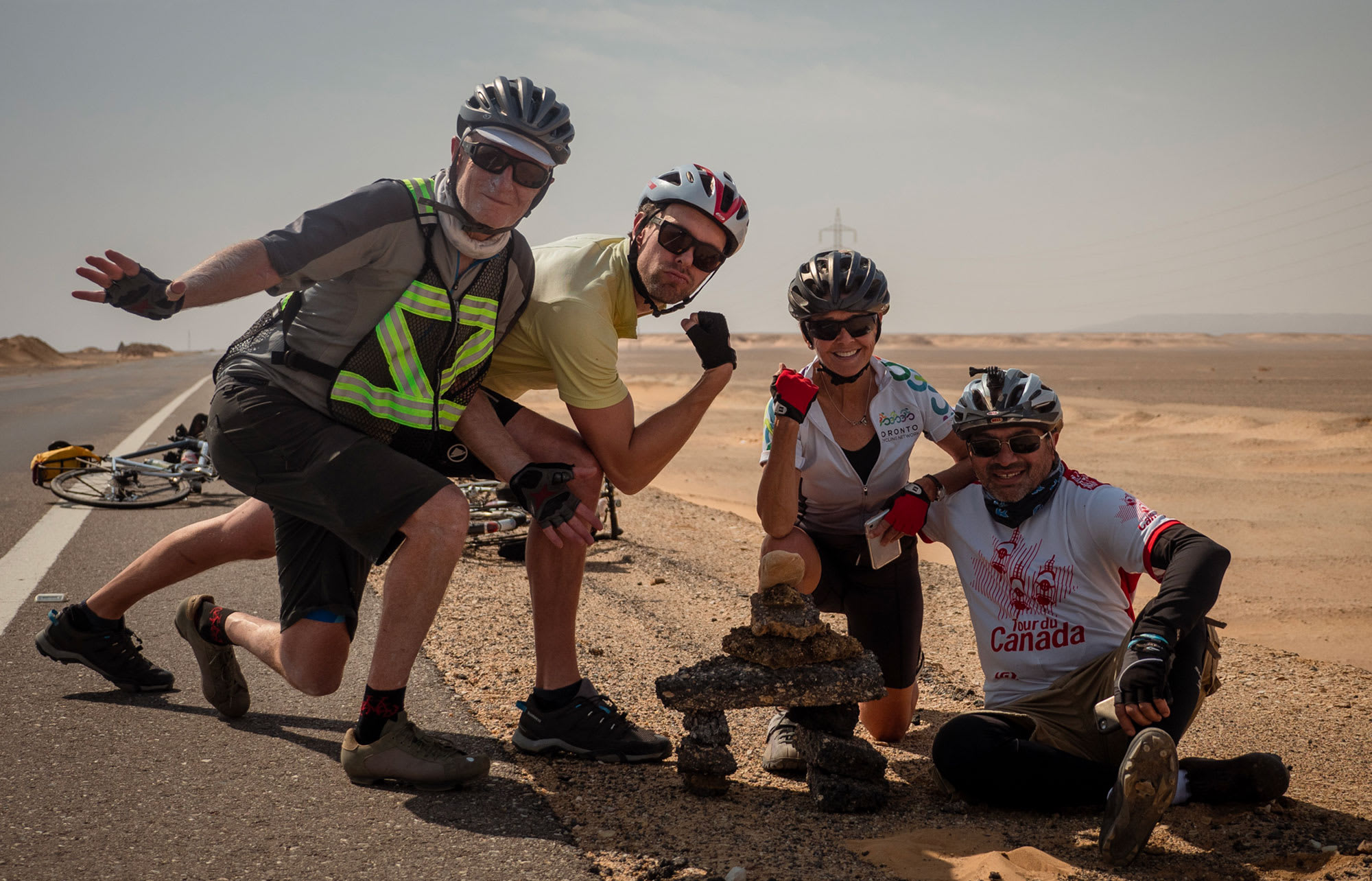 This really is quite something to see. To experience. In 2012, field staffer Catharina Robbertze was amazed to observe that, "After only one month strong friendships have already been formed between a writer from Holland, a veterinarian from England, a student from Australia and an engineer from Ireland. Retired policemen have befriended businessmen, chemists are getting along with actors and singers are getting to know zoologists better and better every day. They've gone from friends making small talk to people who aren't shy to burp, fart and snore in front of each other and know more than most lifelong friends know about each other." In a similar vein, Brad Davis wrote, "As I sit here, half a dozen riders from five different countries who would never have met each other if they hadn't all had the insane idea of riding a bicycle 12,000 kilometres across Africa are sitting around a table drinking coffee, chatting, laughing, and squabbling over who gets the pleasure of buying everyone a slice of cake."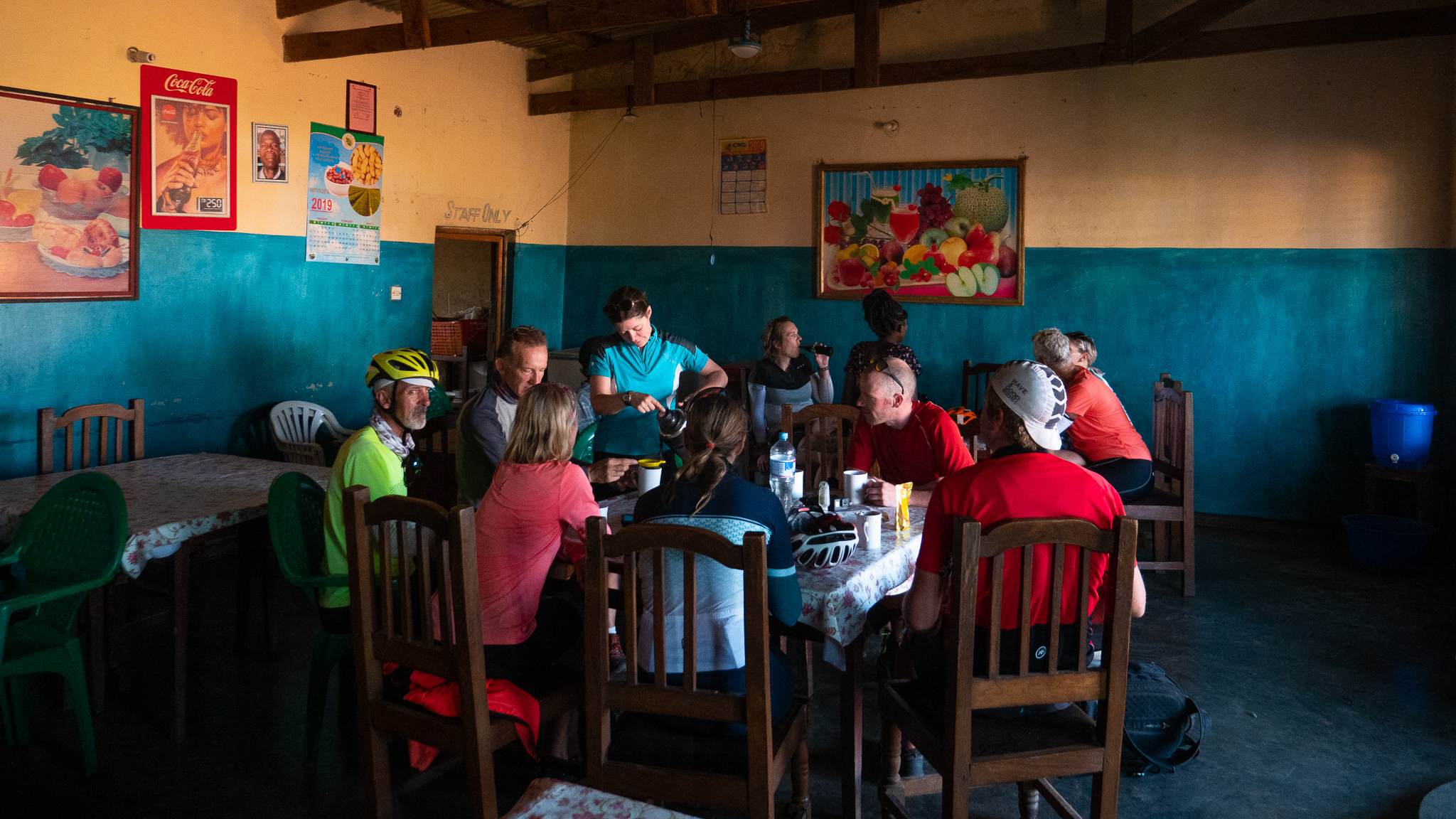 Within the larger group, riders with common interests and attitudes also gather together. In 2005, David Houghton noted that, "The eight charter members of the TDA Coffee Club rose early every morning and prodded one of the African Routes crew into putting the scorched coffee pot on the big iron burner. We sat quietly, tin coffee cups in hand, because many riders were still asleep, and watched the sun peek over the horizon, the silence broken only by a fart from a tent, or the call to prayer from a mosque in the distance, or an ambitious rooster. The Coffee Club was our secret society. It gave us time to think, and to appreciate, and to anticipate. Every camp was different, and every day on our journey was different, so the Coffee Club remained a daily ritual, dependable as clockwork. The calm before the storm."

All this is not to say that there are not issues during the tour. Riders argue, people fall in and out of love, personalities clash and misunderstandings are not infrequent. And the moniker, 'Tour of Freaks' is not without validity! Over the years our field staff have noted that the 3/4 mark of the tour, just around Victoria Falls, marks the start of what they call, 'silly season.' Of course, the traditional 'Booze Cruise' on the Zambezi River likely contributes to the atmosphere but it seems that after 3 months on their bikes, the riders just need to blow off a little steam. After a while, the group generally settles back down for the last stretch to Cape Town.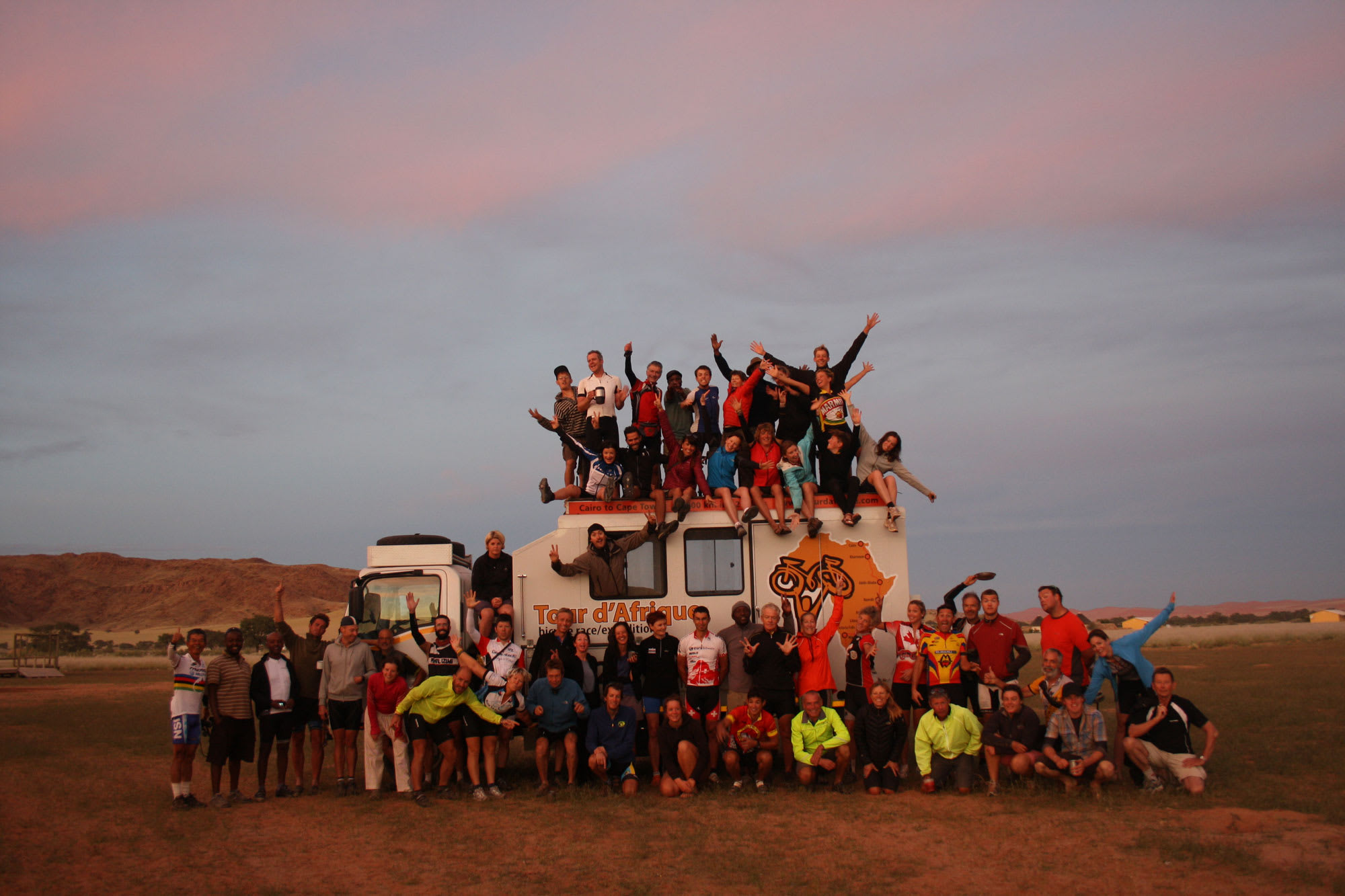 So, as Leah McLaren said, the Tour d'Afrique is one of those things you have to go through to fully understand. So what are you waiting for? Join our 'Tour of Freaks' on their next adventure and be part of the madness!
RELATED
TOUR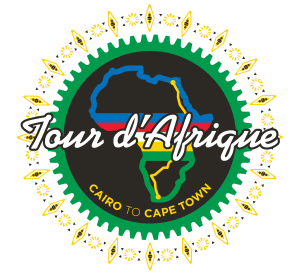 Tour d'Afrique
Our original trans-continental journey and flagship expedition crosses Africa from north to south, covering 10 countries in all. Beginning at the...