Blog
REGISTER NOW
LOGIN
SIGN UP FOR OUR NEWSLETTER
A funny thing that happened in Ethiopia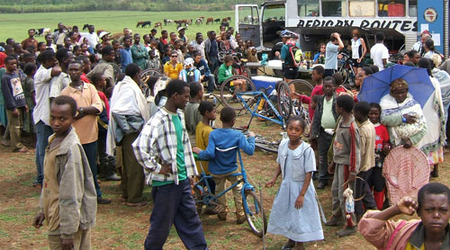 The other night I was walking down the road with a friend and a funny thing happened.  But a little background first.
Ethiopia.Three weeks in a country filled with a chaotic uncontrollable energy, some good, some bad.  Three weeks of people running at you from all sides, frantically, even desperately screaming at you.  Screaming things like "where are you go", "You, you, you, you, you", "give me birr" and "give me money", screaming, laughing and dancing as you cycle past.  Add to this kids throwing rocks at you, or pretending to throw rocks at you and chasing you and trying to grab things off your bike.  After two weeks of this with frayed nerves and temper shortened thoughts of violent retaliations slowly begin to creep into your brain.  I personally became so agitated that it opened me up to a realization of how the soldiers in Iraq and Afghanistan must feel driving around waiting to be blown up by a IED. And I was only dealing with mischievous children.
So back to my walk with my friend the other night.  A local person rode by on a bike and my friend, without thinking yelled "you, you , you , you, you!" and I yelled out "where are you go?" then we started cackling like crazy people.  Suddenly we looked at each other and realized we were perpetrating what people do to us everyday as we ride.  And it was fun!
So I guess what I finally came to in my own head was a place of forgiveness and understanding and even appreciation for what we all went thru in Ethiopia.  We might as well have been from another planet to a lot of the people there.  So anyone still harboring any ill will don't take it to personally because it is what it is.
— Chris Van Waning