Blog
REGISTER NOW
LOGIN
SIGN UP FOR OUR NEWSLETTER
Mopane. No Gain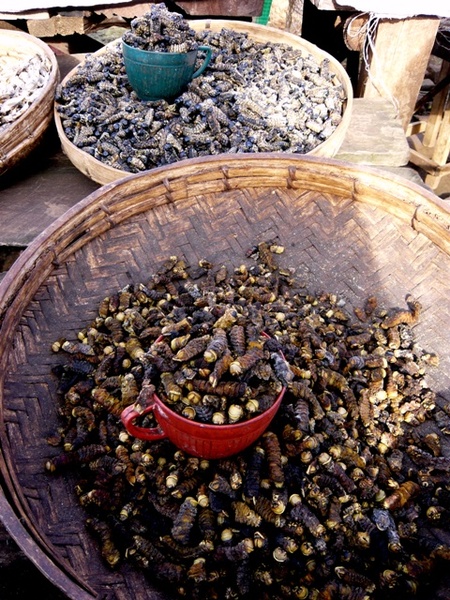 The cuisine of Zambia shares a lot of similarities with the east African countries we've cycled and digested our way through so far, particularly in rural areas. But since Zambia is also one of the most urbanized countries in Africa the availability of fast-food and the influence of the western diet becomes more pronounced, especially in the larger cities. Zambia even has a Subway sandwich chain… for those of you who have been dying for a foot-log assorted.

But traditional foods like maize, cassava, peanuts, beans and greens like spinach, pumpkin and sweet potato leaves continue to play a large role in the diet of most Zambians. This is especially true amongst those who still consider fast-food and meat a major luxury.

Staple Foods:

Nshima: Regardless of wealth or social class, the central focus of the population's diet is Nshima,which permeates deep into the cultural pulse of Zambia. More than just white lumps of bland, taste bud-shunning maize meal, nshima plays a role in the folklore, rituals, hospitality and social customs of the country. There are up to 20 different terms for nshima depending on temperature, texture, colour, who cooked it, how it was cooked…etc etc. There's even a term for nshima left over from the night before: nshima ya cimbala – which men are advised not to eat since it is believed to cause weakness of the joints and to usurp his sexual prowess!

Relishes/Ndiwo: Thank goodness nshima invited its tastier friend the relish to the party. Relishes made with beef, chicken, goat, fish, vegetables or beans add some desperately needed zip to the predominantly bland flavour soiree.

Fish: Tilapia (or Bream), Tiger fish, Nile Perch and frightening Giant Catfish the size of small children are common. I should clarify that while I personally find them terrifying – you might find them deliciously unscary. Dried Kapenta (those tiny silvery sardine-like fishes) are also popular in Zambia, and typically served partially reconstituted in a sauce of tomato and onions.

It's worth mentioning that Zambia shares part of Lake Tanganyika, which is another stunning example of biodiversity. The lake is regarded as one of the most biologically unique habitats on earth – home to at least 400 different species of fish. Just like Lake Malawi, Lake Tanganyika is extremely old, and its age, combined with its ecological isolation has led to the evolution of several unique fish species found no where else in the world (98% of its cichlids); most of these are concentrated in the Zambian waters of the lake.

Fruit: Zambia offers more fruit-lover nirvana, with all the wondrous fruit favourites: mango, guava, papaya (pawpaw), oranges, apples, watermelon and bananas (among others).

Street Foods:

Mopani Worm: The Mopani or Mopane Worm is not exclusively a street food and not really a worm but a caterpillar, which lays its eggs on the leaves of the Mopane tree; if given the chance, it will grow into the attractive Emperor moth. They are hand harvested in the wild using the pick/squeeze/toss method: Pick the largest ones from the Mopane tree, squeeze them like a tube of toothpaste to rupture the innards and expel the bright yellow-green contents of the gut in a slimy pop, and toss them into a bucket. The worms are then boiled in salty water and sun-dried. Mopane worms play a vital role in the booming edible insect trade. As a food source, these plump caterpillars are a body-builders dream: less fat than an egg and nearly three times the protein content of beef! Depending on who you ask, their flavour profile ranges from, "not bad when fresh, but when stale like a cheesy, but without the cheese or the flavour," to, "very earthy and rock-like," or "like eating dried wood," and finally, "tastes like a dog biscuit." So it sounds like you'll just have to try one for yourself to decide.

Other Zambian street foods include the ever-popular chicken and chips and an increased appearance of boiled egg vendors – kids who wander the streets with hard boiled eggs and a tray of salt, and if you're lucky, pepper and hot sauce for seasoning.

Beer/Alcohol:

Shake Shake: Shake Shake is a highly unusual and inexpensive beer sold in tetrapak-style containers. It gets its name because it needs to be shaken vigorously before drinking. Shake Shake has a thick layer of sediment that collects on the bottom, giving the beer a grainy, milky texture that coats the mouth. The brew is made from sorghum and maize and has a powerful sour yeast flavour with a lemony tang – if it's sweet, it hasn't matured properly. The funniest description I've read called its flavour: "sour green apples and barnyard." But some people love it, so you be the judge.

Mosi: Mosi is the beer of Zambia and gets its name from Victoria Falls, which was originally called Mosi-oa-Tunya (the smoke that thunders). Mosi's slogan "Great Nights, Great Mornings, Great Beer," stems from the claim that the beer won't give you a hangover. Please don't yell at me if this turns out to be a clever marketing ploy.
Tipping: Tipping in Zambia is not customary, but is appreciated. In restaurants a service charge is often added, but if not, 10% is appropriate.