Blog
REGISTER NOW
LOGIN
SIGN UP FOR OUR NEWSLETTER
Mouldy Mornings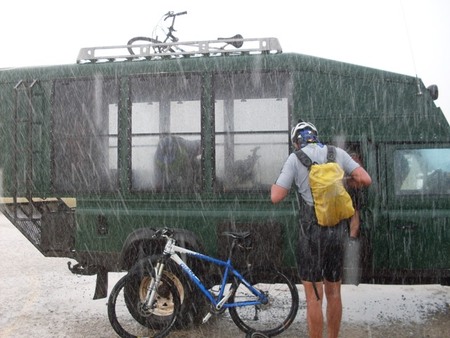 If the Tour d'Afrique were a crate of oranges, right about now we'd be the squishy one in the bottom of the cardboard box, the one covered in a musty-smelling damp green mould the colour of oxidized copper that causes you to recoil in disgust when your fingers meet its slimy flesh. Yep. It's been a rainy week to live in a tent.
We're still a day away from reaching Windhoek, the end of the "Elephant Highway" section that began in Zambia's Victoria Falls. Many of the riders are eager to dry out in a hotel room (with the exception of those rare Every F**king Night in a Tent people…Dave Arman, you are a legend). It's been raining every day since Maun, Botswana, chilling the air and permeating every piece of our clothing with bone-chilling moisture.
Yesterday's 207km ride crossing the border from Botswana into Namibia was the longest of the tour, and for many, the longest distance they'd  travelled in a single day on a bicycle. Our resident surgeon, Canadian rider Bill Nelems, finished the day with a smile and a sense of accomplishment, having successfully completed the longest ride of his life on his 71st birthday. Way to go Bill!
But the never-ending deluge of rain isn't all bad; we'll all appreciate that first hot shower in Windhoek that much more. And if this rain keeps up, the upcoming dirt roads in Namibia are sure to be a mud-lover's paradise for the mountain bikers. Besides, the sound of rain drops tends to drown out the nightly fart symphony nicely.