Blog
REGISTER NOW
LOGIN
SIGN UP FOR OUR NEWSLETTER
Race News – End of the Zambezi Zone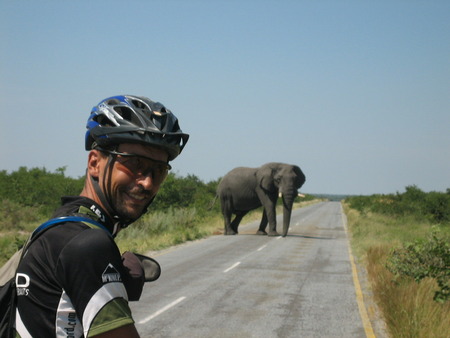 Past TdA rider on the Elephant Highway

With only 3042 kilometres remaining on the world's longest bike race and after enjoy two days of rest in Victoria Falls the tourism capital of Zambia the riders are ready to take on the last month of our journey across Africa. Many riders took the opportunity to rest and relax while the more adventuresome of the crew choose to take in the spectacular scenery of the falls upside down. Not content enough to simply ride across Africa these adrenalin junkies bungeed and the gorge swing and any other heart rate raising activity Victoria Falls had to offer.
Jethro de Decker continues his dominance of the last half of the race across Africa. The self-proclaimed off road junkie appears to becoming a lover of the road. The Zambezi Zone is 916 km of pure pavement. Gisela Giartmar continues her dominance of the women's race. Not only winning the Zambezi Zone but Gartmair is currently third overall for the race. Giartmar now chooses to race purely against the boys. A friendly competition has arisen between her and current race leader Australian Stuart Briggs. Only 2 hours separated the two during the Zambezi Zone section and the battle is getting fierce.
Next up is the Elephant Highway section – a stretch of mostly paved roads and an average daily distance of 158 km. The section takes them from Vic Falls, Zambia to Windhoek, Namibia.
For the latest stage times, you can visit our race results page here. The current race standings at the end of the Zambezi Zone are as follows:
| | | |
| --- | --- | --- |
| Stuart Briggs | Australia | 291:14:00 |
| Tim Thomas | United States | 297:24:00 |
| Gisela Gartmair | Germany | 298:06:00 |
| Frans Smit | Netherlands | 305:27:00 |
| Jethro de Decker | South Africa | 307:06:00 |
| Daniel Spasojevic | Australia | 316:22:00 |
| Rod Atkinson | Canada | 329:23:00 |
| Juliana Austin-Olson | Canada | 329:25:00 |
| Sunil Shah | United Kingdom | 343:29:00 |
| Eric Dufour | Canada | 375:47:00 |
| Ruban von Furstenberg | Germany | 382:13:00 |
| Jenn Crake | Canada | 396:32:00 |