Blog
REGISTER NOW
LOGIN
SIGN UP FOR OUR NEWSLETTER
Six Questions with… Eric Maerki – Switzerland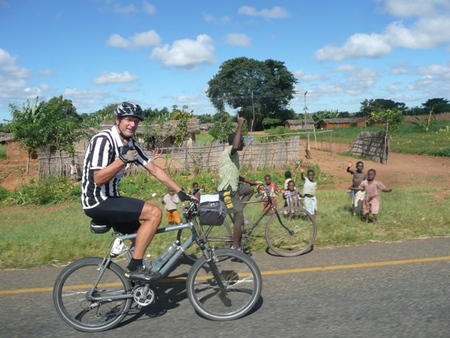 1.) What are your thoughts on the Zambezi Zone so far?

Long distances and a lot of paved roads. I like unpaved roads so I miss them a little bit but the people are nice.
2.) What is the first thing you purchase when you get to a rest day?

Fruits. Juicy fruits with a lot of water inside. Watermelons, oranges, but not bananas. And internet.
3.) What is the first thing you hear when you wake up in the morning? What's the first thing you think about?
Sometimes I hear Eric Olverson putting down his tent at half past four. I think about my bike and look to see if it's there and when it is, I am happy.
4.) Aside from your bicycle, what item can you not live without on tour?
The trucks and the kitchen. And James's cooking.
5.) What is your favourite meal or thing to eat on tour?
Spaghetti Bolognaise.
6.) Complete this sentence: Tour d'Afrique makes me feel…
Tired. Tired but happy. And free.