Blog
REGISTER NOW
LOGIN
SIGN UP FOR OUR NEWSLETTER
Long lazy days in Namibia…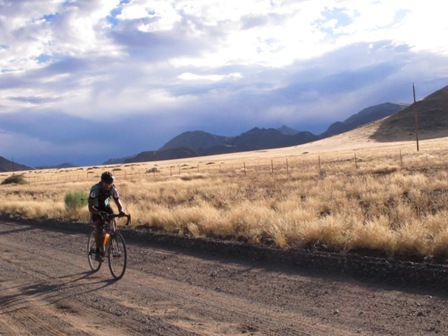 Normally rest days are a bit of a gong show. You can never find anyone, everyone is staying at 4 different hotels. Then there is the obligatory bike repair, laundry and body repair that comes with rest days. We are only just now starting to get into a rest day routine. Some race to finish their chores on day one, others are desperately trying to dry their laundry overnight. Chilling out in Sesriem has meant a whole pile of nothing… and it's fabulous. The riders are in the middle of one of the most difficult section so far. It is 9 days of off road and you have to add to that the never ending thundershowers that seem to have followed us from Botswana. Some riders took in the chance to go for a hot air balloon ride, others woke up at the ungodly hour of 4am to take in the desert sunrise over the Sossusvlei dunes. Some of us just slept… and that was also spectacular.
The riding has been great fun, turning roadie Erin Sprague into a off road rider. I had the opportunity to ride most of the day with Captain Erin and enjoying every moment of the dirt. When the headwinds got tough as another storm rolled through we kept the dream of the Famous Solitaire Apple Crumble in our minds. Once I arrived in Solitaire I didn't even check into camp just went straight to the apple crumble (and the blueberry muffin and the ladyfinger and the cup of coffee). Sitting around the now showered and clean racers with my dirt spectacled face, sand covered camelback and wet bike shoes I finally had to go find my hot shower.
The riders have been lovin' the off road section. There have been more animal sighting in Namibia then in the whole of Botswana! This almost last rest day has been enjoyed by all as we face a very difficult 5 days ahead.