Blog
REGISTER NOW
LOGIN
SIGN UP FOR OUR NEWSLETTER
Looking Back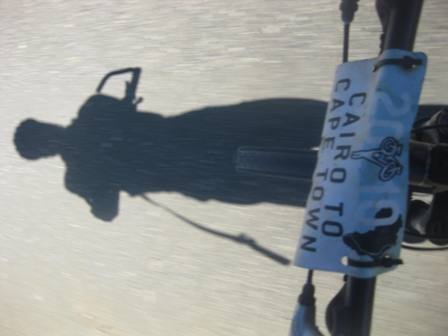 How do you describe the best/worst/most intense 4 months of your life? I've been asked to write up a little thing about the Tour D'Afrique, a four month-long bike ride from the top of Africa to the bottom. Ever since I was a boy I've dreamed of going to Egypt. Pictures of pyramids and mummies and The Sphinx captured my imagination. Now not only was I going, I was going to begin a huge journey there. On a chilly January morning, myself and about 60 other riders were taking off on the adventure of a lifetime. Bicycling from Cairo to Cape Town seemed like a good idea at the time. How hard can it be to ride a bike down a continent? Why do I do things like this?
Earlier today another rider and I were discussing the fact that we only have 747 more kilometres to go. This used to seem like a pretty big number to me. Now I'm not even remotely fazed by it. It almost seems too easy; is there a catch somewhere? There always is. We've ridden over every type of terrain imaginable: sand, loosely packed gravel, corrugated dirt roads, lava rocks, and occasionally even paved roads in good repair. We've ridden on bright sunny days, horrendous thunderstorms, bitter cold mornings, and I even got hailed on once (hail? Aren't I in friggin' Africa?). We've ridden through the deserts of Sudan where there wasn't another soul on the road (I was listening to my ipod one day and forgot about the folks on the lunch truck that drove by; they had a good laugh at my expense when they caught me dancing whilst riding). We've ridden through Ethiopia where each and every child in every single village expects you to smile and wave at them (they'll pelt you with rocks whether you wave or not). We've ridden past the pyramids of Egypt, the waterfalls in Malawi (life doesn't get much better than getting off the bike and soaking yourself under a waterfall on a blisteringly hot day), and the barren wasteland that seems to compose most of Botswana. We've seen elephants, zebra, giraffe, springbok, and an entire barrel full of monkeys. We've met starving children in Zambia (I tried to give them my broccoli… Mom, they didn't want it either). We've gotten rides in tuk tuks, cabs, backs of pickup trucks, matatus, the odd dump truck, and a few guys even rode camels for a bit. We bungee jumped from Victoria Falls (well I didn't, I'm far too much of a coward to do something like that), climbed Kilimanjaro, visited monasteries in Ethiopia, went swimming in the Nile (never try to skip a stone when you're wearing your keys around your wrist; swimming isn't always just for fun) . We went on safari at the Ngorogoro Crater, and stayed in tiny villages where everyone who lived there was at least distantly related. We went from huge cities where no one noticed us, to small towns where all the people would come out and watch us stop and drink Fanta, and rode through the suburbs of Nairobi which look identical to suburbs everywhere. We've suffered from diarrhea, saddle sores, broken bones, back pain, leg cramps, and daily exhaustion. We've complained about poor service in restaurants, long days, each other, people watching your every move, each other, overly inquisitive children, mobs of unruly boys, and each other. Yet each day we're up and ready to start again. Every day on this trip has brought some new adventure, which is kind of amazing since every day is fairly similar: wake up far too early, eat breakfast, ride your bike a ridiculously long distance, eat lunch, ride even further, eat dinner, then go to bed.
The one thing that has made this trip truly unforgettable is the people, individuals from 20 or so countries with nothing in common other than being idiotic enough to sign up for a trip like this. It sounds like the tag line to a bad reality show. People that you normally wouldn't acknowledge if you passed them on the street suddenly become you're best friend. I now know more about many people on this trip than their own relatives do. When you have a 6 hour day ahead of you, with nothing to occupy your time other than pedal and repeat, you start talking to folks quite a bit. You discover their dreams and aspirations. You discuss what really matters, because there is no TV. You also discuss your favourite episode of MASH and why Dick Sergent was better than Dick York. These are people and conversations that will stick with you for life. However, these same people wouldn't recognize you if you were to get a different shirt, because they only know you in the three you wear every day.
I've been asked if I'd do this trip again, the answer never varies, "Not in a million years!" However would I recommend this trip to others, without a moment's hesitation. This trip will make you appreciate what you have at home. It'll also make you realize what your life has been lacking. It will make you weep with both joy and sorrow (occasionally at the same time). You will feel more alive than you've ever felt, often when wishing you were dead. You will be ecstatic to crawl into your tent every night and eating oatmeal in the morning will be the best thing you've ever tasted. You will never want to go home, but miss it with all your heart. I could never do this again, but in my head, and for the rest of my life I will be doing it daily.
— Dave Arman