Blog
REGISTER NOW
LOGIN
SIGN UP FOR OUR NEWSLETTER
Not Knowing what to Expect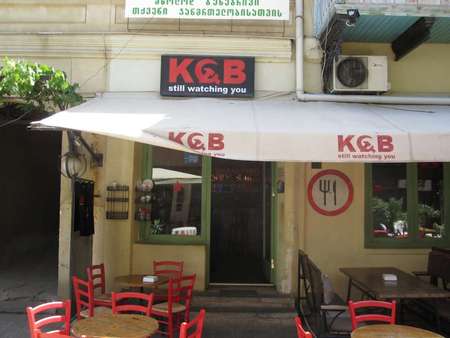 "To our good memories and plans!" That was the eighth or ninth toast of the night from our local guide Zaza. We were at a local restaurant in Tblisi eating some of the most delicious food I've had in long time. The meal consisted of six or seven courses starting with bread and salads then cheeses and moving on to dumplings, 3 kinds of Kebap, chicken, and finally homemade ice cream. I was really hungry when we sat down so I began eating salad and bread voraciously when Zaza explained me I must go "slowly slowly" there was much more to come. In addition to the many plates of food there were two kinds of local wine, local beer and of course, vodka on the table. The Georgians have a tradition of toasting that is unparalleled in my experience. Usually the oldest man at the table leads the toasts. They progress in a particular order. Starting with a toast to our ancestors, then our families, then our countries. Then, after that warm feeling has thoroughly settle into your being the toast become more personal and more elaborate. When it comes to enjoying food and drink the Georgians are true professionals.
Our entry into Georgia was fairly easy. The Georgian government is very pro-west (one of the reasons they fought a war with the Russians in 2008) so we didn't even need visas. Initially the roads from the border were very rough and it looked like it was going to be a long day. But after only 15 or 20 kms the rough dirt turned o pavement and the rough, rocky, mountains of Turkey are transformed into the lush rolling green hills that characterize this part of Georgia. The weather was warm, the breeze that was blowing was cool as we began to follow the Kura river towards Tblisi.
Georgia has been a wonderful surprise. From the border we passed thru very rural areas where people live primarily as farmers and shepherds. There is a large Armenian population in this part of the country and Russian is as common a language as Georgian. Talking to one of our local support guides, Dato, who works as an archeologist at the national museum I learned so many fascinating things about the country. Georgia was the setting of Jason and the Argonauts quest for the golden fleece, the oldest human remains found outside of Africa were discovered here (2.5 million BC), Christianity first came here in 400 AD, there are 27,000 rivers in Georgia…. The list was endless and made for great conversation on our drives to lunch every day. Dato is obviously very proud of his county (as he should be) and continually in our conversations he would bring up the countries desire for peace and a stable democratic government. The current president has apparently made great progress towards those ends by reforming the police, improving infrastructure and encouraging tourism. But Georgia is a small country that shares a historical and cultural history with Iran, Russia, and Turkey and too often in its past the hunger for other nations to expand their boundaries have negatively impacted its progress and growth.
Arriving in Tblisi we found a completely different Georgia. Split into two parts, the old city and the new, Tblisi is pumping with energy. Everywhere you look the city is being renovated. From new pedestrian malls to cultural centers and the rehabilitation of 14th century churches the city is improving at a rapid pace. It's an attractive city (and not just because of Georgian women) and an easy city to walk around. There are public art installations everywhere and dozens of cafes, art shops and stores lining the cobbled streets in the old city. In the new city the vibe is very different. From freedom square (so named in 2002 when Georgians held public demonstrations there to declare their independence) west the small locally owned shops gives way to Dolce and Gabana, Versace and large commercial banks. There are quite a few beggars on the streets, an indication that while many in Georgia have found ways to make a decent living there are still many that have not.
I'd love to have more time to explore Tblisi, the Caucus mountains in the northwest, the wine county in the east and the deserts in the south. We spend only 5 days in country and certainly we only get a glimpse of what it has to offer. But it's a nice appetizer to be sure and someday I plan to come back and enjoy some more.