Blog
REGISTER NOW
LOGIN
SIGN UP FOR OUR NEWSLETTER
Latvian Bike Museum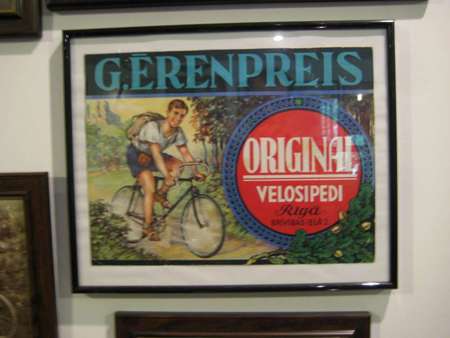 A whirlwind of activity has slowly settled into a daily routine of constant small tasks. Managable tasks that allow the odd moment to relax, have a beer, and maybe even ride my bike. Yes, cycling for the tour staff is never a given, but an occassional reprieve from the daily routine of ensuring the tour progresses on schedule and that everyone is finding their way each day, is a welcome event.
On one of our brief reprieves Bonny (new TdA chef extraordinaire) and I chose the day into Latvia to get on our bikes. The night before had involved some last minute route changes that were scouted by Paul and Gergo (nice work guys!). Instead of 125 km with 12 km of corrugated dirt roads, it was to be 90 km and a simpler entry into the Latvian capital, Riga.
Along the way, Gergo had mentioned that we could visit a cycling museum. hmmm, Sounds cool, but as with many things on tour, there is an overload of sights and sounds and places to visit along the route.. so I wasn't too fussed at that stage whether I made it there or not. But early in the morning, riding sweep, we came across the rear peloton, having their morning coffee break, which comes after their morning pee break, and map check, and precedes the morning snack stop, pastry interlude… They are on a mission – cycle to Venice and make full use of the daylight.
We stopped, had a coffee, and the rear peloton departed, just as we ordered our second cappucino… we had learned a few things from them. We were in Saulkrasti, and besides the posters advertising the annual jazz festival currently underway, there was a tourist map that hightlight, none other than, the Saulkrastu Velosipedu Musejs. GREAT! and its only a couple kilometers up the road and along our route.
We downed our coffee, and after a short peruse of the beach we set out in search. 3 km down the road, we found it. A modest house, with a garage in the back, facing the main road. We approached and there was no immediate indication that anything was happening.. maybe its closed, maybe its lame and not worth our time, but we pushed through the initial resistance, rounded the corner and through the back gate that lead to the yard. A man my age popped his head up from behind a car and offered to show us around. Behind the house, the once car garage had long since been taken over by an exhaustive collection of Latvian Bicycle history spanning likely a century. Though a modest setting, the museum space had been passionately organized and arranged with care. Sign boards (in Latvian) were displayed next to most pieces, a full wall was filled with head badges – the branding of a bike on its headtube – while another wall was filled with artistic chain rings, stylized and intricate, although maybe not light weight or as efficient as the modern versions. The next aisle over had the oldest bicycles in his collection – a Penny fairthing style "big wheel", bicycles with front headlights powered by candles, and kersene of all things!
Our guide was Guntis, the son of the museums curator. He explained how in its heyday, Latvia had been a big manufacturer and exporter to its regional neighbours – Estonia, Russia, Finland, and more. What also impressed me was that this was a Latvian bike collection, the concept seemed to have always been focussed on that. Surely during the Soviet era this might have been the only option, but he has obviously stuck to this appraoch. Latvian bicycles from various companies and desingers, how added their own flair and innovation seemingly in parallel with what was being produced at that time in North America and the rest of Europe.
In another corner of the musuem, he had recreated, to the best information he had, what he envisioned a bicycle mechanic's worshop would have looked like in the early 20th century. Based mainly on the historical photos he had, the workshop included the tools, the spares, and the work benches.
All in all it was a facinating collection, I could go on, and I will at some point, but another day has just finished and there's more to come tomorrow, but for me, after a great morning on the bike, the Bicycle Museum in Saulkrasti was a extraordinary experience and one of the highlights of our trip so far.
Please check it out yourself.
www.velomuseum.tk