Blog
REGISTER NOW
LOGIN
SIGN UP FOR OUR NEWSLETTER
Ron & Nini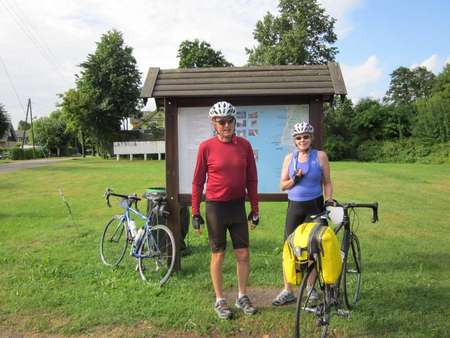 Ron and Nini
Today is rest day. Today is also exactly the mid point of the tour. We arrived in Warsaw yesterday and today is exactly three weeks from the start of the Amber Route. We have so far traveled in Russia, Estonia, Latvia, Lithuania and few days in Poland. In 21 days of travel we have had only one real rainy day. The rest of the time it was pleasant and warm. If anything it has been very warm, unusually warm for this part of the world.
We had seen some impressive modern cities, very impressive. We have been on some great cycling routes. So when I sat down, I thought that I would write about the great architecture we have seen, the sad not too distant history we have observed on our city tours, the fantastic food we have eaten, the wonderful country side we have traveled or perhaps about the thousands of stylish, attractive woman we have watched while rehydrating from our long rides. But I thought that I'd rather write about the human spirit I have come across on the tour.
When you first meet Ron, you noticed immediately, that he walks a bit awkwardly and he talks a bit from the side of his mouth. Ron does not seem to be very talkative but on the whole he looks like the rest of us. Ron is a judge in Utah. Not just any judge, Ron is on the Supreme Court of Utah. Ron also had severe cancer several years ago, but he recovered. It was not easy. As a result of the treatment Ron had a stroke.
Last winter after signing for the Amber Tour, Ron had a second stroke. With great reluctance on our part and with Ron signing all the release documents we could think of, Ron showed up with his wife Nini (another marvelous human being but that is another story) in St. Petersburg ready to ride. And riding he has been. So far, in spite of the heat wave, some longer distances than we had planned and some other challenges that he faces, Ron has cycled EFI or as some like to call Every F… Inch.
On a convoy leaving Vilnius last week, Ron, Sven and I were in the back and due to a traffic light we were separated from the convoy. On the next intersection the convoy took a left turn, but the three of us didn't see this and we continued straight on. Thus we had to find our own way out of the city. The route we took at one point got a bit tough. After about 20 minutes of the rough route with fast moving vehicles zooming by us, Ron announced: "I need a break". So we pulled to the side. Ron looked at me and Sven and said: "Just so that we are on the same wavelength, this road stinks". And he got on a bike and continued.
So yes the tour so far has been amazing – but not as remarkable as being able to share the time with the wonderful group of people that are cycling the tour.