Blog
REGISTER NOW
LOGIN
SIGN UP FOR OUR NEWSLETTER
Create a Donate Button with Chipin
Last week I wrote a post about creating a blog to support your fundraising efforts. In that post I outlined how you can add a donate button to you blog using Paypal. A few days ago someone shared with me another way to add a dontate button that has some added benefits. It a free service called Chipin,
http://www.chipin.com/
.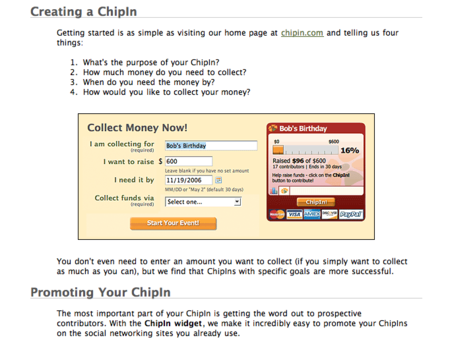 Chipin is a free service that will create a donate button and fundraising counter for you in a few easy steps. You can also create a widget to allow you to promote your cause on your favorite social network.
So if you're still working on that blog or have the time to swap out your donate buttons give Chipin a try. I think the extra features might make it worthwhile.
Have some fundraising tips of your own to share? Leave them in the comments or head over to our Facebook Page and let us know under discussions.

Paul