Blog
REGISTER NOW
LOGIN
SIGN UP FOR OUR NEWSLETTER
Four Steps to Start your Fundraising Blog | part 2
In this post I'll discuss setting up a blog to help you raise money for the
Tour
d
'
Afrique
Foundation
although many of these tips will apply to any kind of blog.

Having a place online that provides people information about your fundraising efforts is an important part of the fundraising process.

If set up properly it shouldn't take too long nor should it require too much work to maintain.
If you have any questions about setting up a blog or preparing for your tour you can
find helpful tips and answers in a discussion forum on our
Facebook
Page
.
First you need to choose a blog platform. There are a lot of options but
I
recommend sticking with a simple one.

I'm going to show you how to create a blog using
Blogger
, but there are many other popular blog platforms.
Navigate over to the blogger home page and click on the 'Get Started' link.

You'll be prompted to create a google account, if you don't have one. After that you'll need to choose a title for your blog and ta da! You have a blog.

Now let's make it look and function like you want it to.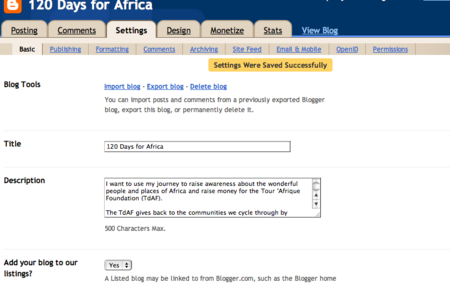 Click on the 'settings' tab to customize your blog.

You can edit your title if you like and add a description.

In your description state your fundraising goal.

Stating your goal as the number of bikes you would like to donate, instead of a dollar amount is recommended.
A few other things to do under settings:
– Choose who can leave comments on your blog posts.
– Add the email addresses of people you would like to be automatically notified whenever there is a new blog post
– Set up blogger so you can post stories by email
(a nice feature to use while you are travelling through countries with less than stellar internet connections).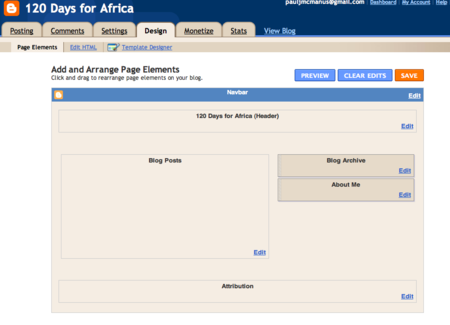 Under 'Page elements' Blogger lets you customize the layout of your blog using gadgets.

Click on 'add a gadget' and you'll see a list of possibilities.

You can drag and drop any gadget on the screen to move it around.
Here's a short list of gadgets I think you should use:
T
his is a default gadget on Blogger.

I like to have it right at the top in the right hand collumn.

Add your picture and a brief description of yourself.
Donate Button
(via paypal).
Paypal makes adding a donate button very easy.

Just follow these steps: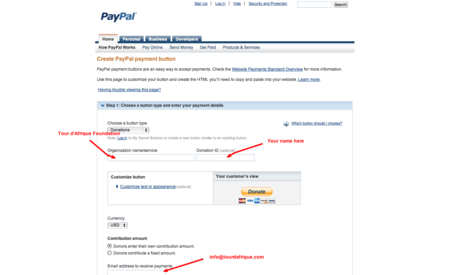 When asked for the Paypal address to send donations to you can enter:
info
@
tourdafrique
.
com
for payments to go directly to the Tour d'Afrique Foundation.

Be sure to enter your name in the Donation ID box so we'll know
it's from you.

Alternatively you can enter your Paypal address, collect all your donations and then send them to us at regular intervals.
If you choose to have donations sent directly to us we will send out a handwritten thank you note for every donation we receive and send a follow up report about our bike donations.
2) Once you've copied the html code from Paypal go back to blogger and click on the 'add a gadget' link.

Choose the 'html / java' gadget.
Add a title to the gadget and then paste the html code from Paypal.

Click save and then preview to see you blog.

You'll see your fancy new Donate button!
Exit preview and you can drag and drop the new gadget anywhere on the page you like.

I like to have it at the top, right below the 'About Me' box.
I like to add a text gadget underneath the donate button to describe what you are fundraising for.

Just click on 'add a gadget', choose the text gadget and enter your text.

My text box says the following:
"When a Community Health Worker (CHW) in Africa uses a bicycle to visit patients they are three time as effective in treating patients and providing much needed medicine to children. A bicycle allows them to increase their coverage area, reach patients faster in an emergency and get to nearby hospitals more regularly to re-stock their medical supplies.
Most CHWs in Africa are volunteers living in very remote areas. They work closely with the Rural Health Center to provide outreach services to the surrounding community. They are a vital part of the health care structure and through the simple donation of a bicycle you can help them prevent more disease and save more lives. The average cost of a bike is $150. Please click on the Donate button above and help us improve rural medical services in Africa."
The link list gadget allows you to post a list of relevant links for people to visit.

In my blog I've added the link for the Tour d'Afrique Foundation under the title "Find out more".

You could also include links to reports about
Community
Health
Workers
in Africa or the websites of our partners:
Africycle
,
BEN
Nambia
and
Zambikes
.
After following the steps above this is what my new blog looks like: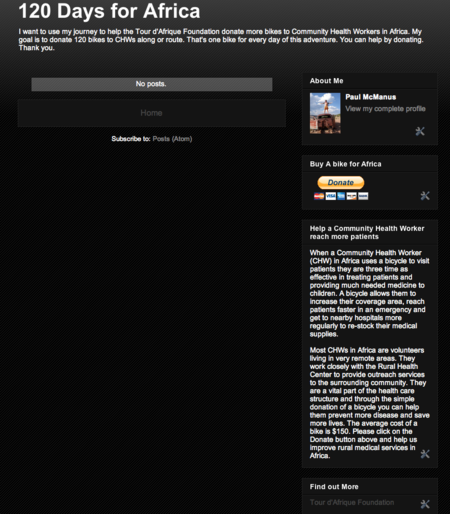 Your blog will of course look a bit different depending on the theme you choose.

There are lots of additional gadgets you can add.

Personally, I like to keep my blog simple so people can focus on my daily posts and the cause I am fund raising for.
That's all there is to it.

You now have an effective fundraising blog format and all you need is content (easy right?).

Good content is of course very important.

When you are on tour you'll have tons of great stories to tell and hundreds of unique photos.

But what about now?

Here are a few suggestions for blogs you can start writing today to build an audience.
Write about the Tour d'Afrique Foundation and what we do.

If you need help with this post you'll find lots of information on our website or you can contact me: paul@tourdafrique.com.
If you've never been to Africa you might find it hard to understand what it's like to live and work in a rural village a 20 km walk from you nearest health clinic.

Write a blog to help people understand.

If you like we can connect you with some of our recipients who can do a 'interview' with you via email for your story.
It might seem boring to you but preparing for tour, your packing list and training routine are interesting to people who follow your blog.

It's the beginning of the 12,000 km story that you are about to tell.
Regular donation updates:
Be sure to write regular updates about how the fund raising is going.

Describe the activities and events you've undertaken to raise money.

Thank everyone who has donated show you're progress towards your goal.
Special Fundraising events:
You may choose to host a fundraising dinner, or
a
screening of the documentary about our 2008 tour called 'Where are you go?' or other events.

Be sure to take pictures and report these events on your blog.
Got some blogging or fundraising tips of your own? Leave them in the comments or head over to the discussion forum on our Facebook Page and start a discussion there.