Blog
REGISTER NOW
LOGIN
SIGN UP FOR OUR NEWSLETTER
How to Raise $35,000 for Charity in 3 months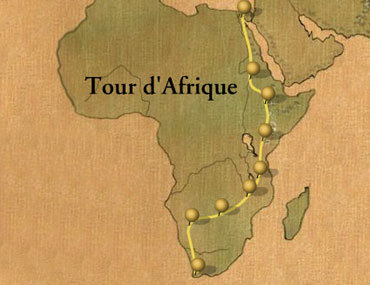 You may not realize it, but what you are about to do is inspiring. You are undertaking a journey that many people can only dream about being a part of. Many riders choose to raise money for the Tour d'Afrique Foundation or other charity in conjunction with their tour. In this way not only do they raise money for a worthwhile cause but they also give people a chance to be a part of their adventure.
Over the years our clients have inspired people to donate hundreds of thousands of dollars to support worthy causes all over the world. On the 2010 Cairo to Cape Town tour we had two superstar fundraisers, Jennifer Crake and Gerald Coniel. Both have recently shared their fundraising strategies with us so that other might benefit from their experience.
In todays post I'm going to share with your Jennifer's approach to fundraising. Next week I'll share with you Gerald's approach.
If you are, or are considering raising funds for a charity, or for the Tour d'Afrique Foundation as part of your tour and would like some assistance with your fundraising please contact us at info(at)tourdafrique.com. We can offer advice and help you promote your cause.
Here is Jennifer's post:
The Tour d'Afrique (TDA) is the longest, toughest bicycle race/expedition in the world, and it is also an excellent opportunity to raise awareness about international issues and collect much needed funds for worthwhile causes.
Have you considered fundraising before you head off on your Africa adventure? It is not too late! From September 2009 to January 2010, before flying to Cairo to begin the TDA 2010, I raised $35,000 for a charity that supports grassroots organizations in Africa. As a participant in the Tour d'Afrique 2011, you are about do to something incredibly challenging and special, and you are in a unique position to draw attention to the very issues that affect the lives of people you will cycle past on the roads of Ethiopia, Malawi or any of the 10 countries you will be visiting next year. If you aren't sure how to get started or how to make the most of your current fundraising efforts – here are some simple things you can do to get people excited about your cause and reach your fundraising goal.
Get organized!
Pick a cause that you are passionate about and a charity that deals with the issues that interest you. Read about the TDA, talk to past participants and learn a bit about your African route, as these will be the things that friends, family and prospective donors will want to talk about when you approach them about your fundraising initiative. The TDA is a great platform for introducing issues about Africa and relating them to your charity.
Make contact with your charity and do your homework!
Reputable charities all have a community organizer or liaison and they will be happy to talk about the charity and provide you with all the tools you need to educate yourself about the issues. Take advantage of your relationship with the staff at the organization and ask lots of questions about the work they do, ask for details about how donation money is spent and find out exactly how much of every dollar goes to administration costs. This kind of information will be invaluable when you start fundraising and will prove to potential donors that you not only believe in the charity but that you also have a vested interest in how donation money is being spent.
Set up a personal fundraising page and gather resources
Most charitable organizations have a website that will allow you to set up your own personal fundraising page and this is a great way to monitor your fundraising and collect funds. Personal fundraising pages allow you to post a profile about yourself, set a fundraising goal and will encourage visitors to your page to donate online. A fundraising page is an easy and secure way for individuals to donate what they want – when they want. Charities often have online resources and information that you can use and share with donors. Read as much as you can about the issues – once you start fundraising you become a representative for the charity and it is your responsibility to know the facts.
Make a BIG first impression!
Pedalling your way through 10 African countries is no easy feat and by talking up the ride you also get to talk up your charity. Start with an email or a message via a social network site and send out a well crafted, thoughtful newsletter style note about the TDA and your charity. The first message you send about your decision to participate in the TDA and your reasons for fundraising will be one of the most important – it must be concise and include all relevant information – details about your ride and your charity, your fundraising goal and should include a direct link to your fundraising page, as well as a list of upcoming fundraising events.
Get planning and start fundraising!
The initial message you send you will draw people to your fundraising page but you should try to think of other ways to raise funds and target various social groups. Part of the fun of fundraising is brainstorming ideas. Imagine all the ways that you can raise funds and write them down.
Make a list of everyone
you know,
put them into groups
and think carefully about the kinds of events you can hold to maximize donations from those particular social groups.
The Older Generation – this group consists of your parents and their friends. This group is often retired and already has a long list of charities they support. This is your opportunity to introduce them to the TDA and possibly a new charitable organization or cause. Invite them to a
cocktail party or dinner
. Advise them they can donate at the door or
set an amount for the evening
. Prepare a short introduction to your charity and spend the evening talking about both your ride and the charity. Bring any resources supplied by your charity – including donor forms as many people in this group will donate by cheque or cash and not online.
Siblings – this group includes your brothers and sisters and their friends. Encourage your siblings to get involved! They will be inspired by what you are doing and will want to help. Ask your family to send your original message to their friends and to post it on their social networking sites. Events such as
BBQs, dinners and parties
are the best way to get individuals to commit to a donation and these types of events will introduce you to a new donor base. Ask you brothers or sisters to host an event and to tell their friends to bring their cheque books and/or cash!
Colleagues – this group includes anyone and everyone at your workplace. If you have already announced your plan to traverse Africa by bicycle chances are your fellow colleagues are excited for you and want to somehow be involved in your great adventure. Investigate ways to get your company to support your charity and/or host an event at work.
Bake Sales
might sound old fashioned but my sister raised over $400 in one morning at her work for my charity. In my office, I asked people to throw their
pocket change
into a bowl and after just 2 months I rolled over $200 in coins. Small ideas add up!
Friends – this is the most important group of all. They will not only donate funds but they will also be willing to help at events and spread the word about your cause. This social group is perfect for a
big party or larger event
. Canvas local bars and venues and find a sympathetic owner who will donate the space for an evening. Consider the skills of your friends – they can help you promote the event, enlist the support of a DJ or band, and
host a silent auction
. Ask for
donations at the door
and invite a representative from your charity to speak at the event as this will give the evening a sense of purpose. Hosting a party with music and a silent auction can be one of the best ways to raise funds and it is also a great way to involve your local community.
Strangers – friends of friends of friends. Once you start talking up the TDA in conjunction with your charity the interest will spread far beyond your own social circles. Friends have friends on social networking sites and if you make yourself available online and in person you can raise a lot of funds from people you don't even know. Offer to speak to them on the phone or meet with them in person. These
one-to-one connections
can be very valuable and lead to large donations. For example, one lunch meeting and one dinner with friends of friends lead to $10,000 in donations towards my fundraising initiative. If people show interest be sure make the effort to meet them and share your passion about your cause – it could pay off!
Follow up!
Follow up on every donation no matter how big or small – it adds a personal touch and can lead to more donations. Keep track of every donation – if someone donates online thank them with a personal email and if you receive cash or a cheque at an event or funds in the mail – send a thank you card to the donor via the post. Fundraising is time consuming and it is work but it is work of the most rewarding kind.
If you decide to fundraise before you travel, you will feel a great sense of accomplishment but once you are on two wheels and experiencing the sights, smells and sounds of Africa, you will feel a wonderful connection to the people and all your hard work and efforts at home will be even more satisfying!
If you are interested in fundraising, need other ideas or would like to the TDA, please feel free to contact me.
Jennifer Crake – TDA 2010 – jennifer.crake (at) rogers.com