Blog
REGISTER NOW
LOGIN
SIGN UP FOR OUR NEWSLETTER
Let the madness begin!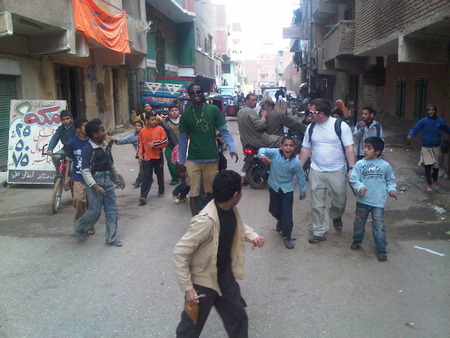 Elvis, Matthew and the very cool kids in downtown Cairo
We are slowly taking over the hotel where we are staying in Cairo, Egypt. There are empty cardboard bike boxes everywhere, and as you walk through the big hotel yard, it's easy to recognize TDA 2011 riders when you see them, and not only because of their outfits. Anxiety is in the air, and we can tell how curious and nervous everyone is.
Yesterday, as Elvis (Assistant Tour Director, from Tanzania) and I were heading out for lunch in a chaotic neighborhood not far from the hotel, we were stopped by Matthew, a Canadian rider who is going to cycle all the way to Nairobi with his father. He was after a sim card for his mobile phone, and since we were also going to buy airtime for the staff, we took a ride in his taxi and all went together for the mission. As usual, the taxi driver (who had already taken him to a few places in the city) didn't really understand why we wanted to go to that poor chaotic place, and asked us a few times if we really knew where we were going. It looks like most of the tourists they drive around don't really explore the places beyond the guide books pages. I had been there before, and it is actually a pretty interesting neighborhood, with a lot more tuctucs, horses, donkeys, taxis and people on the streets than you would think they could handle.
As we entered the shop to try our luck with the very helpful but 'no English speak' vendors, kids started to gather in front of the shop. Unlike the other times that we were there, it seemed as if they had never seen foreigners before, and pretty soon there was a little crowd of children around us. They wanted to try out their English on us, and as typical African soccer lovers, they went crazy when I said I was from Brazil and Elvis was from Tanzania (we didn't know it at the time, but soon found out that Tanzania was playing a match at that exact moment), and the only words that I could really understand were Ronaldo, Kaka and Ronaldinho (popular brazilian players). It really felt like Ethiopia.
Followed by the excited crowd of very cool kids, we made our way towards the place where we were going to eat our Koshary, which is a popular traditional Egyptian dish made out of a base of rice, brown lentils, chickpeas, macaroni and a topping of Egyptian garlic and vinegar with spicy tomato sauce (salsa).

It was only when Matthew, the Canadian rider, told us that this was his first time outside of Canada that we figured how really crazy that whole experience must have been to him.
Well, let the cycling madness begin!
Cristiano Wernick. Communications Manager.