Blog
REGISTER NOW
LOGIN
SIGN UP FOR OUR NEWSLETTER
Challenge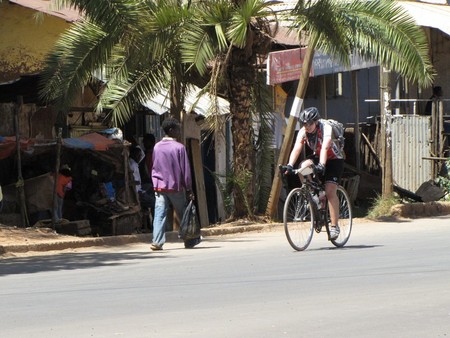 The TdA is now one month in. As riders traverse the Ethiopian highlands and head towards Addis, they draw on new knowledge built by tired legs. This brutal epistemology lets riders know when to eat, when to rest, and when to push, and when to peel off. Throughout the tour each rider explores their limits differently. Challenge by choice is a central theme in an undertaking like TdA, and the challenge becomes personal. Some go for EFI, some try to kick an addiction, and some choose to race.
The strain of racing TdA is difficult to communicate. Perhaps the best indicator is the growing list of abandoning riders. The stalwarts that remain are the prepared and the dedicated. Their challenge is competition. The overall leaders wake up every morning ready to race. There are precious few easy days, and when one does arise it must be taken advantage off. Pace lines, break-aways, sprint finishes, and late moves up finishing climbs; all must be anticipated and taken in stride with the normal course of life on the road.
The level of competition remains friendly, but is none-the-less heated. Mando days are a crowning prize, giving the stage winner a thirty minute time bonus. These days bring out a competitive streak in even the most casual racers, and are also among the tour's longest, hardest days. Racers quickly adjusted to the flying speed and humming pace lines of Egypt and northern Sudan. The corrugated dirt tracks of Eeastern Sudan were a different matter. Group work had to be reconsidered. Pace lines fell by the wayside as line choice, bike handling, and bicycle design (a la Paris-Roubaix) became important. After all of these trials, riding into the Ethiopian highlands brought out the climbers. Now only the contenders are left.
The race is scarcely a quarter finished, and any predictions about overall wins are premature. Finishing times will be over 300 hours, and many kilometres lay ahead. The challenges of riding fast, riding safe, and staying healthy will wear on many excellent cyclists – while creating opportunity for others of the same breed. As the race leaves Addis and heads towards Kenya, riders and bikes alike will be tested by long days on rough roads. If you're the kind of person who is kept up at night by hyenas in the bush (or in camp), you might have trouble racing in the morning.