Blog
REGISTER NOW
LOGIN
SIGN UP FOR OUR NEWSLETTER
Bamboo Road 2022: The Journey Begins In Vietnam
Sheelagh Daly is the Content Creator on the 2022 Bamboo Road Cycling Tour. She sends her first report from Vietnam.
Just over a week ago, the riders and staff of the 2022 Bamboo Road arrived in Vietnam's capital, Hanoi. The city can be intimidating for a cyclist of any experience level. It's a bustling centre that more than 8 million people (and 4.9 million scooters and motorbikes!) call home. This means the streets are pretty packed with cars, trucks, scooters, pedestrians, cyclists, and more.
After meeting the staff and their fellow riders, 28 intrepid TDA travellers headed out across Vietnam on their two-wheeled steeds towards Cambodia, then Thailand, then Malaysia, and eventually Singapore.
Erika Lindquist is a rider from the United States who is cycling the 2022 Bamboo Road with her partner. This is their third tour with TDA and their 5th tour overall, having done both the Great Divide and the Pacific Coast previously on their own. So what drew them to journey across the world to take part in Bamboo Road? "Both of us have been to many different countries but we've never been to Southeast Asia. We always wanted to go to Thailand, and Vietnam sounded very interesting. And so this allowed us to tour it on a bike, which we love. And we love going with TDA because we totally trust all their trips."
Erika explained that when she first arrived in Hanoi, she was feeling a little scared trying to cross the busy streets on foot and wondered to herself, "How am I going to bike this?" But she quickly found, as many riders have, that things feel quite smooth and natural on Vietnam's roads once you get used to them. "Everybody seems to give everybody some space," observes Erika. "Out on the country roads, or even on the highways, people seem like they've been super respectful. I feel safer riding here than I do in the U.S. I've been pleasantly surprised."
The first week of riding brought other joys and surprises as well, like the people riders have met along the way. "The kids were waving, and we stopped at a few little side stands to buy ice creams" explains Erika. "We couldn't communicate with words with the people, but they're super friendly and really interested in understanding what we're doing. They were just super nice."
In addition to warm welcomes and friendly 'hellos', the first days in Vietnam offered delicious food. Between the satiating effect of a hot bowl of Phở, and the uplifting kick of fresh fruits like papaya, pomelo, coconut, and watermelon – riders were well-fuelled to tackle any cycling challenge that came their way. Although there were understandably some initial nerves, those feelings quickly gave way to confidence, comfort, and ultimately, excitement for what lies ahead.
The 2022 Bamboo Road is off to a great start!
RELATED
TOUR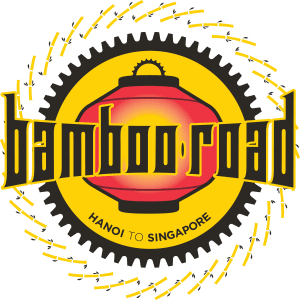 Bamboo Road
Many of us have criss-crossed the countries of South-East Asia on a 'shoestring' over the years, returning home with fond memories. Now we invite...