Blog
REGISTER NOW
LOGIN
SIGN UP FOR OUR NEWSLETTER
TDA Foundation Report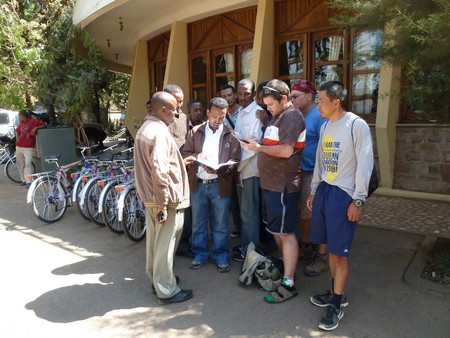 Foundation Newsletter – Quarter 1 – 2011
A Brief Fundraising Report.
Thanks to the riders and staff on our tours the Tour d'Afrique Foundation was able to raise more than $40,000 US dollars in 2010. That's in addition to the $15,000 the company contributed to the Foundation from its profits. A total of 300 bikes were donated in 2010 to various groups in Kenya, Malawi, Zambia, Namibia, and South Africa.
2011 Activities and Goals
In Africa:
The 2011 Cairo to Cape Town Tour is underway and our first bike donation was held on Feb 12th in Gondar Ethiopia. TdA donated 14 bikes to Link Ethiopia in partnership with 2010 rider Tony Nester. Tony has been working with and supporting a school in Ethiopia for the past three years and we welcome the opportunity to be a part of his project. Tony will attend the donation ceremony and then join us on tour to complete the Gondar to Addis Ababa section.
There are 8 other bike donation ceremonies on the 2011 Tour scheduled so far. We will host donation ceremonies in Bahir Dar, Ethiopia, Nairobi Kenya, Arusha, Tanzania, Lilongwe, Malawi; Lusaka and Livingstone, Zambia; Windhoek, Namibia and Cape Town, South Africa. We'll be reporting on each donation ceremony on this year's tour on the foundations blog which you can follow here.
With each tour we are refining our donations so the bikes reach health organizations in the rural areas where they are most needed. By using a bicycle a rural heath worker can reach up to 5 times as many patients as they can without one and that means faster treatment for the sick and more opportunities for health education and preventative care.
A New Kind of Project:
We believe strongly that providing bikes to community health workers is an important and appropriate way to lend assistance to rural communities in Africa. This year we are also starting a new type of project for the Foundation – an income generating project in Nairobi in partnership with Wheels of Africa, a Kenyan charity, and Bikes for Humanity, an international non-profit that ships containers of used bikes to various countries in Africa. Together we are opening a for-profit community bike shop in Nairobi.
Wheels of Africa has been working with the Tour d'Afrique for several years now so when they approached us with the idea of starting a community bike shop in Nairobi we knew they had the skills and connections to make it happen. After several months of hard work we're happy to announce that the first shipment of bikes to Wheels of Africa should arrive in June 2011!
The shop will be located just outside Kibera, Africa's biggest shanty town, in Nairobi and will sell used bikes and parts as well as provided qualified repair services. The long term plan of the project includes selling new bikes and parts, creating satellite shops in rural areas of Kenya and providing bikes at or below cost to community health organizations in the country. The Tour d'Afrique is providing the start up costs for the bike shop by way of a no interest, long term loan to Wheels of Africa, a generous donation by 2010 TdA Rider (and EFI winner) Gerald Coniel and a shipment of bikes from the Montana Chapter of Bikes for Humanity run by Dan Austin. After the first shipment of bikes, the cost of which are being covered by B4H, all future shipments of bikes will be paid for by Wheels of Africa from the profits of the bike shop. The initial loan from TdA is expected to be paid back by WoA over a three year period and once it is repaid the funds will be made available to them again for expansion if needed.
We're very excited about the possibilities of this new project. We are intentionally starting small but we're confident the project will be a success and we will be able to scale it up in the coming years. As the tour progresses across Africa this year we will be looking for similar opportunities to support bike entrepreneurs in other countries along our route.
If you'd like to find out more about the Wheels of Africa project, make a donation or get involved in other ways please email Foundation Director Paul McManus paul@tourdafrique.com.
North America:
2011 also marks the first time the Foundation will begin to support projects on other continents our tours visit. The riders and staff of the 2011 North American Epic will be supporting five Trips for Kids chapters as part of the tour. The tour will visit 4 of those chapters on the route: TFK Marin, in San Francisco; TFK Chicago Voyagers in Chicago; TFK Ottawa in Canada; and TFK Yarmouth in Nova Scotia. The foundation will be donating bikes to each chapter to support their outreach programs with at risk youth. We look forward working with TFK to explore other ways we can support kids though cycling, including earn-a- bike programs and training programs.
India:
As part of our new Indian Adventure tour, which started at the Taj Mahal in Agra on January 29th, the Foundation will be supporting the Able Project, which provides hand pedal bikes to disabled persons. One of our clients on this inaugural tour is riding the entire route on a hand cycle!
South America
The 2011 Vuelta Sudamericana starts in September and we are currently researching environmental organizations that we can support as a part of that tour. One possibility is Amigos de Iracambi, a grassroots organization involved in rainforest conservation, community education and income generation projects that use the products of the rain forest in sustainable and appropriate ways. We'll provide more information on our projects in South America as our research continues. We welcome any ideas or suggestions you may have.
Carbon Offsets
Two years ago we started supporting a tree planting group in Ethiopia to help offset some of the negative environmental effects of tens of thousand of airline miles and vehicle miles we travel each year in support of our tours. We've halted our support for that project for now because we were unsure of its efficacy. We are currently researching appropriate ways that we can offset the carbon emmissions that our tours create and provide our clients a way that they can offset theirs as well.
We're looking for projects that do more than just tree planting or provide some kind of carbon credit program. We want to work with organizations that have a holistic and integrated approach to the problem and are addressing multiple issues simultaneously. One possible partner is Qhubeka, located in Zulu Natal in South Africa. Qhubeka has very interesting Tree-preneur program that combines income generation, tree planting and an earn a bike program that has been very successful. We'll continue to research this issue and let you know the results. If anyone has experience with these type of programs, we woulld welcome your advice.
In short, 2011 is going to be an exciting year for the Foundation, with lots of new projects and places to visit. We very much appreciate the support of our past and current clients. Rider fundraising and donations from our rider network are an integral part of our ability to give back to the communities we travel through. And more than the financial support the enthusiasm and new ideas that people like you provide make the Tour d'Afrique Foundation a special organization that has lasting impacts for everyone involved.
Until next quarter…. Paul