Blog
REGISTER NOW
LOGIN
SIGN UP FOR OUR NEWSLETTER
Coconut Ginger Fish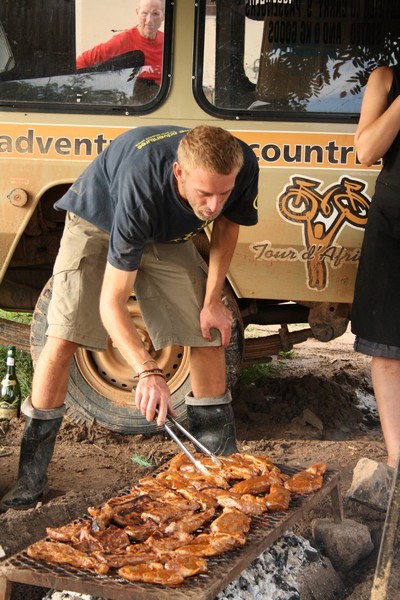 James (the chef who joined us from Cairo to Nairobi) wrote a great blog about the amount of food we all eat on TDA. We are about 100 people right now, and keeping everyone happily fed is quite a mission, specially on stretches like the one where we are now. It's hard to find fresh ingredients, and when we find them, they are either not enough, not good, or neither. That makes it a pleasant challenge to try to treat everyone with nice food when they least expect it.
James is pretty good at it, and Kim (not forgetting about Ferdie and Steve) has been spoiling us in many different ways. Just yesterday, Robert Tindle's 67 birthday, as we were sitting and chopping by the kitchen, I noticed her and Sharita playing around with something different. We usually don't have desserts, but they were planning something different. There was some custard going on, and some other fancy looking sweet dish, a pudding. In Moyale, a tortilla almost did everyone burst in tears.
So I had to ask Kim for one of the delicious recepies that she prepared for us something she did in a day when there was nothing around.
Coconut Ginger Fish
· Butter
· Grated Ginger
· Diced Chili Peppers
· Coconut Milk
· Salt
· Pepper
· Nile Perch
Heat butter in a large pot. Add ginger and chili peppers and simmer over low heat. Add coconut milk and continue to simmer. Add one layer one boneless perch fillets (liquid should be enough to cover fish completely). Flip fish part way through cooking , and when fish is fully cooked remove from heat. Serve over rice. Voila!!!
So, this is how we eat around here.
— Cristiano Werneck