Blog
REGISTER NOW
LOGIN
SIGN UP FOR OUR NEWSLETTER
Love on the road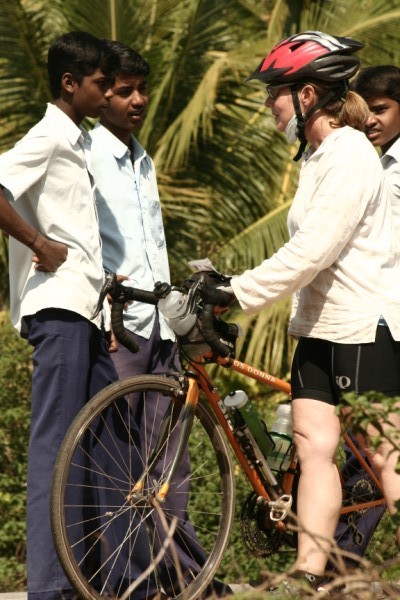 As we cycle through towns and villages across India there is one thing I have absolutely no doubt about. The Indians love us, that is, they love foreign cyclists. They show this in numerous ways, the one most common by yelling and waving at us and asking us to stop. Young and old, male, female we get noticed by all. When you do stop the conversation goes something like this. "Your country?" "Your name?""Where you going?"
After that there is either silence or they switch to Hindu, Rajasthani, Gujari, Kannati or half a dozen other dialects that are spoken in the areas we have cycled. As my knowledge of any of the above is less than their knowledge of English, the conversation comes to an abrupt end, unless of course we continue to speak to each other in our own languages, an exercise I have often performed – with many hilarious results to report. So you get back on a bike only to have, five minutes later, a motorcycle pull up beside you and it starts all over again."Your name? Your country? Where you going?"  Periodically however you get surprised. A couple of days ago a schoolboy asked me "What village you come?"
Just when you are most tired of this, someone begins a conversation in good English, but by then you are so worn out by the heat, that he may as well be asking what unknown force led you to cycle across India. Or, perhaps, who are you rooting for in the World Cricket Championships, now taking place in India, that have every television in India tuned to the games. This demand results in endless power interruptions across the country.  And you thought the  football World Cup is big!
But I digress. More love is offered to us by the drivers of different vehicles. First come the tuk-tuks who, when they see us, decide it is time to show off their new horns that they just purchased, the ones that were actually designed for a 20 ton truck. Imagine hearing that much love!
The buses and the trucks drivers also want to show their affection and as they need to compete with the motorcycles and the tuks-tuks, they have replaced their horns with an assortments of louder devices.  I am not sure can be called horns, but believe that they may be used by train conductors or perhaps by monster trucks in the Alberta oil sands.
On the other hand, after visiting a local silk producing factory and walking out of there half deaf, perhaps the reason they use these horns is that most Indians may have lost their hearing while working in such factories. Here I must mention, in order to present a balanced perspective,  that Joe, one of our riders who is a mechanical engineer and has spent his life in many factories, thought the conditions were rather decent.
To return to our subject, as any teenager would tell you, too much love can be overbearing, so it is very fortunate for us that we tend to travel on smaller country roads where there are few trucks or buses. Still, sometimes the horn is actually very useful because it does tell you to watch out as not every driver actually loves us. Some are just in a hurry, a most fascinating thing as once they reach their destinations they seem to have plenty of time at hand. This of course is not only an Indian phenomenon, in fact it is a phenomenon that I imagine has many sociologists and other respected scientists around the world scratching their heads.
Anyway, all this rambling is really meant to tell you that we have reached Mysore, a lovely place that specializes in Ayurvedic medicine & yoga, a place where they make amazing silk saris, sandalwood carvings and oils as well as having a wonderful palace –  and many other things you can't find in the guide books.  Wherever we have traveled in this amazing country, the locals have treated us rather well.
And now it is time for an Ayurvedic massage.