Blog
REGISTER NOW
LOGIN
SIGN UP FOR OUR NEWSLETTER
TdA Race Update – The Toughest Day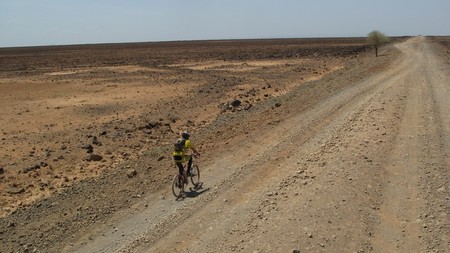 According to most of the riders on the Cairo to Cape Town bicycle race and expedition, Sunday was the toughest day, since its departure from Egypt over a month-and-a-half earlier. Five days earlier the 2011 TdA crossed the border from Ethiopia to Moyale in Northern Kenya.
"Moyale is the beginning of a very difficult road that stretches on for days," said Cristiano Werneck, Assistant Tour Director. "Somehow the word corrugation seems woefully inadequate to describe the state of this road. This is a stretch of sharp boulders and loose gravel that happens to be travelled on by vehicles, and is therefore called a road. Many of the places we travel on along this route are remote, but Northern Kenya has a harsh, merciless feel to it, one wonders how people even live here."
Sunday the cyclists completed 87km, which is not much at all compared to the 207 km day that awaits them in Botswana. Yet, the harsh conditions took its toll on the riders.
Peter Lamond, an Australian who lives in South Africa, says "It was definitely the toughest day of riding since January 15th when we left Cairo. The corrugation can drive anyone mad. The loose gravel can easily throw a good rider on the ground after exhaustion. And the heat, the climbs, and the unexpected number one enemy of most cyclists, the headwind, make this one tough road to deal with."
South African Andre Ormond arrived at the 67km lunch break on a borrowed bicycle; his own bike had packed up the day before. His borrowed cycling shoes were several sizes smaller than his feet. "I was at the lunch stop in the middle of the desert, waiting for them with energy bars, energy drinks, mangos, bananas and lots of water," noted Cristiano, "Andre looked exhausted, but somehow he still had a big smile on his face, and he made it clear that no other stage on this tour had been so challenging. Very aware of the 20 rough kilometers still ahead of him, Andre was very clear: 'I just need this day to end'.
The tough roads play havoc with many bicycles. "Our bike mechanics have been very busy trying to fix every issue that arises with the 100 bikes which are on the tour" Werneck added. "Wheels out of truing, broken transmissions, and bent hangers are just part of every day's trials and tribulations. Even with all the care and time dedicated daily to the maintenance of the bicycles, at any time, in the rest camp, you will see someone changing tires and putting something different on. Some of the riders are no longer sure which tires are the best to use on these tricky roads. "So sometimes the just pull their fat tires over their skinny tires. Many of the more experienced riders says it doesn't work, but those that are using it says that it's been rolling smooth on the harsh roads, and they've had no flats ever since.
On Monday, the tour had a rest day in Marsabit, before facing the last 5 days to Nairobi, the capital of Kenya. The riders completed around 800km over the last 7 days, only half of which was paved. The 'Meltdown Madness' is the name given to the section from Addis Ababa to Nairobi, and as you can tell it's really a section for those people interested in testing and pushing their limits.
Here's what Race Leader Paul Wolfe wrote on his blog about the back to back mando days into Marsabit:
Rest Day # 9….in Marsabit the northern part of Kenya … the infamous "Lava Rock" Highway is over …not a moment too soon … yesterday's stretch being the worst by far with a gradual climb towards a volcano with a strong unrelenting headwind to add to the misery … It was constant concentration on avoiding loose rocks, picking the smoothest track out of the 4 washboard ruts which had me pedaling for over 6.5 hrs … My poor planning had me run out of water with about an hour to go to a refresh stop and I had to put it in survival mode for about 1/2 an hour until luckily a Kenyan Red Cross SUV came by which I flagged down. With full bottles and a Snickers I was back in Race mode … anyhow … Racewise … Paul "the Pain Dispencer Spencer" took both Mando Stages for a 1 hour bonus, plus he left me in the dust for another hour cutting my lead to about 7 hrs … I'm not hitting the panic button yet … but he also has a strong sprint and when he puts the power down with about 400 meters to the finish line I can't get around him … which makes it feasible for him to grab all the last 6 Mando days … game on!