Blog
REGISTER NOW
LOGIN
SIGN UP FOR OUR NEWSLETTER
Bike donation in Lilongwe, Malawi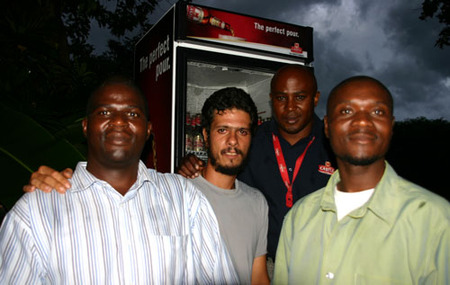 Johnny (CPAR),Cristiano (TDA), Joseph (SABMiller), James (CPAR)

Lilongwe, Tuesday, April 5th, 2011.
Everything went perfectly at the donation ceremony of 60 bicycles to 3 local health care NGOs.
Africycle, an organization that brings bicycles from Canada and refurbishes them to be either sold or donated locally was our "link" to them. Johnny Perrott, their representative, arrived early at Mabuya Camp, ready for our event and to join us for 4 days of riding on our way to Lusaka, in Zambia.
We had 10 bicycles (the other ones had gone to villages far from the capital city) and SAB Miller arrived with a freezer full of delicious Castle beers, and also arranged some nice snacks. A large group of TDA riders was present and the rain brought some other campers to our little celebration.
Partners in Health in a partnership wih APZU (Abwenzi Pa Za Umoyo), developed a project in Malawi that combines treatment for HIV patients with comprehensive, community-based health care and programs to combat the conditions of extreme poverty in which disease takes root, including hunger and lack of access to clean water and decent housing, schools and livelihoods. They received 20 bikes from the Foundation.
Canadian Physicians for Aid & Relief (CPAR) – an organization started by Henry Gold (the same man behind the Tour d'Afrique) in the late 1970's, was also present, represented by Johnny and James. CPAR undertakes initiatives on incomine generation, natural resource management, food security, water sanitation, emergency relief and health care. They received 10 bikes for their health care workers.
Emmanuel Relief & Rehabilitation International assists communities worldwide through the agency of their local churches. They received 30 bikes.
Health care workers in remote areas of Africa often have no option but to walk from village to village to visit their patients and end up spending more time on transit than actual clinical work. As was explained during the ceremony a bicycle can increase the number of people visited by these workers and volunteers by up to 11 times. We were also told that, once these workers start using bicycles on their daily routine, they loose a lot of weight and notice a huge increase on their quality of life.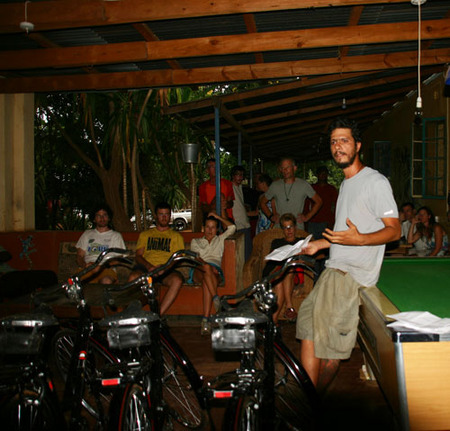 These numbers help us to show how efficient bicycles are as a mean of transportation. Bicycles are efficient, cheap, fun, healthy and clean. Bicycles do not get stuck in traffic jams, do not support the oil industry and do not pollute the air we breathe. As we also learned from the speeches, bicycles also save lives in many different ways.
Ride your bike!